SVG Europe partners with NEP The Netherlands for illuminating Experience Tour & Breakfast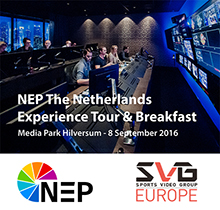 SVG Europe and NEP The Netherlands have joined forces for a special technical tour of Media Park Hilversum, to take place on the morning of 8 September ahead of the Sport Production Summit at the NH Collection Grand Hotel Krasnapolsky Amsterdam. The first-come, first-served tour – dubbed the Experience Tour & Breakfast – will offer a unique journey into the heart of the electronic media production business.
At 08.30 there will be transportation by coach from the entrance of NH Collection Grand Hotel Krasnapolsky, Dam Square, to Media Park in Hilversum, followed by 09.00-09.30 breakfast; 09.30-10.45 Experience Tour; and 11.00-11.30 return transportation to Dam Square in time for the Sport Production Summit.
NEP The Netherlands Experience Tour will take the participant through a one-stop-shop for managed services ranging from live capture to worldwide distribution. The Tour runs through OB vans, studios, live & post production facilities, MCR ('LiveCenter'), Service Operations Center, cloud production facilities, data centres ('data hotel') and FOX Sports playout.
NEP The Netherlands is Europe's largest supplier of sports playout facilities with clients such as FOX Sports and Ziggo Sports. NEP provides the complete technology for these channels with an end-to-end workflow, developed by NEP and built in-house.
Also included in the Experience Tour is the integration of graphics and Augmented Reality in live TV programming. From major entertainment shows including 'The Voice', 'German Idols' and 'Dance, Dance, Dance', to live sports and news programmes, NEP Graphics is the market leader in on-screen and augmented graphics.
Together with Soliton Systems from Japan, NEP RF Services has developed a 4G bonding system for live video, based on the Smart Telecaster Zao (STC Zao) platform. During the NEP The Netherlands Experience Tour, this new-generation system for aerial-based mobile links will be showcased, based on H265/HEVC hardware encoding.
Register NOW to ensure that you don't miss out on this opportunity as places are strictly limited: https://www.svgeurope.org/nep-netherlands-tour/.