SVG Europe partners with Sky Italia for second Sport Innovation Summit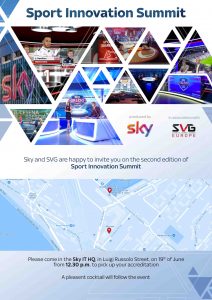 SVG Europe is very pleased to announce our collaboration with Sky Italia for the Sport Innovation Summit, which will take place June 19 at Sky Italia HQ in Milan.
This is the second joint Sport Innovation Summit in Milan, following the first edition in May 2016. The invitation-only event will include light lunch, proceedings from 14:00 to 19:00 and a Happy Hour to wrap up the day, which is open for SVG Europe Platinum Sponsors to attend.
Manuela Baraschi will make the introduction to the Summit, followed by Massimo Bertolotti with an overview of 4K in sport. Remote production for Formula 1 will be discussed, with a panel involving Cinevideo, NVP, Gianoli and Telerecord. Following a coffee break Riccardo Botta will discuss the new SkyTg 24 studio and Cristina Fenzi will look at responsible business practices and Sky Italia's role in Ocean Rescue. There will also be presentations from Deltatre, Dorna and Agile Software.
The event will take place at Sky italia HQ in Luigi Russolo Street in Milan. Platinum Sponsors should contact Clare Sturzaker ([email protected]) for more information.