SVG Europe presents speaker line up for inaugural Sound Talks – Mixing Broadcast Sound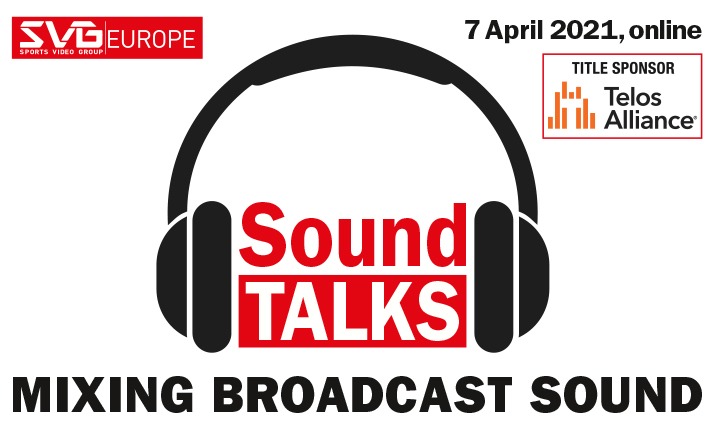 SVG Europe is gearing up for the inaugural Sound Talks event of 2021, Mixing Broadcast Sound, which is taking place at 4pm (UK summer time) on Tuesday 7 April.
Sound Talks – Mixing Broadcast Sound will focus on emerging technologies, standards, and techniques that all mixers, operators, and engineers are grappling with now, or will need to engage with soon.
Register here today for Sound Talks – Mixing Broadcast Sound
The event, supported by Title sponsor Telos Alliance and Registration sponsor TSL Products, will begin with a Thought Leaders Perspectives session, where Rob Oldfield, Salsa Sound CEO and co-founder, and Henry Goodman, Calrec's director of product development, will speak with Roger Charlesworth, independent consultant on media production technology about the challenges and opportunities within console virtualisation and remote working in relation to broadcasting live sports in today's climate.
These manufacturers will look at this area from the perspective of their own audio technologies, their work in sports broadcasting, and their development roadmaps.
This will be followed by the Audio Insider Perspectives session, where we will hear from experts responsible for bringing the sound of football live into our living rooms in the heart of a pandemic.
The session will be chaired by Alex Judd, Sky Sports technical specialist. Judd will be in conversation with Pete Mercer, A1 sound supervisor and audio guarantee, Ian Rosam, A1 broadcast sound engineer, and Alessandro Sdrigotti, A1 broadcast sound engineer.
The group will discuss how their roles and the technologies they use on a daily basis have changed since the start of 2020, what those new workflows look like today, and what is likely to become a permanent feature of mixing broadcast sound for football going forwards.
These panels will be followed by a live audience Q&A.