SVG Europe Sit-Down: DELTACAST's Erik Kampmann on covering all production bases and the rise of IP and 4K workflows
Having recently celebrated its 13th birthday, DELTACAST continues to strengthen its position in sports broadcast circles worldwide. From an initial foundation in FPGA design and imaging applications, parent group DELTACAST has consistently expanded into new areas – specialised custom designs, video interface cards, sports graphics and more – over the course of more than 30 years.
On the eve of the NAB Show 2017, DELTACAST International Sales Manager Erik Kampmann sat down with SVG Europe to reflect on the company's latest offers to the sports production community, the impact of 4K and IP workflows, and some recent project highlights…
How would you describe your current situation and outlook with regard to the sports broadcast production community?
DELTACAST has been around for 13 years now, and production companies and service providers around the globe have been key partners for us since then. Therefore we have been working very [intensively] to provide the best improvements to our solutions. Our current situation is actually very optimal, as all major partnerships have been renewed so we can't complain, really. We have also completed new projects in Asia, and forged new partnerships, which are exciting. This is positive, but on the other hand we can't ignore the fact that production budgets are getting a lot of pressure, so we've been working hard to adapt and propose innovative models/solutions to our partners.
With which products are you making most progress in this area – and why?
In regards to our high-end product line, used by premium sport broadcasters & production houses, we see that both our DELTA-live, for live quick turnaround graphics, and DELTA-highlight, for post-game analysis, are still getting a lot of traction on the market and are very popular. This has been highlighted in our major licensing contracts being renewed already for 2017. The reason, I think, is because we are known on the market for working very closely with our customers and providing dedicated support, which is also known for our other business units, such as our OEM video cards. At the end of the day, DELTA-live and DELTA-highlight success is clearly because of our different customers' feedback and ideas that we have been taking into account for all those years, so it's actually a big thanks to them! We try to be very innovative, but the reality is that they are on the ground and they have great ideas in terms of innovation.
What is your latest solution with relevance to sports broadcast – and can you give a few hints about forthcoming developments?
Well, as you know, we have two main products lines: one targeted to the high-end market and one to the lower-end. Regarding the former, the newly released version 10 that's actually been the biggest release since DELTACAST was created, which includes new features that we'll demonstrate at NAB, has been quite popular, especially the latest upgrade of our automatic calibration feature. This clearly motivates us to work even harder and move closer to fully automatic solutions. I don't want to give out too much [information], but we are going deeper and deeper within artificial intelligence technologies, which makes for a promising and interesting future.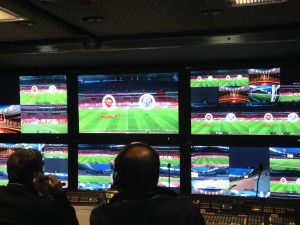 Regarding our low-end product line targeted to smaller production budgets, we are very happy with the traction that DELTA-stadium & DELTA-stat IP have experienced in the last few months in Europe. Regarding DELTA-stadium, our solution for giant screens in arenas, we are already developing new modules that will enhance the fans experience on site even more. Also, something that is very exciting is the NewTek NDI protocol that is growing a lot and becoming a new IP standard. We have been a partner of NewTek for years now, and we are working on extending our product line for that segment as well.
How do you assess the current adoption of 4K, HDR and IP – and what do you think the rest of the year will bring?
Well, 4K is getting more and more real, and we have seen sport broadcasters realise successful 4K implementation in their workflows. Some of our products work with 4K, and the others will support the standard in the next version.
In terms of HDR, this is tricky; we have seen some successful tests by the BBC and NHK recently, which are very promising, but it's still pretty hard to implement in the current production workflows. Now, we're very happy that Europe is at the forefront of this.
Lastly, about IP, this is very exciting. We have seen recently important improvements in terms of new products in this segment by vendors, and more and more people are going toward it, which is clearly the future. We've seen some great projects here in Belgium, you know, for example the Live IP Project from VRT & EBU that won numerous prizes last year. Additionally, Proximus has been producing the second division of football here remotely which has worked very optimally with great feedback from all the operators. And our products are all working under IP today!
Can you please outline a recent sports broadcast project in which DELTACAST technology played a significant role?
A very exciting recent project has been the custom integration done for a major stadium in Europe. This involved our DELTA-stadium product as a core system, but we had to develop complimentary modules related to live statistics and playout for display on the different screens in the stadium.
What are the greatest pressures (commercial or technological) affecting sports broadcasters at this time, and what can companies – including DELTACAST – do to help alleviate them?
Well, honestly, the greatest pressure is definitely from a commercial stand point! Always produce more with less seems to be the general consensus. The reality is that always more budget is pouring towards TV rights, which have been growing exponentially over the years as we've seen in the UK, Germany, USA… So on a general note, that has been the general trend with TV stations [who] are more and more looking to optimise their production workflows. What can we do to help them? Listen to their needs, adapt our different products line, work [these things] out, and be creative on new business models.
Finally, what has been your sporting highlight of 2017 to date? And what are you looking forward to sports-wise over the summer?
There are so many, but to highlight especially Belgium, [where] we have been proud of two Belgian teams competing well in the Europa league, and also of our Red Lions, the national Belgium team of grass hockey (famous sport in Belgium) that have been climbing towards the top ranking spots on the international level. In terms of looking forward to a competition, I really like Roland Garros, so can't wait to see this year's edition and see Roger Federer after his break!