SVG Europe Sit-Down: Interxion's Richard Craig-McFeely on data centre challenges and the outlook for OTT distribution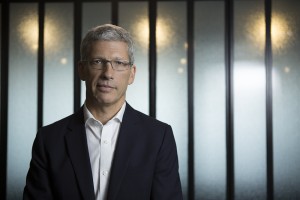 Live sports events and e-sports continue to drive the demand for premier fan experiences across all platforms. Significantly, OTT services continue to expand their market share as fans consume increasing amounts of video and data content via their devices. Delivering live events OTT with a broadcast quality of service for all fans across all devices in all locations is a challenge for all sports OTT distributors.
As Interxion strategy & marketing director, Digital Media, Richard Craig-McFeely points out, the challenges are known and understood by the social media networks, OTT video aggregators and some media service providers. Making the right choices of data centre location, connectivity, security and operational excellence are key to delivering a successful sports OTT service. That was the starting point for McFeely's conversation with SVG Europe…
What are the key challenges facing data centre providers in 2017?
There are a wide range of data centre options in the marketplace today. Interxion focuses on providing colocation services within our 45 highly connected European data centres. We have a specific focus on digital media and sports. Colocation services are based around customer owned equipment being deployed in our data centres. Interxion has a very good reputation for building and operating high quality and secure facilities across Europe. I prefer to call them connectivity hubs because our facilities provide access to a wide range of carriers, internet exchanges, ISPs and CDNs. This community of connectivity options allows our customers to access their audiences providing great user experience and the flexibility to adapt. These customers can be digital media companies, broadcasters, content owners or service providers.
The challenges for data centre providers are mostly around keeping up with demand. The key is access to capital to build, land to build on, and adequate/reliable power.
Do broadcasters understand just how the Cloud can help them in their operations?
It really depends on what you mean by Cloud. The term is used so widely and loosely is always best to confirm what any particular business or individual mean. The key variants are Private, Public and Hybrid. Private Cloud is based around a company putting their own dedicated equipment into a datacentre and accessing it remotely. Public Cloud is based around the services provided by the major cloud services providers such as AWS and Microsoft Azure. Providing secure and consistent connectivity to Public Cloud is a hot topic for all businesses. Hybrid Cloud is a combination of two affording the benefits of dedicated equipment combined with generic scalable services.
Having said that, much of the sports broadcast workflow is dependent on connectivity for contribution, distribution, access to Public Cloud or remote production. As highlighted above, Interxion is actually a connectivity company and our data centres are in effect connectivity hubs. These are ideal for supporting sports workflows.
Thinking about sports production, have the demands of broadcasters and service providers changed over recent years when it comes to the services you offer?
The environment for sports production and distribution is becoming increasingly competitive and defined by connectivity. The competition comes from new entrants in contribution and distribution, availability and adoption of new or cheaper technology combined with advanced or costly technology, increased expectations and distractions for audiences. Competing in this environment requires a nimble and agile approach as budgets reduce, the landscape changes and key live events still need to be produced to a high quality. Highly connected data centres with relevant services provided by sports service providers are a key route for the SVG community to continue to deliver top quality sports experience for fans.
Second screen applications are commonplace when it comes to sports broadcasting.  How can Interxion help with those vital services?
Second screen applications have served a purpose. They were essentially a defence move by broadcasters against the onset of pure OTT services. The market has now moved on with sports fans expecting to receive the complete experience across all platforms. The move by viewers to pure OTT solutions is well documented and is resulting in sport transitioning to high quality video/data B2C services. Interxion plays a strong role in the distribution of OTT sports content – or music, social media, games etc. OTT service providers put their equipment into our data centres to provide the high quality user experience that sports fans require. This is achieved via data centres located close to the audience – urban locations – combined with the 'eyeball' networks – ISPs and CDNs. I see the our position in the OTT distribution market growing steadily over the coming 24 months.
Finally, do you have a recent application story that well illustrates what you can achieve for a sports broadcaster? 
Interxion is building a strong list of customer references in the sports sector and I expect growth to continue. There have been a lot of major projects, including one that was discussed in detail as a case study at the SVG Europe FutureSport summit in 2016.
The project saw NFL rights holder MP&Silva be awarded a three-year digital content distribution contract to Deluxe Entertainment Services, which sees the latter pick up US NFL feeds via the MX1 facility in Pennsylvania. Using Deluxe's IP-based platform, MediaCloud, and Interxion's data centres in East London, the NFL matches are customised and delivered to a host of European centres.
We've got 45 data centres across Europe, and the reason why Deluxe chose us was really all about connectivity. We offer co-location services; it's Deluxe's kit inside our data centres. They know what that kit is and they've tested it, and we make sure we've got the right amount of power and cooling and so on, and the right level of connectivity.
This is perfect example of a private cloud combined with connectivity to deliver a solution for high value live sport content.