SVG Europe Sit-Down: NeuLion's Chris Wagner on new content delivery methods and INsight TV partnership
With consumers increasingly holding devices, such as phones, that are capable of receiving OTT services, the technology and content is foremost in the minds of many providers. NeuLion EVP and co-founder Chris Wagner believes the focus has to be on the fan experience on these devices and that includes personalised/curated video, live integrated metadata like stats that happen more quickly than the video. But, just as important, those fans demand a simple user interface…
Second screen applications are vital to sports broadcasters, and things have come a long way in a short period of time. What innovations can we expect to keep up with consumer demand?
Over the last number of years, the discussion about second screen Apps and second screen programing on internet connected devices has changed. The sports media industry has come to the conclusion that what fans really want is live and on demand sports on the screen of their choosing.
TV is no longer just the big screen in your home. TV is now whatever screen you have in front of your face or whatever screen you prefer to use as the device to watch live and on-demand sports, at the time of your choosing.
Sports right holders now agree that their programming needs to run on smart phones, tablets, connected devices to TV monitors, and large screens. The fans now get to decide their screen preference for watching live and on-demand sports. There is no longer this notion of second screen.
Talking about consumer demand – just how do you assess the requirements of the viewer? And is there any limit to personalisation?
The difference between legacy broadcast television and digital streaming is the conversation with the viewer. With legacy TV, it's a one-to-many broadcast. The viewer essentially only gets the programming that the broadcaster decides for them, and at what time they can watch it.
Digital has changed all of that. Digitally delivered content is a one-to-one conversation delivered over the internet. The viewer can pick and choose the device for viewing, the programming they are interested in watching, and other than live sports, the time they prefer to watch.
This form of content personalisation with viewers, creates a fantastic opportunity for sports owners and rights holders to leverage the data created out of these choices.
Data that can be used to make changes in programming, create marketing messages to retain subscribers, and also get really interesting data segments for attracting new viewers… What we call 'lookalike audiences'. This level of personalisation and the data created out of personalisation tactics will drive even greater demand from the consumer.
What are the benefits of using a company that owns and operates all pieces of the video workflow, rather than relying on third parties for various parts of the chain? How do you avoid a potential problem of 'having all your eggs in one basket'?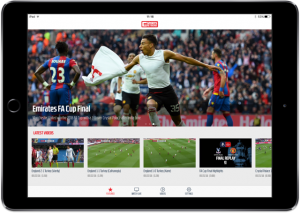 To deliver internet television, Over the Top (OTT) services, or TV Everywhere, that runs on multiple screens, the technology and services industry has clearly defined what is needed in order to deliver these types of services.
Service components include encoding, transcoding, content management, monetisation, monitoring and analytics, CDN delivery and UI/UX development of the Apps for all of these screens.
The choice for content owners and rights holders generally includes a key question. Should I focus on my content and programming as the priority? Or should I focus on technology needed to deliver my content? Is it possible to do both?
Projects that include multiple vendors generally are more expensive, include more risk and take longer to get new OTT services up and running. It is important for content owners and rights holders to evaluate the customer concentration of OTT vendors, how much of their tech do they really own and control, and how many third-party tech providers do they need to bring to a project.
Answers to these questions will lead to better control on cost, time to market, risk mitigation and ultimately, OTT services that grow in terms of audience and revenue.
How much of your content is delivered in 4K – and what do you see as the next stage of UHD development?
By the end of 2017 it has been widely reported that 1 in 4 homes will have a new UHD television set. 4K content libraries for these TVs are growing rapidly. 4K live streaming for sports is also happening fast.
OTT services that deliver live 4k content will stand out over those who do not make the move to UHD. Consumer always move to higher quality video. We have seen that with HD programming. Now 4K and HDR is here. The question for content owners and rights holders is,' are they going to follow this shift to higher qualities or are they going to lead?'  And regardless of the follow versus lead decision, do they have the right partners to delivery live 4K Over The Top to consumer devices. And do that end-to-end.
Earlier in the year you announced a partnership INsight TV. What is involved in that agreement and what is the current position of the OTT Ultra HD platform?
NeuLion and INsight TV are launching an all new OTT Ultra HD Entertainment platform with native Ultra HD digital content powered by the NeuLion Digital Platform.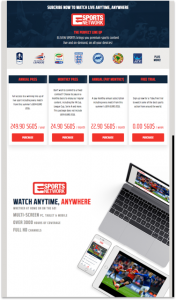 INsight TV is a reality, entertainment and sports channel that takes the viewer on an adventurous journey to explore and interact with incredible stories. Shot and produced in native Ultra HD, the channel features original programming in the form of innovative documentaries, accessible reality series and the range of programming demonstrates the very best of Ultra HD; from beautiful, vivid cinematography to dazzling high-speed action.
What's required to deliver this Ultra HD 4K content Over The Top is NeuLion's market leadership in online video delivery. Our experience throughout Europe with large clients such as the NFL, Euroleague, NBA, UFC and Eleven Sports Network and others, drives innovation in our NeuLion Digital Platform and helps us understand operational needs to get things done.
The 4K video ecosystem has to be addressed from content to screen. We do this with NeuLion technology from the encoder all the way to the 4k TV Sets enhanced with our 4K streaming CE SDK.
Finally, do you have a case study that illustrates what you can do for a sports broadcaster?
Have you been following the great success of ELEVEN SPORTS? Their distribution strategy includes powerful programming delivered OTT using the NeuLion Digital Platform. Their success in reaching viewers is paying off. ELEVEN SPORTS is using this OTT success to target even more programming for viewers.
ELEVEN SPORTS recently announced that it will broadcast the entirety of the VIVO Indian Premier League 2017 LIVE on elevensports.sg in Singapore, adding even more scintillating sports action to the network's growing portfolio of rights.
From 5 April, sports fans in Singapore will be able to enjoy LIVE coverage of the tournament which will be the tenth edition of the professional Twenty20 cricket league founded by the Board of Control for Cricket in India.
All this premium sports content can be accessed anytime, anywhere on www.elevensports.sg and the ELEVEN SPORTS app, powered by NeuLion, offers fans Apps on Google Play and the Apple App Store. It's a great OTT success story for NeuLion and our OTT partner – ELEVEN SPORTS.