SVG Europe Sit-Down: Ooyala's Jim O'Neill on content supply chain developments and future challenges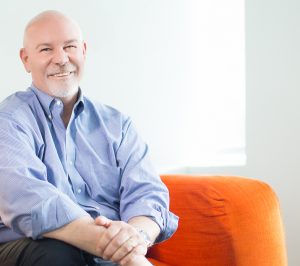 Ooyala's comprehensive suite of offerings includes one of the world's largest premium video platforms, a media logistics solution for video production workflows, and a holistic advertising platform for direct and programmatic trading. Built with superior analytics capabilities for advanced business intelligence and a strong commitment to customers' success, Ooyala's end-to-end solutions help large-scale broadcasters, operators and media companies build more engaged and more profitable audiences with personalised video and TV experiences across any screen. As Jim O'Neill, Principal Industry Analyst at Ooyala (pictured) reveals, all of these capabilities were of interest during the latest edition of the NAB Show in Las Vegas…
What were visitors to your stand at NAB most interested in discussing?
We had an extraordinary NAB Show this year as we launched Ooyala's Flex Media Platform. It's an open, extensible way to manage, curate, orchestrate, publish, measure and monetise content. It can be used as an end-to-end system, or it can provide individual, or multiple technologies used in a digital content supply chain.
The Flex Media Platform is the evolution of a product called Flex, which we acquired in 2015 when we bought a company called Nativ. It addresses the needs of the rapidly changing digital content industry in terms of getting control of the content supply chain, which because of consumer demand to stream all content on all devices live and VOD, is just enormous. And it's continuing to grow with no end in sight.
At NAB, we had meetings with studios, broadcasters, operators… every piece of the content supply chain, because there's a need to get a handle on it, to figure out how to move content through it more quickly, with lower costs, often using the same manpower. And content needs to be able to be made available in multiple markets, often at the same time, on a very tight production schedule. One studio executive said to me that it wasn't just about content getting made quickly, it was about getting it out to multiple markets as quickly as possible to maximise ROI, and that's something that the Flex Media Platform is particularly adept at.
It allows you to automate some of the most time-consuming jobs to quickly process content, and it can do so from the conception of a product to its deployment. It also can use machine learning and artificial intelligence to add temporal metadata to content, making it more searchable, more discoverable and, obviously, more engaging for consumers.
And, something that makes it very appealing to broadcasters, for example, is that it can bring other technologies into it, like existing MAMs, or video players from other companies, and orchestrate the overall workflow.
Live streaming has come a long way in recent years? What do you see as the most innovative use when it comes to sports broadcasting?
There are so many opportunities from better engaging viewers with AR and VR, to allowing brands to better personalise their adverts, to doing things like providing real-time information on players like how fast a wing is running during a rugby match or the speed of the ball off a cricket bat. The most innovative use? The one that best engages the viewer.
How do your solutions help users to monetise their offerings?
The Flex Media Platform shares metadata and analytics along the entire content supply chain from creation to distribution. That data can be used to provide insights at every level, from how popular a piece of content is – which allows you to recommend additional content – to which content is trending at the moment, and even the workflow bottlenecks that are slowing down production. All of these things impact the ROI of a piece of content.
We've found that a typical broadcast or distribution company using the Flex Media Platform can cut project execution time by 58 per cent, and that it increases productivity three to four times. In turn that means they can produce more content – to the tune of 493 projects a year instead of just 145 – using the same personnel. They also will see a direct cost reduction of 71 per cent per project. And, using the Flex Media Platform allows faster on-boarding of new projects, about half the time actually.
What technologies can you offer for those wanting to maximise the use of VR360?
During the Winter Olympics in Pyeongchang, we provided the foundational backend for capturing virtual reality content at 10 venues across South Korea for Intel Sports. All of the content went into our MAM. It was tagged with the relevant rights, the relevant metadata and made available to about a dozen broadcasting-rights holders for that content. They could go in and see the content that was relevant to them.
In the US, for example, the rights holder was NBC Sports, and if you were streaming the Olympics through their NBC Sports app it was coming through our aggregation and distribution process.
What are the challenges facing you for the second half of 2018?
The challenges facing us at Ooyala are similar to those facing the rest of the industry. How do we make all content accessible to anyone on any device anywhere and at any time, and do so with five nines quality? And how do we do all of that while also maintaining content rights? And, of course, how do we continue to innovate to make sure we stay at the head of the class? We have a phenomenal product in the Flex Media Platform, one that is really setting the pace in terms of keeping the content supply chain running at full speed.
Any thoughts for the future you'd like to share?
In May we had one of those rare moments in broadcasting, the Royal Wedding and the FA Cup final, and I think it was likely one of the last times traditional broadcasters played a central role in televising the events.
How we tune-in has changed considerably since William and Kate tied the knot in 2011, and users have become much more critical of what it is their services have to offer. Live, linear OTT viewing is expected to surpass traditional broadcast TV viewing – as per the Unisphere Research forecast – by 2020, and the UK is unlikely to see two events of such magnitude overlap again before that date.
There's a study that just came out this week that shows OTT providers are seen in a far better light than pay-TV providers in the US, and that really isn't a surprise. Consumers are frustrated with the "rules" that come along with tradition TV, things that limit when and where and on what device they can watch.
OTT does a better job providing curation, personalisation, search and discovery. During some sports events, for example, users can choose the camera position that they want to watch… they direct their own experience. Wouldn't that have been cool for viewers to have been able to choose what part of the wedding they wanted to watch?