SVG Europe Sit-Down: SOS Global's Michael Tenenbaum on winter sports growth and e-sports evolution
Headquartered in New Bern, North Carolina, with a total of 10 offices in the United States (10 locations) and Europe (London, Hamburg and Moscow), SOS Global is a leading name in freight forwarding and logistics. Clients in television, music, aviation, sports and other industries trust the company to handle all aspects of time sensitive freight movements requiring very tight control.
Managing director Michael Tenenbaum recently 'sat down' with SVG Europe to assess 2016 as a whole as well as its current standing in the sports market, key growth areas at present, and some recent sporting highlights…
How would you describe overall activity levels for SOS Global this year?
As usual, even years are very busy and challenging; we have either summer Olympic or Winter Olympics / football World Cup. Other highlights included the NFL Super Bowl, Tennis Australian and French, US Open as well as Wimbledon, Wuxi Marathon, Red Bull Cliff Diving, historic football match between Cuba and USA in La Habana, Golf British Open St. Andrews and UEFA Euro 2016, to name just a few.
Which areas of the business are growing most rapidly at this time – and why?
We have been more present in winter sport events. Many of these events take place in secluded locations and many forwarders face difficulties with this "out of the box" requirements. While SOS Global are specialised in "tailor-sized" solutions and ready for such challenges. Our latest winter sport activities include the IBU World Cup Biathlon Canmore and Presque Isle, X-Games Aspen, X-Games Oslo and Youth Olympics 2016 in Lillehammer.
The other sector that is growing very much [is] e-Sports. We have been transporting flightpacks for remote broadcast specialists around the globe. E-Sports is becoming more popular and increasingly adding new users.
How would you define your main services on offer to broadcasters and service providers?
The focus of SOS Global as a group is providing international tailor-sized logistic and transport services. We listen to the needs of our customers and adapt our service package and proposals accordingly.
We deal with a wide spread portfolio that not only includes TV broadcasters and sport events, but also orchestral touring, film productions, motorsport events, fairs and exhibition goods, etc. We are always aware of the time critical component and fragility of the cargo entrusted to us.
SOS works with a project manager system. That means you get SOS counterparts that will support you through any of your projects. Regardless if [it involves] air, sea, road, import or export, our crew will act and perform as outsourced part of your team.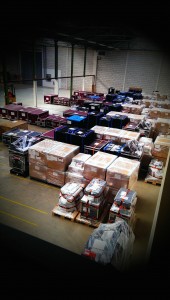 In what ways has SOS Global's offer to the broadcast community evolved in recent years?
Timelines between events have become tighter. SOS Global adjusted to this trend by implementing faster processes and understanding that almost every shipment is time critical. We invest a lot of time seeking productive dialogue with carriers and customs authorities to sensitise them and explain the needs of this particular business.
Finally, can you please nominate a personal sporting highlight from 2016?
It is difficult to pinpoint one, so I will outline a couple…!  The XXXI Summer Olympics; Rio de Janeiro 2016: SOS Global managed big volumes of cargo (including some air freight charters) under challenging conditions. I would also point to the matches between Tampa Bay Rays and the Cuban national baseball team, as well as matches between Team USA and the Cuban national football team. Both were held in Havana, Cuba. In addition to being historical events they were managed in a country [which still has a] big lack of infrastructure that made operations very complex.