SVG Europe Sit-Down: Vizrt's Petter Ole Jakobsen on graphic and AR innovations
Vizrt is a leader in the areas of real-time 3D graphics, studio automation, sports analysis and asset management tools for the media and entertainment industry. This includes interactive and virtual solutions, animations, maps, weather, story and video editing, compositing, and multiplatform VOD plus live playout tools.
Vizrt products are used by some of the world's leading media companies including CNN, CBS, Fox, BBC, BSkyB, Sky Sports, CBS Sports, Fox Sports, Al Jazeera, NDR, ITN, ZDF, VICE, The Washington Post, TF1, CCTV, and NHK. Our discussion with Vizrt CTO Petter Ole Jakobsen began with some thoughts on a recent event in Norway.
You were the title sponsor for the recent Nordic Summit 2018 staged by Media City Bergen and SVG Europe. How would you describe the benefits of such events that allow many sectors of the broadcast industry to come together?
There is a significant benefit in these SVG events because they address very current and important changes in the sports media landscape, both on the technical and business side. The additional the value of networking with the relevant players in the industry is also a major plus.
Graphics have come a long, long way since simply captioning a broadcast. Is there one innovation that stands out in your mind as the bottom line in terms of innovation?
The Transition Logic technology is the one innovation that really stands out to me. The impact of Transition Logic on the way visuals are presented has been all-encompassing and has been a major influencer on how information is presented on screen. It has opened a new level of dealing with and visualising complex and large amount of data in high speed. Transition Logic has moved the decision on how to accomplish visualising data on-air screen and changed that to what is important to show.
Before Transition Logic graphics transitions were always just a cut from one graphic to another — often, with only one graphics element at a time. Transition Logic changed how graphics were seen on the screen, so that now they are a nice visual dance, with graphics sliding and adjusting based on the content and flow of the story.
What do you see as the biggest challenges you face today? 
For Vizrt, as well as our customers, the need to publish content to a steadily growing list of new platforms puts a real challenge on the resource side. There is a strong need in the market for very efficient and fast tools to make the multiplatform publishing a reality.
Everyone is seeking to reduce costs. How can this be achieved with regard to the broadcast graphics environment?
Reducing cost means that more tasks must be automated. For sport, data-driven graphics creation is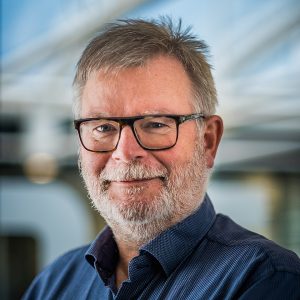 one of the key elements to drive efficiency. It is entirely possible to achieve faster and more accurate visuals with a strong focus on automation using data. This becomes even more important and more powerful with the need to publish to many platforms.
Augmented Reality is becoming ever more inventive. What do you see as the way forward for this exciting technology?
AR, as we know, is becoming a standard method to enhance a production. AR is used for the purpose of decoration and standing out, but more interestingly, it is being used in a context sensitive way. By applying new information in context of historical information, maps, election data, etc, our customers are able to convey more information with AR than without. AR is also proven to be great way of explaining complicated information in a short amount of time.
Has the increasing use of OTT affected the way you create graphics packages?
OTT means that content needs to be reformatted. Sometimes content works just fine as it is delivered for VOD. Sometimes things such as graphics elements need to be edited as close to consumption as possible. We created Meta-graphics to allow graphics to be edited up to the final moment of distribution. This allows for ensuring information is up to date and also addresses another OTT driven need: reformatting — and sometimes rebranding — of stories according to the consumption platform, which is more and more often mobile. 
What will the growth of 4K (or higher) mean to you?
Every resolution increase opens up for even more beautiful graphics as well as a larger 'screen-estate' – there is literally room for more info on the screen. So, we are very happy with any increase in visual capabilities, and 4K happens to be the best so far.