SVG Europe Sports TV Awards 2020 winners announced
Winning entries were unveiled during 'as live' ceremony on YouTube on Wednesday 27 May at 17:00 UK time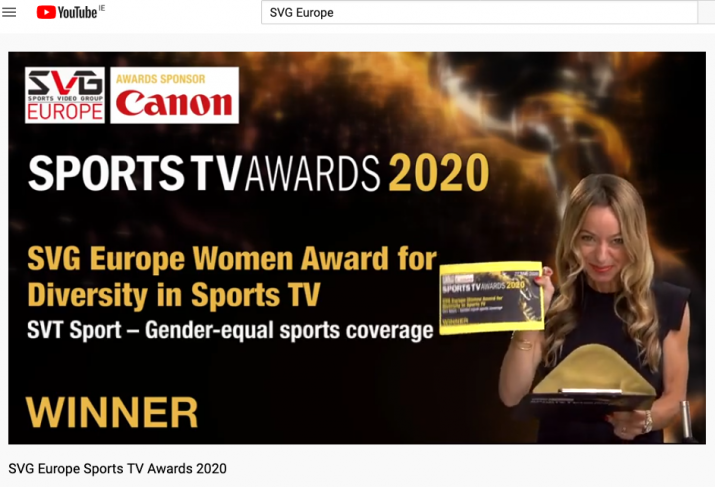 SVG Europe is very pleased to announce the names of the sports broadcasting and production projects that have won the Sports TV Awards 2020, sponsored by Canon.
After receiving nominations from all across Europe, covering many different sports and representing sport and media organisations big and small, the judges shortlisted 23 entries across five categories that they felt had helped to push sports television forward within the 2019 calendar year.
Chair of the judges and SVG Europe editorial director Fergal Ringrose, said: "We were overwhelmed by the quality and breadth of the submissions for the Sports TV Awards 2020 with entries arriving from many different countries, covering some of the biggest events, but also some unique and very interesting smaller ones.
"The level of innovation and ingenuity demonstrated by the entries illustrates how exciting and forward-thinking the sports television industry in Europe continues to be. We would like to congratulate winners, everyone who submitted an entry — and of course a special thanks to our Awards sponsor Canon."
Awards were presented for Achievements in Production (two categories), OTT Experience, Sustainability and Diversity. The SVG Europe Sports TV Awards 2020 winners are:
'SVG Europe Women Award' for Diversity in Sports TV – 'SVT Sport – Gender-equal sports coverage'
The judges said: "SVT Sport has made not only a conscious effort to embrace diversity with its network, but has implemented tangible change to an astonishing effect, making it a standout entry in this category. The physical achievement of providing 50/50 representation for both men and women's sport is the target for which all broadcasters should be aiming."
SVG Europe Outstanding OTT Experience – 'DAZN' for Streaming the sports revolution'
The judges felt that: "The depth of DAZN's service and its commitment to non-live event programme production – in order to make the case for a true OTT sport platform – placed it at the top of this particular field."
One Planet Award for Sustainability in Sports TV – 'Sky Sports – #GoZero'        
The judges described Sky Sports '#GoZero' as, "an outstanding entry. One that showcased a clear vision for a sustainable sector that is already having a genuine impact. There was particular praise for the supply chain engagement, the efforts to educate staff and the pragmatic yet ambitious approach."
Outstanding Production Achievement – Innovation – 'Sky Sports, Sky Creative Agency, Mark Roberts Motion Control and Dimension Studio – for Sky Scope' 
The judges said: "Combining volumetric capture and replay to great effect under difficult conditions, the judges felt that Sky Scope was one of those innovations that make you wonder 'how did they do that?' This is definitely the kind of innovation that moves the industry forward."
Outstanding Production Achievement – Event – 'World Rugby and IGBS – Rugby World Cup Japan 2019' 
According to the judges, "IGBS and World Rugby produced coverage on a similar scale to other major global sporting events, but with less resources. And they did it during the hurricane season in Japan! By raising production standards to new levels, adding consistency across match coverage and helping to attract the highest ever viewing figures for the tournament, they are a worthy winner of this award."
The full shortlist of entries was:
OUTSTANDING PRODUCTION ACHIEVEMENT (EVENT)
BT Sport, Timeline, Telegenic, Moov and Redbee – 2019 UEFA Champions League Final
FIBA Media – FIBA Basketball World Cup 2019
ICCTV with Sunset+Vine – Cricket World Cup 2019
SailGP, Oracle, Whisper, Timeline, TATA – SailGP remote production
SVT, Arista, Clear-Com, Grass Valley and Net Insight – 2019 FIS Alpine World Ski Championships remote production
Videohouse and Sunset+Vine – The INEOS 1:59 Challenge
World Rugby and IGBS – Rugby World Cup Japan 2019
OUTSTANDING PRODUCTION ACHIEVEMENT (INNOVATION)
BBC Sport, AE Graphics and dock10 – Virtual reality studio
Pixellot and Sporttotal – Revolutionising the German sports market with AI automation
Sky Sports, Sky Creative Agency, MRMC and Dimension Studio – Sky Scope
DFL, netventure & TVN Mobile Production – Bundesliga Augmented Reality broadcast drone
TV2 Danmark, Promotheus – 3D Real-Time graphic system for analysing sports
OUTSTANDING OTT EXPERIENCE
DAZN – Streaming the Sports Revolution
Eleven Sports and Reactoo – Watch Together
Endeavor Streaming with UFC – UFC Fight Pass
On Rewind, Orange Vélodrome & Olympique de Marseille and Netco Sports – Live Stadium @ Orange Vélodrome
Prime Video,Sunset+Vine and BT Sport – Amazon Premier League
SVG EUROPE WOMEN AWARD FOR DIVERSITY IN SPORTS TV
BT Sport – Takeover
Rise with BT Sport, ITV and Clear-Com – Rise Up
SVT Sports – Gender-equal sports coverage
ONE PLANET AWARD FOR SUSTAINABILITY IN SPORTS TV
SailGP, Oracle, Whisper, Timeline, TATA – SailGP remote production
Sky Sports – #GoZero
SVT, Arista, Clear-Com, Grass Valley and Net Insight – 2019 FIS Alpine
For more information, including judging criteria, please visit: https://www.svgeurope.org/sports-tv-awards-2020/