SVG Europe Sports TV Awards 2021 winners announced
Winning entries were unveiled during the Sport Production & Technology Summit held at Chelsea F.C. on 28 October 2021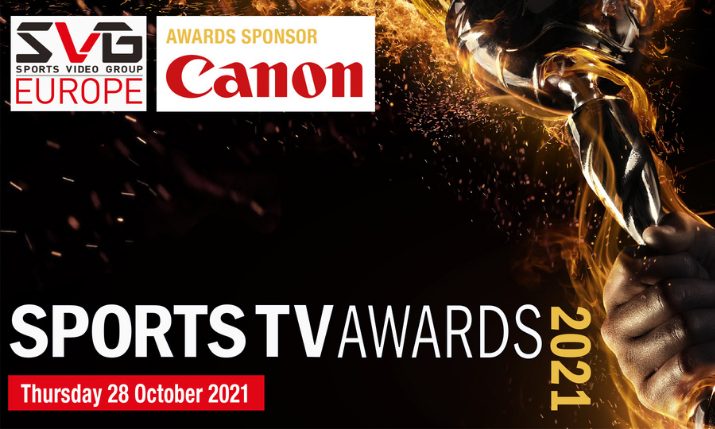 SVG Europe is very pleased to announce the names of the sports broadcasting and production projects that have won the Sports TV Awards 2021, sponsored by Canon.
After receiving nominations from all across Europe, covering many different sports, and representing sport and media organisations big and small, the judges chose 31 entries across six categories that they felt had helped to push sports television forward within the 2020 calendar year.
Chair of Judges and SVG Europe Advisory Board Member, Peter Angell, said: "We were once again overwhelmed by the quality and breadth of the submissions for the Sports TV Awards – with submissions from all around Europe covering a range of different sports.
"It was always clear that the European sports broadcasting and production community had gone to great lengths to keep sports TV on air during the pandemic, but what is inspiring is that they were still able to innovate in 2020 despite COVID-19. The entries reflect that.
"As judges, we had great trouble shortlisting and picking winners because the quality of the work, and the quality of the submissions, was so high. But we got there. Thank you to all the judges for giving up their time to help with this year's awards. And a huge thank you to everyone who took the time to enter.
"The level of innovation and ingenuity demonstrated by the entries illustrates how exciting and forward-thinking the sports television industry in Europe continues to be. We would like to congratulate the winners, everyone who submitted an entry — and of course a special thanks to our Awards sponsor Canon."
The judges looked to reward people, organisations, and projects, big or small, that had led by example, experimented, taken risks, overcome the challenges of COVID-19, and achieved results that could contribute to the continuing forward momentum and success of the industry as a whole.
Awards were presented for achievements in Production (two categories), OTT Experience, Audio, Sustainability, and Diversity by sports reporter and TV presenter Natalie Quirk. The SVG Europe Sports TV Awards 2020 winners are:
'Outstanding Production Achievement – Innovation: Sky Virtual Production Suite by Sky Sports, StudioCoast, SimplyLive, Grass Valley, LiveU and Hyper'
In a very close category, the judges said: "The winner was an important signal that the times have changed. They haven't just created innovative workflows to make sports production under COVID-19 restrictions work, they have committed to, and built, a system that will change the game and continue to develop in the future."
'One Planet Award for Sustainability in Sports TV: Green to Screen by IMG Studios'
The judges felt that: "The winner displayed a very strategic approach, a clear vision, and a tangible roadmap. Accountability is clear and shared across the organisation, demonstrating a clear cultural change, and they acknowledge the journey ahead. They are having a significant impact through the volume and visibility of the productions they take on and are bringing along all their stakeholders as well."
'SVG Europe Women Award for Diversity in Sports TV: United Initiative by BT Sport, Rise, Newham College and School 21'
The judges noted that: "BT Sports has continuously committed to diversity in our industry, especially in the empowering of more women into broadcasting. They're a worthy recipient of this Award in 2021"
'Outstanding OTT Experience: Creating Automagical OTT Experiences by WSC Sports'
The judges said: "Rarely does a game-changing product come along that immediately delivers on its promise, but this entry has managed exactly that. Amongst a very high-quality field, this one stood out."
'Outstanding Audio Innovation: vCrowd Virtual Crowd Sound Solution by Salsa Sound and Manchester City F.C.'
According to the judges, the winner was: "Innovative", praising it for being easy to use for non-audio people – something that they felt helped to bring a dynamic augmented virtual crowd sound to viewers during behind-closed-doors matches. They "provided a glimpse of what is possible in the future for virtualized and personalized AI-enabled fan audio experiences."
'Outstanding Production Achievement – Event: Remote Football by Sky Sports, NEP and NEP Connect'
The judges described the winner as: "Being an outstanding achievement, in an incredibly short period of time. The ability to break down long-standing production and technical barriers put in place over many years, and taking these Tier 1 events remote in very trying conditions was a real credit to all involved."
The full shortlist of entries was:
Outstanding Production Achievement – Innovation:
One Planet Award for Sustainability in Sports TV:
SVG Europe Women Award for Diversity in Sports TV:
Outstanding OTT Experience:
Outstanding Audio Innovation:
Outstanding Production Achievement – Event:
For more information, including judging criteria, please visit:
https://www.svgeurope.org/sports-tv-awards-2021
The 2021 Sports TV Awards, sponsored by Canon, took place on Thursday 28 October at Stamford Bridge stadium in London as part of the Sport Production & Technology Summit. The event was hosted by sports broadcaster and presenter Natalie Quirk.