SVG Europe strengthens its in-house editorial team for 2019
SVG Europe is pleased to announce key enhancements to its in-house editorial team. Executive editor Fergal Ringrose has been promoted to editorial director of SVG Europe — and has stepped down as executive eEditor of the IBC 365 editorial platform.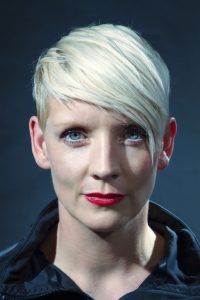 Contributing editors Heather McLean (pictured) and Will Strauss have been promoted to the position of editor, with both now dedicated to the SVG Europe platform for 2019. Ringrose, McLean and Strauss report to Ken Kerschbaumer, director of editorial services for the Sports Video Group.
The in-house editors will work alongside the rest of the SVG Europe team going forward: production editor Dawn Boultwood; general manager Joe Hosken; European sponsorship consultant Nicky Lane; audience development manager Livvy Maule-ffinch; sales support and credit control executive Susan Schoepe; and European sponsorship manager Clare Sturzaker.
The Sports Video Group is a not-for-profit association supporting the professional community that uses video, audio and broadband technologies to produce and distribute sports content. SVG Europe is a subsidiary of Sports Video Group, which is headquartered in New York.
Thanks to the support of over 110 sponsors, SVG Europe publishes news, features and other digital content online and produces dedicated live events. It will stage four pillar conferences in 2019: Football Summit at Stade de France on 28 February; SportTech – Where OTT Meets Broadcast on 22 May at Lord's Cricket Ground; Sport Production Summit including Achievement Awards in Amsterdam on 12 September; and FutureSport – Transporting Your Content at Chelsea FC on 21 November.
SVG Europe also works with partners to support other focused events around the continent. Events planned for 2019 currently include Nordic Summit in Bergen in March; DACH Summit in Munich in June; and Italy Summit in Milan in June.
The SVG Europe team produces the twice-weekly Insider newsletter – over 100 per year – and publishes an annual SportTech Journal in time for IBC each year.
The SVG Europe Women initiative is a powerful network of women that are able to call upon one another for ideas, support, help and advice, with networking and educational events throughout the year.
SVG Europe's Education initiative is designed to provide information on European educational initiatives and opportunities to assist in delivering the next generation of broadcast sports production professionals.
In 2019 SVG Europe will also launch a new initiative designed to help the sports broadcasting and production community to respond to the challenges and opportunities of sustainability. Combining editorial articles with specially curated events and workshops, the scheme will raise awareness of the environmental and social impact of sports television, encourage and highlight best practice and help to bring the industry together to help drive change.
For editorial enquiries contact:
Heather McLean, [email protected]
Fergal Ringrose, [email protected]
Will Strauss, [email protected]