SVG Europe welcomes new OB/SI sponsor Hitomi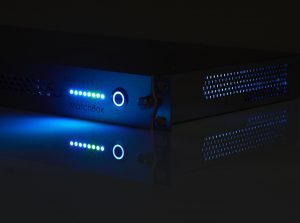 SVG Europe is delighted to welcome the latest addition to its roll-call of OB/SI category sponsors in the form of Hitomi. The professional television broadcast equipment company's flagship offering is MatchBox, a state-of-the-art tool kit designed to streamline the challenges of live broadcast line up. The Hitomi solution rapidly provides measurement of lip synchronisation, audio coherence, audio levels, phase inversions and video timing.
The system features a fully-fledged test pattern generator with customisable audio and video channel identification boasting 16 channels of embedded or AES audio and support for SD, HD and quad-link 4K video. Analysis of Dolby E streams is now available as an optional extra. Intuitive web based control and monitoring can be from any networked PC, tablet or smart phone.
Designed in conjunction with major broadcasters to provide a product tuned to the demanding world of live broadcast MatchBox is rapidly becoming the industry standard for live television coverage line up, says Hitomi.
Timeline Television deployment
Hitomi's growing list of high-profile clients includes Timeline Television, whose latest OB truck, UHD2, has been equipped with MatchBox 4K. The system provides extremely accurate measurement of audio and video alignment, ensuring that sound and pictures stay in perfect synchronisation throughout the SDI and IP connectivity.
Timeline's triple expanding, 32-camera IP 4K HDR outside broadcast truck is one of the most advanced in the world. With an Arista 100G switch at its heart and SAM IP infrastructure UHD2 delivers large scale complex OBs simultaneously in uncompressed 4K UHD HDR and 4K UHD SDR.
Lee Wright, senior broadcast engineer at Timeline, comments: "With 4K transmissions, there is a relatively high processing delay for video compared with the audio. The only way to measure the discrepancy out of the HEVC encoder is by using a Hitomi MatchBox. It gives an actual measurement of delay in milliseconds, allowing the engineer to adjust the audio quickly and with absolute mathematical accuracy."
Joining SVG Europe
"Our product is for lining up live broadcasts," says director Russell Johnson. "Sporting events are one of the main applications our customers use MatchBox for. Joining SVG Europe as a sponsor will increase engagement with our target audience, allowing us to enhance their broadcast quality for the end users. I see a forum for sports production as gateway to understanding any additional issues they encounter and working together to deliver solutions."