SVG Europe Women: Sky Studios event attracts a bumper crowd and considers serious work-life issues
How to start a women's initiative at work, dealing with unconscious bias and developing and progressing your career were key topics at the SVG Europe Women at Sky Studios event on Thursday (18 July).
An audience of almost 150 people from across the sports production and broadcasting community attended the specially convened forum, which was produced in conjunction with, and hosted by, Sky Production Services and Sky Sports.
During the evening, the audience was treated to two panel sessions, video masterclasses, a VT tour of an OB, live feeds from two sporting events and plenty of opportunities to network with both peers and influential and inspirational senior executives from across the industry.
Following opening remarks from SVG Europe editor and internal head of SVG Europe Women, Heather McLean, Sky Production Services director Inga Ruehl opened the event with an inspirational story about how she got her job and then successfully improved her work-life balance in face of huge challenges.
"It is difficult to change your workforce when people don't leave! We don't get many women applying [for jobs]. We need to attract more women to apply."
The first panel session looked at gender balance in sports production and featured: Anna Ward, Premier League Productions (PLP), head of production; Anna Lockwood, Telstra Broadcast Services, head of global sales; Mandy Murray, Sky Sports, head of organisational delivery; and Ilona Valent, Solent University lecturer, and technical manager at Broadcast Solutions UK.
The talk began with a frank discussion about why there is a need for inclusivity initiatives within sports television.
"To get into the sports broadcasting industry is not difficult," said Valent. "To stay and progress is."
Sky Sports' Murray pinpointed two reasons for needing initiatives: slow turnover of staff and a lack of applications.
"In Sky Sports, it is predominantly male," she said. "Culturally, as a country, women's sport is more accessible now. Hopefully, long term we will start to see more women applying for more sports roles [as a result]. One of our big problems is that our current workforce doesn't leave. It is difficult to change your workforce when people don't leave! We don't get enough women applying [for jobs]. We need to attract more women to apply."
"It is important they are nurtured once they are in [their jobs]," added PLP's Ward, speaking on a more general level, a comment that was universally agreed with.
The panellists then provided examples of initiatives within their own companies.
At IMG, of which PLP is a part, there are various schemes including networking, working groups and apprenticeships, and the company is considering fast-tracking and mentoring. On a wider level, the company focuses on developing a more inclusive culture.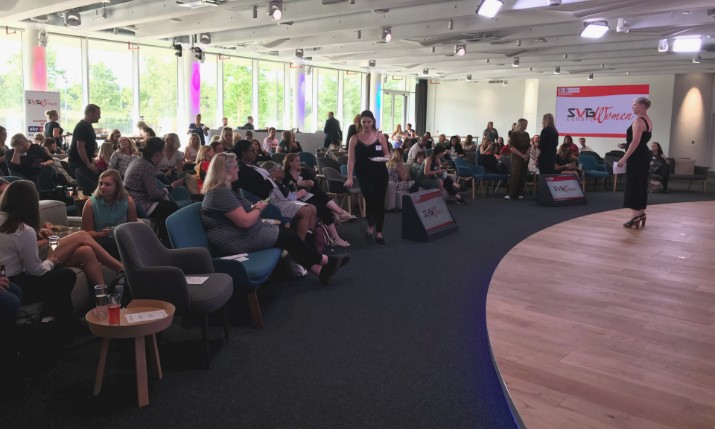 Sky offers training schemes, mentoring, working groups and a recruitment review, among many other things.
While Telstra offers flexible working on all job roles. "It's been hugely powerful and allowed women to stay in the workforce," said Lockwood.
Ward pointed out that the statistics show that "business perform better if you have a variety of people within decision-making roles" but that "you have to get senior management buy-in. And change the company culture. The education piece is important."
"You need to convince some senior people how important [the initiative] is. You need a budget," she added.
Session two, 'Going live in 5, 4, 3… On the road with women behind the camera', showcased the vocational roles required to do an outside broadcast and included live feeds and VT interviews from the Netball World Cup in Liverpool and the Women's Ashes in Taunton.
Presenter Isa Guha provided a guided tour of a cricket OB. This was followed by masterclass sessions from the Netball, one with two female Steadicam ops, one with a female sounder supervisor and a third with a female graphics co-ordinator.
In the panel session that enveloped the video links and VTs, the discussion centred on what Sky has done to be more inclusive as an employer.
The speakers were James Clement, Sky Sports, head of operations; Bridget Bremner, Sky Sports, production executive; and Sarah Warnock, Sky Sports, production executive. The chair was Amanda Tully, Sky Production Services, craft manager for technical management.
A restructure within Sky Sports production management has improved opportunities for women, it was noted.
"Generally, in the industry, there is a cultural shift taking place," said Bremner. "There is more awareness of women being able and wanting to do certain roles."
"I have always had managers who have supported me and encouraged me and pushed me out of my comfort zone. Managers need to support their staff and give them the confidence to push themselves out."
Clement revealed that for service providers to work with Sky, contractually, they need to provide information on sustainability issues including gender balance recruitment. 'You have to do it be able to work with us," he said.
Sky Sports is now looking at how improvements can be made to the diversity of its freelance crew.
To find out more about the SVG Europe Women and find out about future events visit: https://www.svgeurope.org/womens-initiative/