SVG Europe Women Virtual announces full line up of speakers for Directors on directing: Remote production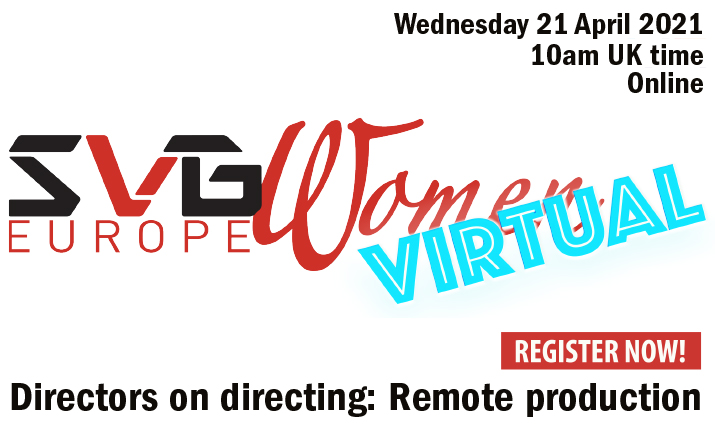 SVG Europe Women Virtual is pleased to announce its upcoming event, Directors on directing: Remote production, taking place on 21 April at 10am (UK time).
In an informative, entertaining and educational discussion, female sports broadcasting directors from a variety of backgrounds will gather to talk about the changes in their roles over the last 12 months.
The group will look at the technologies they now use, the techniques they have had to adapt, and the challenges of directing off-site, to what changes are here to stay and which they wish would go back to the 'old' normal.
Our speakers for this discussion are BT Sport Champions League director, Gemma Knight, Sky Sports senior director for football, Sarah Cheadle, freelance director Kylie Jenner, Gudrun Wanek, freelance sports TV director, Grace Weerakoon, junior director at Premier League Productions, and Professional Squash Association director and multi skilled operator, Sarah McLaughlin.
Find out more about Directors on directing: Remote production and SVG Europe Women here
About our speakers
Knight is an accomplished director at BT Sport, joining the team for the launch of the Champions League after 10 years at Sky Sports. She directs both match and presentation across BT's flagship football programming, the UEFA Champions League, Europa League, Premier League, Men's U21 Internationals and the Women's Super League amongst others and has directed Premier League matches and presentation for Prime Video since the launch of its live football streaming service. She also directs across BT Sport's portfolio on speedway and hockey, including the Hockey World Cup and FIH Pro League. Kinght has been involved in remote production with BT since its introduction three years ago, including the World first Broadcast of a Football match over 5G.
Cheadle is the lead football match director at Sky Sports UK. She primarily works on the live English Premier League (EPL) and has also directed UCL, Internationals, League Cup and the English Football League. In 2019 she directed at the FIFA Women's World Cup; this year she will be one of the match directors for the CONCACAF Gold Cup and Euro 2020.
Jenner has been working in the sports television industry for over 25 years and has been a director for the past 10 years. Over the course of her career she has worked for Sky Sports, ESPN, ITV Sport, Premier League Productions and BT Sport. In that time she has been a studio director on a variety of programming, including football. She currently directs BT Sport Score.
Wanek has claim to being the first female director for the Hockey World Championships, Champions Hockey League (Finals), German Hockey and Basketball League (Finals), Austrian Bundesliga and International Wrestling Competitions. A former athlete, she has an extensive knowledge of various sports, teams and players. Wanek was a former high profile EVS operator.
Weerakoon directs a variety of live studio shows, including Matchday Live, Premier League News, Premier League Today and Fanzone. She directed a daily show during the first lockdown with a minimal crew that consisted of a producer, AP and director. During the show she would direct and vision mix between the graphics boxes to single cameras, to full frame GFX, to rolling in VT. She would also PA the show.
McLaughlin is a multi skilled operator and has become the first female director for the Professional Squash Association (PSA) World Tour. As an aspiring sports director and has been able to direct the Qatar Classic Platinum men's tournament in 2020 and since has directed rounds 1-QF matches on tour with a full broadcast team. She moved to Leeds, UK to work for the PSA after graduating her masters in Broadcast Production from the National Film School Of Ireland. She travels the world working on the live broadcasting of tournaments for BT Sport , Sky NZ, Worldfeed, and more.
There will be ample opportunities after the live session for an audience questions and answer forum with our star directors.  The session will be hosted by internal head of SVG Europe Women and SVG Europe editor, Heather McLean.