SVG Europe's Sport Facility Integration Summit: ESSMA's Dimitri Huygen discusses the 'connected' future for the stadium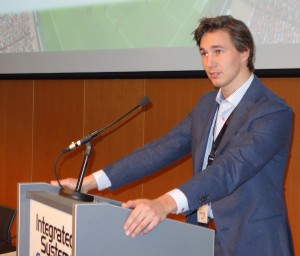 The rise of the 'connected' sports stadium and the new opportunities this means for revenue generation were among the themes of the keynote presentation given by Dimitri Huygen – who heads the European Stadium and Safety Management Association (ESSMA) and is a prime mover behind the EURO2020 stadium development project in Belgium – at last week's SVG Europe-organised Sport Facility Integration Summit.
Setting out his vision for the emergence of a new, increasingly tech-savvy generation of stadiums, Huygen confirmed that a newly designed facility is likely to be "much more than an old school stadium. The stadium of the future will be a smart stadium… a smart city, even."
Integral to the success of these next generation stadiums will be "the generation of additional revenue from the matchday experience". Measures by which this can be achieved include building up the overall hospitality and VIP experience, and improving the food & beverage offer across the board. Huygen readily conceded that, at present, this is something that is still sorely lacking in many Belgian stadiums.
Nonetheless, the trend towards the selling of stadium naming rights and burgeoning revenue from broadcast distribution have "meant that construction costs are now lower" for many new projects, he added.
But the focus of venue development initiatives shouldn't be solely on the matchday experience: "There could be scope for increased revenue on non-matchdays, too. For example FC Porta organises kids club and children's birthday parties." Non-sporting entertainment, such as live performances by major name bands, is also set to remain an integral part of the overall mix.
Outlining the multi-stadium project of renewal that he is currently undertaking in Belgium, Huygen also foresees increasingly sophisticated integration with visitors' mobile and other handheld devices. "We are now getting into a kind of society thing where people come together at the stadium and get connected," he said. "The result will be much more profitable venues where [operators are able to achieve a more significant] return on investment."