SVG Football Production Summit: FIFA's Stefan-Eric Wildemann on 'broadening the scope of the digital project'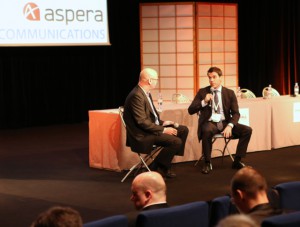 FIFA's strategy with regard to the multi-screen experience that will be available for rights holders has evolved considerably since South Africa 2010 – to the extent that next year's event, in Brazil, may even warrant the description of the 'Digital World Cup'. That was one of the key messages from FIFA's Stefan-Eric Wildermann, who spoke at length to SVG editorial director Ken Kerschbaumer during the curtain-raising keynote at yesterday's SVG Europe Football Production Summit in Paris.
As ever, expanding the second screen offer to broadcast rights holders is in many regards a must for those who broadcast the World Cup around the globe. And with viewers' viewing habits expectations evolving at a rapid rate, the onus is on making sure that FIFA "gets in touch with fans on lots of levels" – a requirement that has led the organisation to steadily broaden the scope of its digital offerings to rights holders.
Delivering multi-platform, multi-media is hardly straightforward – after all, as Wildemann observed, you have to "be responsible for selling the product, then the production, then generating the estimated amount for the production…and all three of these have to be done at the same time."
Although understandably shying away from revealing too many specifics about Brazil 2014 although rights holders will once again have the ability to stream live matches to cellphone, tablets, and Web browsers. And they will have a wide variety of technology options to choose from: white label services for those rights holders who may not have large staffs of personnel dedicated to creating a channel's own integrated media players and APIs that can be implemented by those who do have a robust "new media" team that simply needs to pass the content through an existing app. And expect the Apple and Android app stores to play a bigger role this year as well. But the biggest change in 2014 versus 2010 may be around social media and fan-generated content.
Wildemann emphasised that whatever the nature of the second screen or auxiliary content, there needed to be a "focus on the fan, a focus on the emotion" – a stipulation that calls for viewers to generate their own content, even if it's not necessarily used for broadcast.
Asked how forthright the organisation will be in terms of promoting mechanisms it has initiated to broadcasters, Wildemann said FIFA "does not push broadcasters to use our solutions. There are broadcasters who want to protect the first screen and others who see the second screen as good promotion for the first screen." There was not, he implied, any scope for a 'one size fits all'-type philosophy.
Whilst repeatedly expressing his belief that 2014 was set to be the 'Digital World Cup', Wildemann wasn't venturing any predictions about Russia 2018. "Very, very difficult to say," he laughed. "Whatever you might guess now would be very likely to be wrong!"