SVG gears up for League Technology Summit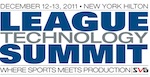 With more and more Europeans starting to make the annual trip to New York and SVG's League Technology Summit, here's a preview of the events that are going to take place next week.
It all kicks off with the technology workshops on Monday afternoon. Each workshop is designed to create an environment promoting open dialogue, with an emphasis on solving problems and helping attendees understand new concepts and developments. They're split into four streams: DTV Audio, Next Gen TV, Post Production & IT, and Remote Production and Engineering.With over twenty workshops to chose from, covering subjects from Harmonizing Audio Deliverable Standards in the Age of Multi-Platform Distribution to Next-Generation Acquisition: Lenses, Cameras, and Why it Matters Today, there's an impressively vast amount of expertise, knowledge and insight on offer. Head here for the full list.
Tuesday sees the event coalesce into the main Summit itself with a programme of panels and events that really drills down into the various issues affecting the industry. Again, the full details can be found here. Yes, it is US-centric, but the growing number of people making the trip across the Atlantic each year suggests that there's plenty that the Europe community can learn from the seven sessions on show, not to mention the excellent networking opportunities. Particular highlights relevant to a global audience include Directors and The Art of Storytelling ( what tools are most important, and how they are telling better stories with them); Sports and the Synchronous Screen: Redefining the Viewer Experience (where experts from the likes of ESPN, Turner Sports, MLB.com, and Fox Sports discuss the current landscape of devices and the opportunities they present); and League Perspectives: View from the Top (league technology executives discuss their current and future plans for keeping fans engaged).
Add to this over 50 Technology Showcases with more companies taking space on the showfloor than ever before – read Assistant Editor Karen Hogan's previews at LTS Showcase Preview: A Roundup of Exhibitor Offerings, Part 1, LTS Showcase Preview: A Roundup of Exhibitor Offerings, Part 2, and now LTS Showcase Preview: A Roundup of Exhibitor Offerings, Part 3 – and you have an event that is in its sixth year more compelling than ever. We will, of course, report as extensively from it as possible via SVG and SVGE. But if you can make it, plenty of flights are still available and you can still register here.