Beijing 2022: SVG and SVG Europe to host daily Zoom support meetings for crew
The production efforts for the Beijing Games point to the tremendous dedication of those in our industry to get things done. If you have any friends on social media who have made the journey to China you can see that it was long, difficult, and now has them enclosed in tight bubbles designed to maximize the chance that the games will go off safely and as planned.
Those tight bubbles, however, means increased stress and loneliness that can exacerbate substance use issues, mental health issues, and more. Sadly, there are stories of those in our industry who have taken their lives willingly or died from an accidental overdose in the past two years.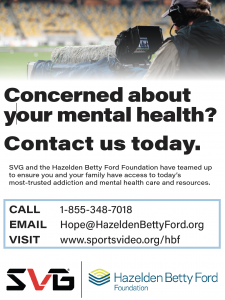 It is for those who are struggling that SVG and SVG Europe have taken steps to save those who find themselves in despair. We call the programme "Win Back Your Life" (WBYL) and it is during weeks like this (and almost the entire month of February) that it really becomes important.
At the centre of WBYL are a series of 12-Step meetings via zoom. In response to the increased stress and strain of working the Olympics, SVG support meetings will be held daily at 1500 GMT in order to give those sports production professionals working the Olympics a safe harbour during high stress and lonely times.
To join the calls at 1500 GMT CLICK HERE or enter launch Zoom and enter Meeting ID 850-348-7018. The daily calls are designed to provide a chance for those in recovery (or who want to be in recovery) a way to connect with people who know how to find the strength to keep going and bring the positive energy of fellowship to those who need it.
The WBYL meetings are a great thing that the community is doing together but remember that one-to-one connections can be just as powerful. If you have industry friends in Beijing working on what promises to be a very challenging Olympics be sure to reach out and say hello. We can all make a difference.