SVGE Analysis: Virtual Reality brings the infinite seat closer to home
The possibility of an 'infinite seat' that a club, league or rights holder could sell any number of times has to be the holy grail of sports monetisation and Virtual Reality could be the answer. Next year is a watershed year for the nascent medium. Oculus launches its first consumer-ready headset in Q1, ahead of Sony's Morpheus headset in Q2. HTC's Vive could arrive before Christmas. VR's potential is to deliver the most immersive live and at the venue experience yet to viewers. Technology is being developed to replicate the social ambience of sharing the game with friends.
The use of VR in sports can be broadly segmented into: 180° or 360° filming and live broadcast; training applications enabling players and coaches to repeatedly run specific scenarios; and immersive social networking. SVGEurope takes a look at leading technologies in each category:
1 Virtual Reality Broadcast
NextVR (NextVR.com) is in pole position to win contracts to stream live 360° content. Its system has been tested ringside, rinkside, pitch and trackside at NBA, NHL and NASCAR's Xfinity and Sprint Cup series races typically to Gear VR headsets. With Fox Sports it streamed live VR of the US Open Golf 2015 and its cameras were at the Levi's Stadium during a Man Utd v Barcelona pre-season match.
The company is nothing if not bullish, claiming to be uniquely "capable of transmitting live HD, three-dimensional virtual reality content over the internet." Its rigs mount Red Epic cameras but the patented ingredient is the encoding of multiple feeds for online distribution, a technique devised during the days when co-founder DJ Roller was building a stereo 3D pipeline for James Cameron. Hollywood producer and owner of the Golden State Warriors and the LA Dodgers, Peter Guber, is a member of the advisory board.
Immersive Media (https://immersivemedia.com) has an end-to-end VR broadcasting system including its own designed of 360˚ spherical and panoramic cameras. The Hex is a six lens, 12MP spherical camera that captures video from more than 80% of the full 360° sphere. Alternatively, the Quattro is a budget 360˚ imager just 2.9 inches in height and weighing only 1.25 lbs. It houses four Sony ICX 724 CCD sensors recording 15fps. Data is transmitted through either Gigabit Cat 5E ethernet cable or fibre.
The turnkey imLive system stitches, encodes, and transports VR to broadcast backhaul, web and mobile platforms over CDNs from Akamai, Limelight, and MediaNova. Immersive Media's imRecorder Base unit handles recording and encoding of multiple streams and playback functions. It also offers a cloud-based VR hosting platform with functions for encoding, video browsing and asset management plus players for a range of devices.
Singer Taylor Swift won an Emmy this year for 'Outstanding Original Interactive Program' filmed using IM's technology; Brazilian soccer stars Neymar and Philippe Coutinho have featured in a 360-video Nike promo shot and post produced by Digital Domain using the kit.
3D-4U's (https://www.3d-4u.com) VR experience is branded TwirlsMedia. Its technology captures multiple live 180°-360° fields of view and enables each viewer to determine a personalized view in realtime or as a replay. Users can navigate their own replays, watch a player, pan, zoom or tilt their view – live or on-demand. They can also share their viewpoints on a bespoke social media platform over tablets, TVs and smart phones.
The founders are Uma Jayaram, associate professor of Washington State University's School of Mechanical and Materials Engineering and her husband, Sankar Jayaram, also a WSU professor. Studying VR since the 1990s, they founded the VR and Computer Integrated Manufacturing Lab at WSU. It has been tested in the Amsterdam Arena during an Ajax and Twente soccer match in 2014; and for fans at the stadium of NFL side Jacksonville Jaguars, last November, with the feed made available over Wi-Fi.
There are numerous off-the-shelf VR rigs for capturing action, many – including Google's Odyssey – bolting on GoPros. Targeting the top end of 360 video production are turnkey imaging systems. These include Fraunhofer HHI's Institute Omnicam, used to record the 2014 FIFA World Cup; and models from Jaunt (juantvr.com) and Nokia.
The former's system, dubbed Neo, has only just launched and is only available to select Jaunt partners (like Sky which is an investor and has tested VR on sports including boxing). Detailed specs are therefore a little hard to come by but include 16 large sensors capable of low-light performance with a 3D mode in which the stereo is mathematically created post-event. There are two models, one more suitable for outdoors work.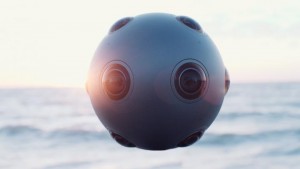 Nokia's much anticipated OZO (https://ozo.nokia.com) is due for imminent release. Its plush spherical design houses eight 2K x 2K lenses with global shutter to ensure that footage is optimally aligned, and 8 mics for spatial audio. It boasts technology intended for shooting VR in real-time, with a means to playback images (at low-resolution) on location without needing to pre-assemble a panorama in post.
2 Player Training and Performance Improvement
The San Francisco 49ers, Arizona Cardinals, Minnesota Vikings, Dallas Cowboys and New York Jets have all used StriVR Lab's (https://strivrlabs.com/wp/) 360° VR tech for training this season. Designed by former Stanford Cardinal's kicker Derek Belch while he was an assistant football coach at the University, StiVR can capture 360° views of each position on the football field (most typically that of a quarterback) for repeat scenarios of every offensive and defensive play. The package of Strivr equipment, including a 360-including camera costs around $250,000, Belch told the San Diego Union-Tribune.
Co-founder Jeremy Bailenson is founding director of Stanford University's Virtual Human Interaction Lab and the VP Product & Business Development is former Buffalo Bills quarterback Trent Edwards.
The Cowboys, which signed a two-year deal with StriVR, have built a soundproof room in their video department for coaches and players to use the technology. Head coach Jason Garrett told Fortune.com that StriVR allows him to get closer detail on each player to asse for example where their eyes are looking. He says that being closer than the traditional video wide shot allows coaches to coach better.
Eon Sports VR's (https://eonsportsvr.com) Sidekiq uses game-style graphics rather than video to similar end. It signed former baseball star Jason Giambi to present a training programme for hitting techniques delivered over the platform. EON, founded in 2013, also makes an American football simulator. Coaches create plays with a drag-and-drop interface and can assign a wide variety of animations to make the game seem more realistic. When an athlete is in VR they can view the game from third person point of view, first person point of view or 'follow' mode where the camera follows a certain player.
3 Immersive Social Networking
When Facebook acquired Oculus Rift in March 2014 speculation was that Mark Zuckerberg wanted to realise social VR. That dream may not be too far away from happening with several companies bidding to provide for the social experience of being at a stadium live.
AltspaceVR (altvr.com) recently upped its funding to $15.7 million on the premise of developing a VR chat room and communication platform that might be used to sell pay-per-view admission to virtual events such as esports. Founded in 2013 but only launching out of beta in June, investors include Chinese social media giant Tencent, Dolby Family Ventures, Comcast and Google. The software is designed to run on Oculus, Mac and PC, and can be equipped with a Leap Motion or Kinect motion sensor to bring users' gestures into the virtual world.
After logging onto the system, users are represented as an avatar, and able to meet and talk to other avatars using VR headsets or a PC-based viewer. Developers are invited to build apps within Altspace via a new SDK. The platform has been gaining attention because of the unusual amount of time users have been spending in Altspace VR worlds – averaging around 30 minutes.
LiveLike (https://www.livelikevr.com – https://www.svgeurope.org/blog/headlines/svg-europe-analysis-livelike-promises-sports-virtual-reality-from-a-gopro/) takes a live feed from a wide-angle single camera in a stadium (which could even be a GoPro) and presents it inside a virtual VIP box with ceiling, floor, and walls to the left, right, and behind. Inside this luxury suite, users can invite friends who appear as avatars to watch the match together.
The full app launches in 2016. Founder and CEO Andre Lorenceau says the platform will eventually allow users to invite friends from Facebook directly into their suite. Each avatar will have a lip-synced voice that sounds like it's coming from the couch next to you. Future in-game features will include a table hologram where stats can be mapped over NFL players.
Virtually Live's (www.virtuallylive.com) technology takes optically-tracked 3D or RFID data (gathered with STATS.com) and transposes it into a virtual stadium environment, in 'substantially' real time. "We believe people go to stadiums for the atmosphere, the social interaction, the sense of being there," says CEO Tom Impalomeni. "We also believe stitched film for VR, while extremely impressive, is an arm's length, often lonely experience. Fans are unable to engage with the people around them, which can cause fans to feel isolated, as if they are watching from behind a glass wall."
Primary limitations include the accuracy and depth of 3D data gathered by cameras or sensors and the quality of the virtual reconstruction. Emotions are also difficult to capture using facial tracking and Virtually Live admit to a latency of about six seconds when rendering the event. There are also challenges dealing with multiple concurrent conversations between fans.
However, Impalomeni points to the rapid improvement of both sports tracking devices and graphics "such that virtual experiences are becoming photo-real," he says. "The line between filmed and virtual broadcast is narrowing."