SVT discusses workflow innovations ahead of the Stockholm Open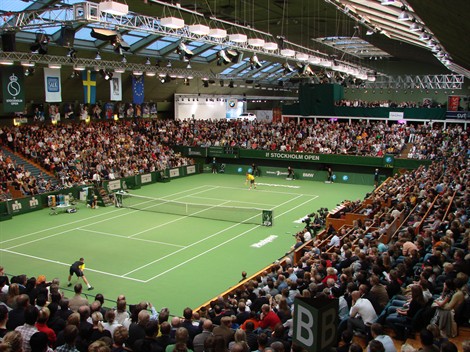 This weekend the tennis world makes a stop in Sweden for the Stockholm Open and for Swedish national broadcaster SVT it will be the latest opportunity to embrace a new workflow that allows for the main production team to produce coverage from a control room at SVT's broadcast centre. Thanks to connectivity via Swedish telecom provider Telia video signals from 12 cameras and audio signals sent via MADI will be able to be switched by the producer, director, and staff located at SVT's broadcast centre.
"We built new control rooms two years ago with these sort of productions in mind," says Adde Granberg, SVT, News and Sports division, Media Developer.
The physical plant at the broadcast centre includes three control rooms and three technical control rooms. Sharing one Miranda routing switcher the Grass Valley Kayenne vision mixers can share incoming camera and audio signals.
The workflow came to its own this year for coverage of the Elitserien Handball League last month as the 14 arenas the 14 teams play in are connected via Telia and 50 matches, each with between six and eight cameras, will be produced remotely. A 1 Gbps pipe at each venue allows for camera signals to be transported at 155 Mbps alongside audio signals that are sent via MADI.
"We have been looking at this for a few years but struggling with convincing personnel and get the right price on connectivity," says Granberg.
The camera personnel are still on site along with a technical manager and someone who watches over the fibre connection. But the camera base station or CCU is located at the broadcast centre while a Stagebox handles audio signals.
"From my perspective, as a public service broadcaster we would like to get more rights and we can't pay more for rights so we need to try and reduce the costs on the technical side," says Granberg.
The move also allowed all match coverage to go HD. "Viewers are seeing a difference as picture quality has been much better because before we just had SD trucks and today everything is in HD," says Granberg, adding that without the new workflow the move to HD would have been financially impossible.
Granberg is the first to admit that not everyone involved is happy with not being on site but that the upside, being able to acquire more rights so that there are more sports productions, will ultimately mean more work.
And there are other benefits as well. Without the need for massive OB vans on site there is less need for power, reducing costs even further. From a workflow perspective it is easier to archive material and allow the news department to access the signals.
"I don't see any limits to this as we are looking at using it for the ski jumping championships in 2015," says Granberg. "But in that case we will probably have a second director on site to work on camera positions and other things."