Sweden's SVT embraces HTML5 to ease multi-device publishing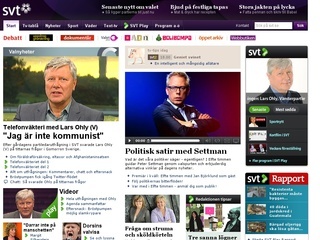 Web portals continue to play a larger role in sport media consumption and SVT, Sweden's public TV broadcaster, is the latest to take steps to enhance the functionality of its site to end users as well as improve backend operations to that it can more easily keep up with an Internet-streaming environment that has content delivered not only to personal computers but to an ever growing wealth of mobile devices and tablet computers.
With up to 3,500 videos available on any given day, and 2 million visitors per week (the total population of Sweden is only 9 million people) the broadcaster is finding that 17% of its Internet traffic is from mobile devices, so easing the production and distribution burden is a major priority.
"We've moved to HTML5 to get rid of the need to produce different versions for Windows Media or Android devices," says Gören Lindgren, head of technology for SVT Interactive. "We can't go down the road of having to reformat content for each device as that would be impossible in the long run. So HTML 5 gives us a common client interface. And more and more device manufacturers are supporting it."
The new third-generation Web portal builds on streaming efforts that began in 2003 when the network created a portal for video. But manual workflows were the norm, and in 2008, the network redesigned its portal. It not only moved from Windows Media to Flash video but began work on a new media-asset-management system that would eventually unify the TV and Web production, distribution, and traffic workflows under one common platform.
"We needed to have a way to scale the video workflow and create a metadata-driven publication workflow, automatically from SD and HD sources [to the Web]," explains Frank Hoffsümmer, SVT Interactive, head of technology. The automated system also allowed the network to more easily manage rights and automatically pull content off the site once rights expired.
Lindgren says the real goal of the new portal, and backend-technology efforts since 2008, was unification: to bring together metadata, assets, and workflows.
Metadata consolidation, for example, meant the ability to have different systems, like scheduling, subtitling, media-asset management, and the traffic and billing system to have one shared program ID for a piece of content.
"We were in control of the data and knew how it was structured, but we needed another approach that had a system-integration platform that could handle all of the data reception and also send it between the different systems," says Lindgren.
The unified metadata allowed SVT to build SVT Resoures, an application that fetches metadata information from the different systems and allows the user on one system to see all the metadata, rights, and other information that exists on another system.
"SVT Resources is the foundation that allows us to reach the goal of one simple workflow," says Hoffsümmer.
Assets consolidation was done using an Ardome system with 2 petabytes of data for media-asset-management as well as 2 PB of archived material and 18,000 hours of taped archives (the latter are currently being digitised). All of those systems also needed to be accessed by editors and producers using Avid Interplay as well as a Harris traffic and billing system.
"We needed to have different people in different rooms access the information and from one system to another so we could eliminate a lot of manual work that was doubling or tripling the work [that needed to be done]," says Hoffsümmer.
In just the past four months, that new-technology approach has had a noticeable impact on the amount of manual intervention that needed to be done to publish content to the Web. In January, more than 80 pieces of content were manually posted to the Web. By May 1, that number had fallen to below 20.