Tata signs connectivity deal with FOM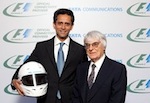 Tata Communications has inked a multi-year technology service and marketing agreement with Formula One Management, which will see it delivering world-class connectivity to all 20 Formula One race locations over its global network, the largest in the world. It will also provide hosting and content delivery services to Formula1.com, which is accessed by tens of millions of fans around the globe.
The innovative deal positions Tata Communications corporately as a Technology Supplier of Formula 1 with category exclusive designations as Official Connectivity Provider of Formula 1 and Official Web Hosting and Content Delivery Network of Formula1.com.
Formula One group businesses and race locations will now be connected to the Tata Global Network (TGN), supported by secure MPLS connectivity. Formula One Management's IT infrastructure and Formula1.com will be co-located and hosted in Tata Communications' world-class data centres.
"Formula 1 requires fast and secure connectivity, because even a split second of downtime can have huge repercussions for its business, brand and reputation," said Vinod Kumar, Managing Director and CEO of Tata Communications. "This delivery is at the heart of our organisation and working with one of the world's most highly technical and innovative organisations is an exciting opportunity for Tata Communications. The collaboration leverages our technology leadership and vision for emerging markets and represents a tremendous opportunity for growth and innovation for both companies."
Bernie Ecclestone, CEO of Formula One group, added: "I'm pleased to welcome Tata Communications into the Formula 1 family and I hope this is the start of a long and successful relationship. Connectivity and content delivery are critical issues for Formula 1 and working with the best in the business is a priority for us. This is a collaboration that will help us stay at the technological cutting edge in these categories."
Tata Communications' capabilities in video and content delivery networks (CDN) will enable uninterrupted, high-quality connectivity to the multi-media portal on Formula1.com. The (TGN) has Trans-Atlantic and Trans-Pacific data transfer capacity of one terabit per second. This capacity will ensure Tata Communications is able to fully support Formula1.com during race weekends, when the site gets on average four million unique visits per weekend, peaking at seven million over some events. Tata Communications' infrastructure will enable the sport's official website to instantly scale up to cope with these significant and sometimes unpredictable traffic spikes.
Tata Communications will also provide Formula1.com with a new Managed Security Suite and will apply an additional layer of managed security monitoring to ensure an increased level of protection to Formula One Management's IT infrastructure.
Looking ahead, Tata Communications and Formula One Management will also work in close collaboration on research and development around connectivity and the latest video technologies.