TdF 101: gearing up for the cycling extravaganza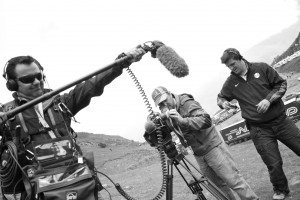 Starting on Saturday July 5 and finishing on Sunday July 27, the 101th Tour de France will be made up of 21 stages and cover a total distance of 3,656 kilometres. This year, the first three of those stages of the French race will take place in England.
Since 2001, the race has been shown on ITV in the UK with coverage provided by production company, VSquared. Over the years, programming has moved from a highlights package to full live coverage.
"We normally start our planning around the previous October," explains James Venner, producer/director of the ITV coverage. "By the time January comes around, we are in a position to submit ideas to ITV. This year we will provide 75 hours of live programming and a further 23 hours of highlights. And because the start is in the UK, we will provide complete coverage of each of those stages – start to finish."
The biggest challenge, states Venner, is that everything and everyone is on the move every day. "It's not like the World Cup or a tennis tournament where there is a central IBC from where activities can be controlled. For us, each day is a new location."
Moving experience
Once each stage is finished, a convoy of several hundred trucks carrying equipment and supplies moves to the next location where the vehicles are parked according to the pre-assigned places. For example, the vehicle carrying the British TV equipment is always parked next to the US provider because commentary facilities are shared and cabling is thus reduced to a minimum.
"We had a truck built especially for us, which was engineered and project managed by the racing operation of SIS links, and supplied from Special Events Services – SES," declares Venner. "It contains a mobile gallery, VT machines and a uPod uplink on the roof. Basically, it's a converted VT truck that we've turned into a scanner, but suits our purpose very well."
That scanner travels the distance of the whole race – both in the UK and France – and will be located at the finish of every stage. For the UK legs, VSquared is also putting in a small OB unit at each start. "This again will be a SIS links truck equipped with a camera for interviews and presentations."
At each finish, the outside broadcast unit from France Télévisions, as the host broadcaster which produces the multi-lateral feed, is surrounded in the broadcast compound (La Zone Technique) by trucks from the licence holders from other countries.
"Broadly, we are offered just one dirty feed from France Télévisions, because there are sponsorship deals with the suppliers of timings and graphics. However, at an additional cost, we can have access to clean feeds of individual cameras."
Normal coverage of the race would include a number of  motorcycle-borne cameras, and two further cameras in helicopters. And it is from these that ISO feeds are possible.
Airborne links
All the signals from the motorcycles are uplinked to aircraft – previously one helicopter per motorcycle – that could hover above the race itself. However, with the advent of digital signals, it was found that using one fixed wing aircraft is possible without any loss of links. Flying a pattern at 20,000 feet, the plane is above any possible bad weather and can pick up signals from multiple uplinks. Although still an expensive operation, it is more economical that several helicopters.
Towards the end of each stage, fixed cameras – around 10 – take over the coverage. Here, too, is located the massive two-storey vehicle that houses the commentary positions. "We tend to share commentary with the American broadcasters, and we simply book a position in this vehicle," explains Venner.
Going for X
Beyond the live presentations, VSquared is using London post production facility, Timeline, for the production of features and highlights. Feeds come into the facility and are recorded on to a Softron MovieRecorder. As a backup, the incoming lines are also captured on an EVS system and then streamed on to a SAN.
"We have been using Final Pro Cut Version 7 in previous years, but are switching Final Pro Cut X for the 2014 event. Apple is firmly supporting us in this exercise and it is going to be a bit of a test case to see if an event of this size can be handled over the period of the Tour."
He concludes: "I'm a great fan of Final Cut, and when the update was introduced in January that allowed better sharing between suites, that clinched the move to Final CutPro X for me."