Tech Insight: Grass Valley talks live sports and keeping customers at the forefront of workflow innovation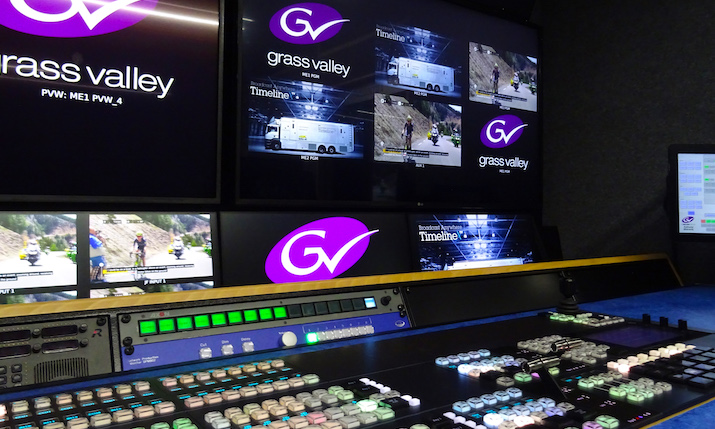 In the latest of our Tech Insight interviews, Grass Valley's John Carter, director of business development live and sports, EMEA, talks about the pressing technical areas of live sports production, and the company's continued efforts to keep customers at the forefront of workflow innovation. Grass Valley has an end-to-end ecosystem of reliable, open standards-based solutions help content creators, broadcasters and media organisations build successful media businesses.
What are your key new technologies, solutions and enhancements for sports broadcasters that you have bought out over the last quarter?
Live sports is hot property in the media market and demand for stunning 4K UHD content experiences is surging. We've introduced several new products and solution enhancements to enable high quality live production workflows for today's requirements and to fit with our customers' evolving needs for flexible commercial models.
Earlier this year we introduced the award-winning native IP LDX150 camera platform to our portfolio. The LDX150's global shutter and Xenios imager provides sports customers with a wider dynamic range in HDR and helps drive creative flair across productions in 4K UHD.
Media companies are increasingly looking to harness IP cameras to align with the adoption of IP-based infrastructures. With native IP connectivity, the camera is a self-contained IP endpoint, meaning there is no need for a separate IP base station, it's built into the LDX 150. This enables highly-efficient remote workflows with JPEG-XS compression capabilities, critical to transporting high quality signals from sports stadiums and arenas.
In addition, our recently launched next generation LiveTouch 2000 replay and highlights system makes instant replay workflows more intuitive than ever for premium live sports productions in HD or UHD, and provides an unmatched channel density for sports customers.
Our cloud-based Agile Media Processing Platform (AMPP) is also in constant evolution. Built on a series of microservices and advanced technologies, GV AMPP is enabling sports customers to harness true cloud elasticity across live production workflows to offer greater scalability and to better align with the OPEX models increasingly adopted by the media and entertainment market. On top of core live production applications within AMPP, we've recently integrated audio mixer, replay and asset management solutions within the platform. With AMPP, customers always have access to the latest and greatest tools as we continually build out the platform to incorporate additional functionality, keeping customers at the forefront of workflow innovation.
What have been the top technology trends during 2021 and what are the hot technology trends we can expect to see in 2022 in sports broadcasting, and why will we see these?
This year we've seen an accelerated shift toward remote and distributed production models, both with the distribution of control and processing workflows. New capabilities in remote and cloud-based technologies are underpinning how customers approach live sports production, offering enhanced flexibility and workflow efficiencies.
As sports media organisations transition toward remote models and innovate with new software-centric solutions, we've been working to provide the flexibility required to meet the relative needs and requirements of each individual production. OB remains a fundamental element of premium live content creation, but as we see more of a shift to distributed control workflows and as OB vehicles become more nimble and agile, advanced compression capabilities such as JPEG-XS that enable highly-reliable signal transport from stadiums and sports grounds will be essential.
Ultimately, customers are thinking about how to efficiently create and deliver more high quality live content for widening audiences across an explosion of over the top (OTT) platforms and mobile devices. By harnessing distributed production processes and agile cloud technologies, broadcasters can package content for multiple destination points with greater ease and scalability.
What can we expect to see from your company in 2022?
Looking into the new year, we're seeing tremendous momentum with our GV AMPP platform as customers across the live sports landscape realise the benefits of cloud elasticity. We're laser-focused on providing our customers with the framework and the flexibility required to support them on their transition toward more remote models, IP-based infrastructure and software-centric approaches. But there is no 'one-size fits all approach'.
As a media technology partner, we need to ensure that we meet the relative needs and requirements at each step of our customers' roadmap; GV AMPP and our GV Media Universe (GVMU) vision underpin this approach.
The GVMU is a digital ecosystem that allows media companies to use both on-premise and cloud technologies from Grass Valley – along with verified third-party partners – to build live production environments that suit their needs today while adapting to future demands. As we incorporate new partners and technologies within GVMU, our customers can seamlessly access best-in-breed solutions and services while suiting OPEX-favoured models that align with our market's future.
We're further building on the momentum we created with GVMU this year into 2022 and we'll continue leading the drive toward cloud-focussed models for live sports production. And as we have been for many years, in 2022 you can expect to see us on the biggest stage, with industry-leading sports customers trusting us to deliver unforgettable live sporting moments from around the world.