Tech Insight: TSL Products on the need for reliable network audio monitoring in live sports production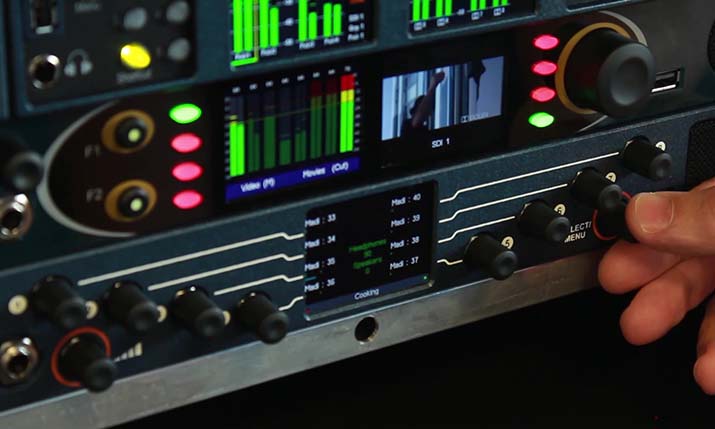 SVG Europe caught up with TSL Products' managing director, Chris Exelby, to discuss the latest in reliable network audio monitoring in live sports production and how that is impacting the drive towards ever-more remote productions.
Specialising in audio monitoring, broadcast control systems and power management tools, TSL Products ensures that its solutions satisfy and exceed the commercial, technical and operational requirements that exist in IT-based and traditional workflows to help customers lower costs, generate revenue and streamline operations.
What are your key new technologies, solutions and enhancements for sports broadcasters that you have bought out over the last quarter?
TSL's latest product is the SAM-Q-NET, the world's first dedicated network audio monitor. This brings the benefits of the highly successful SAM-Q platform into a package suited to the latest IP-ready OB trucks and studio builds.
Featuring onboard redundant 1G Ethernet connectivity and native support for ST 2110-30, ST 2022-7, AES67, NMOS IS-04 and IS-05, it easily meets the technical requirements of IP installations whilst providing a unique and powerful user experience that allows the operation to be tailored to the environment in which it will be used.
In addition to this, SAM-Q-EDIT is a companion offline software editor which allows SAM-Q configurations to be quickly and easily created in advance. These can then be dynamically distributed throughout a network of SAM-Q audio monitors, vastly simplifying the set-up process and of particular use for sports broadcasts, where no two events are the same.
How will this technology help sports broadcasters?
Reliable audio monitoring is a critical part of the live production process, with each position in the production chain having unique requirements. Being able to standardise on a platform whilst meeting these different usage requirements massively simplifies equipment management and operator training for the broadcaster.
With 1G Ethernet ports for the media the cost of deployment is vastly reduced when compared to a 10G solution. TSL have also included both fibre and coaxial MADI connectivity on the SAM-Q-NET, meaning that it can be used both in hybrid environments or as a future-proofed solution for existing MADI-based audio networks.
What have been the top technology trends during 2021 what are the hot technology trends we can expect to see in 2022 in sports broadcasting, and why will we see these?
We have helped a number of customers continue to make the transition to IP-based solutions. This isn't limited to high-end installations; all of our audio monitor ranges are now available with IP connectivity and we have seen increased take-up in each model.
The continued impact of the pandemic means that remote, at-home and distributed production models continue to grow and will be a key part of future TSL development. This in turn has perhaps further driven adoption of IP-based solutions.
The increased maturity of immersive audio technologies, coupled with more and more consumer products supporting these technologies continues to drive adoption of immersive audio. Whilst immersive productions may have taken a back-seat during the pandemic, we expect to see heightened interest in this area for the top-tier events looking to provide their audience with an engaging audible experience.
What can we expect to see from your company in 2022?
There is a lot of exciting product development in the works for 2022 from TSL. With the success of the SAM-Q user experience we will be seeing more of this in our products going forward.
We continue to track the viewers requirements for ever-increasing picture resolution and audio object count. Working closely with our customers across the world we also understand the benefits of IP are not realised in all workflows, so there will still be a significant demand for traditional production formats in the acquisition, production and delivery of some sports productions.
As customers have come to expect from TSL, support for the latest IP and traditional production formats will be rolled out across our range of monitoring products in the coming year. Our pedigree as a leading player in the field of broadcast control allows us to fully understand the importance of control to a modern workflow, hence our audio monitoring products come with support for the common control protocols allowing seamless integration using either in or out of band control.
Supporting AMWA-NMOS, Ember+, the TSL RESTful API and SNMP. This expertise in control allows our products to be deployed in the traditional production model or embrace remote and distributed production methods reducing configuration and engineering costs.