Televisió de Catalunya examines castells in 3D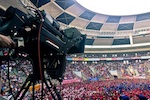 Spain: Not many sport film screenings finish off with a lecture by a noted sociologist – in this case, Salvador Cardús – but then Enxaneta is a fairly unusual film; a 3D documentary, produced by Televisió de Catalunya, about the world of "castells", a Catalan folk tradition which involves making human towers.
Starting from its complete 3D recording of the Tarragona Castells Competition in 2010, Enxaneta explains all of what is experienced by those constructing the castells. The spirit of excellence, teamwork, the integration of women and people of all social classes, of all ages and all nationalities make the castells a valuable tool for social cohesion within the 61 colles castelleres (human tower teams) found in Catalonia. The film also addresses issues that have not been covered thus far, such as fear and the risk posed by falling.
In addition to the images filmed in 3D during the Tarragona Competition, the film takes the viewer to unique human pyramids in Valls, Vilafranca and Terrassa, where in 2010 they were able to achieve previously undocumented castells, such as an eight-level tower without a "lining" (a second-level base built on top of the ground-level base); and castles that have been rarely seen, such as three people at each level in a tower of ten levels.