Tennis fans tune into All England Club's first live Grabyo Visual Radio streams at Wimbledon
Three quarters of a million people tuned into the All England Lawn Tennis Club's (AELTC) new stream of live audio coverage of matches at The Championships at Wimbledon. Broadcasting to social media for the first time, the Wimbledon Radio Channel registered almost 750,000 views and generated direct engagement with just under 60,000 fans.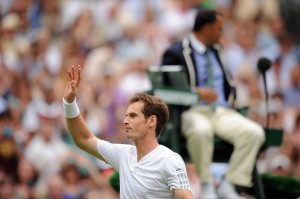 The Wimbledon Radio Channel, Wimbledon's live radio broadcast of The Championships, produced by IMG and encoded by official technology partner IBM, was delivered to Facebook using Grabyo's Visual Radio, a new component of the browser-based production platform Grabyo Producer.
Alexandra Willis, head of communications, content and digital at AELTC, spoke to SVG Europe about why AELTC decided to do an audio stream to Facebook: "We recognise that we have a passionately engaged audience on Facebook, and so when the opportunity to share our popular Wimbledon Radio Channel with that audience became available through Visual Radio, we were keen to test it."
Willis added: "The popularity of the Wimbledon Radio Channel across our Visual Radio broadcasts exceeded all expectations. The Wimbledon Radio Channel performs incredibly strongly across Wimbledon.com and our official apps, and to be able to extend that audience is fantastic; 500,000 people alone listened to the Nadal-Djokovic semi-final which demonstrates our commitment to offering the best access for our fans to enjoy The Championships and engage with our content, and we believe the response shows we have achieved this."
The rich listening experience displays custom graphics and animations on an audio frame, and enables radio distribution to Facebook, Twitter, Periscope and YouTube as well as websites and mobile apps. Viewers were then able to discuss the action with other listeners through comments or posts, connecting the wider fanbase and community.
As to what the goal of this move was, Willis said: "Our digital ambition is always to create an experience that is the next best thing to be at Wimbledon, that sets us apart, that tells our story, and provides a window into the event. Audio has proved to be a phenomenally popular method of engagement with our global fanbase, and so being able to extend that into Facebook was a very exciting opportunity that will help us to continue to futureproof the Wimbledon brand for years to come."
Using Facebook Live, fans of The Championships were able to listen to the ladies' final between Serena Williams and Angelique Kerber, the men's semi-final between Novak Djokovic and Rafael Nadal and the men's final between Novak Djokovic and Kevin Anderson. These live match streams received almost 60,000 comments, shares and reactions from fans, hosted on the Wimbledon Facebook page.
Willis commented: "The opportunity to try out Visual Radio arose during the second week of The Championships, and so we chose three particular matches which we thought would best generate added value for our audiences on Facebook and act as a compelling test of the service. The results are great and clearly there is scope to grow this further in 2019."
On how AELTC will extend this project for next year, Willis concluded: "We hope to be able to deliver the full breadth of the Wimbledon Radio Channel to our audiences across digital and social media, and so no doubt we will look to include Facebook as part of that mix."
The popularity of live streaming on social media has increased exponentially in recent years and sports has been a major part of this growth, sports fans want to feel connected to each sporting moment as it happens. Visual Radio from Grabyo meets this demand, enabling production teams to manage multiple live audio streams collaboratively in the cloud, publishing directly to social and mobile platforms that do not offer options for radio broadcasting.
Visual Radio publishers have the added option of activating campaigns for sponsors and media partners. Grabyo's Producer platform allows users to insert branded graphics, animations or visualisations into the stream. Editors can also insert crowd-sourced comments, conduct live polls with fans and layer imagery and data within the frame to deliver a highly-engaging experience for listeners.
Gareth Capon, Grabyo CEO, said: "We developed Visual Radio to meet the growing demand from fans for live audio broadcasts on mobile and social platforms. Building participation and community features into the product was important, fans want to feel involved with the action whilst communicating with each other. This service also creates new opportunities for brands to connect with different audiences beyond traditional TV. The AELTC has led the way in what is an exciting new step for audio streaming, and we expect Visual Radio to play a major role in live social content in the future."