The Alliance's ONE TV delivers integrated production management solution for MotoGP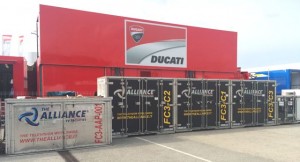 Created at the start of 2016, The Alliance brings together three long-established companies in the broadcast television production market: Global Production, ONE TV and SBP. Today, The Alliance comprises the major TV provider facilities operating in Italy, from the offices in Milan, Rome, Padua and Turin.
One of its operational divisions, ONE TV, created a very versatile and modern system for the management of television coverage related to MotoGP races. The original system was created in 2014 and thereafter used each year and constantly updated.
Among other aspects, the system is notable for its innovative engineering infrastructure, which allows the content to be produced and distributed easily and efficiently.
"The original plan held in due consideration the preparation and the high 'literacy' of viewers who are increasingly demanding, informed and computerised," says Andrea Gianolli, CEO and CTO of ONE TV. "A considerable amount of technology is required to integrate images and the international audio, with in-depth content and an-hoc tailored support for users of each country."
The official feed is made on each racing circuit from the rights holder, Dorna, while the ONE TV system is used to greatly enhance the personalisation of the Sky Italia TV programming. Hence the use of additional cameras able to capture many details, comments, interviews, replay and personalised contributions.
Portable system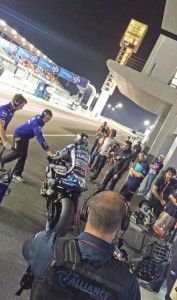 The complexity of the system is evident and the production is generally directed from multiple OB vans. In order to have an assembled gallery in record time – and to be able to dismantle, transport and reassemble everything at each circuit – ONE TV has prepared a very complex system. It is house in just a few flightcases and three containers, which usually travel via normal air cargo.
The media circus moves on different continents to follow the MotoGP with a complete gallery in-a-box. It is an advanced integration technology example that sets up in less than two hours, including line-up.
In practice, integration and customisation accompany all 18 stages of the MotoGP championship, allowing Sky Italia to offer an attractive live programme in HD for each Grand Prix.
Dimensions and storage of valuable materials are carefully planned and controlled, as are the equipment and accessories within the flightcases so that complete safety of the equipment is guaranteed.
State-of-the-art systems
The devices integrated into the system must obviously work together seamlessly, and accordingly they feature the latest state-of-the-art solutions. Cameras are Grass Valley LDK8000s and Sony BRCH7000 (for remote work), while RF systems are from Gigawave. For replay and contributions they have integrated the Grass Valley K2 SUMMIT servers with K2 DYNO. A Grass Valley Karrera handles video mixing duties, while  graphics and telemetry are managed by a triple Vizrt system, with data from Dorna.
An Evertz XENON 128×128 matrix with 192 XLINK is deployed alongside the EVERTZ VIP multiviewer (8 x Monitor Samsung 46" 2 x 17 HD Monitor JVC DTV17G1), as well as two EVERTZ SPGx with GPS and General Glue Equipment.
Audio consoles and commuications systems are Stagetech Crescendo (equipped witha MADI Nexus Star matrix with two MADI cards 64ch) and ADAM-M-RTS TELEX in 176×176 configuration, respectively.
The 5.1 audio monitoring is Genelec, with 8130A bi-amplified satellites and 7261 subs, while TSL monitoring units and Glensound commentator stations are also deployed.