The Cube to be deployed on Le Tour coverage as Discovery Sports ups the ante for men's and women's cycling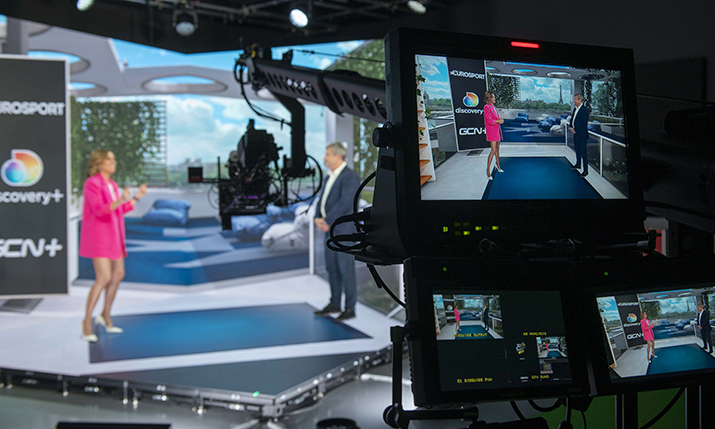 Discovery Sports' mixed reality presentation studio the Cube will be used during coverage of the Tour de France for the first time this year as part of an enhanced cycling schedule being provided by the broadcaster that will include a significant focus on women's cycling.
The Cube will allow for analysis and insight on both the men's and women's tours, and will be the home for main presenter Orla Chennaoui (pictured above with Scott Young of Discovery).
The move comes as part of the broadcaster's increased coverage of the sport for 2022 that will see 600 individual broadcasts, including over 1,200 live hours of cycling for coverage in 65 markets via Eurosport and discovery+, and a further 208 territories via GCN+,
Events covered live will include cyclocross, BMX, track and mountain bike events, plus the Giro d'Italia, the Tour de France (men's and women's) and La Vuelta a España.
Expert analysis will be a key component of the output. Seven-time Grand Tour winner Alberto Contador will front coverage of major races including the Giro d'Italia, Tour de France and La Vuelta a España. Sir Bradley Wiggins also returns this year – including 'Brad on a Bike' – which will see the 2012 Tour de France winner and five-time Olympic gold medallist report live from the heart of the peloton during selected one-day races and Grand Tours.
Fronting on-site and studio coverage throughout the year will be Chennaoui in addition to GCN Director of Cycling Dan Lloyd and former professionals Bernie Eisel and Adam Blythe.
"We will give some background understanding about the female athletes, where they have come from and how they are going to tackle the race."
Discovery's coverage of women's cycling in 2022 will be underpinned by a 'Home of Women's Cycling' campaign, an initiative created to raise awareness of lower salaries and gender bias.
The campaign, to air on Eurosport and GCN, will feature interviews with well-known names from the UCI Women's WorldTour including Annemiek van Vleuten, Lizzie Deignan and Audrey Cordon-Ragot.
In 2021, Discovery Sports produced 100% of the Women's WorldTour for the first time. It has now added Asia-Pacific territories exclusively until at least 2025, France and Australia on a non-exclusive basis to 2025; Middle East and North Africa until 2023 and Latin American markets for the 2022 editions.
Speaking at the unveiling of the new schedule, Scott Young, SVP of content and production at Discovery Sports said: "For Le Tour, we're going to use the Cube as the host set. It's a phenomenal storytelling tool. Every day of the Tour [will be fronted from] the Cube and connecting to 'Brad on a Bike' and the start and finish of each stage."
When it comes to coverage of women's cycling, there will be an increased emphasis on telling stories about the riders themselves, he added.
"We will give some background understanding about the female athletes, where they have come from and how they are going to tackle the race."
For devoted cycling fans, GCN+ cycling coverage will include all the big races live across Road, Cyclocross and Track including Grand Tours and Monuments, extra content and interactive features plus over 100 exclusive cycling documentaries.
During the Grand Tours and major one-day races, localised studio shows will be produced to provide analysis and highlights for viewers in the UK and Ireland (The Breakaway), Denmark (Radio Tour) France (Les Rois de la Pédale), Germany, Spain (La Montonera) and the Netherlands (Kop Over Kop).
70 commentators will provide commentary in 21 languages.
The Tour de France takes place from Saturday 26 June 2021 to Sunday 18 July 2021.