The Hundred: Sky Sports and the ECB turn to gamification as cricket is "freshened up" for a new audience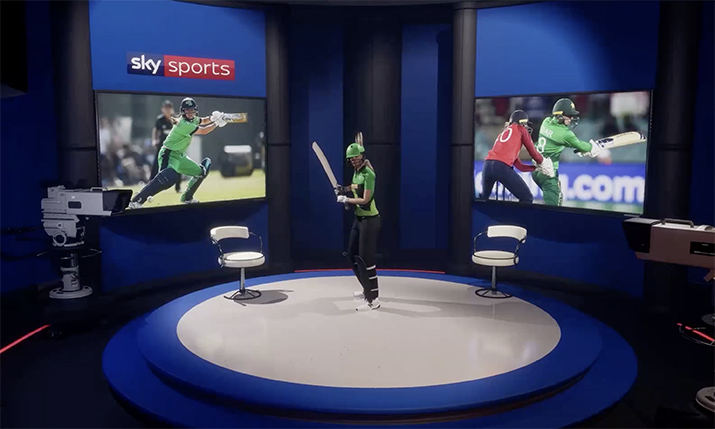 Player avatars for presenter analysis and a new way of displaying on-screen broadcast graphics will both be part of Sky Sports' gamified live coverage of the new 'family friendly' cricket tournament The Hundred which starts on Wednesday (21 July).
The Hundred is a professional franchise 100-ball-per-innings format involving eight men's and eight women's teams located in major cities across England and Wales.
With the sport looking to attract new fans, it's not 'cricket for dummies' but it is very much a TV-friendly format, with accessible start and end times and shorter matches, that has been devised to be more entertainment-focused and inclusive than other forms of the sport.
As such, alongside some of the world's best cricketers, The Hundred will feature a mixture of music, DJs, fan participation and more in an effort to attract more female and child viewers, attendees and participants.
Sky Sports is the host broadcaster for the England and Wales Cricket Board (ECB)-owned competition and will show all 68 games with the BBC broadcasting 10 matches free-to-air, doing its own coverage but taking Sky's world feed.
"It's been a challenge but when is innovation not a challenge? We've gone into the unknown – we do believe it is a broadcast world first"
The family-friendly approach will be reflected in Sky Sports' output which, in conjunction with the ECB, will use gamification to appeal to younger viewers.
That gamification comes in two main forms: player avatars that will be used for analysis during presentation elements of Sky's coverage; and on-screen broadcast graphics with a 'gaming' or 'esports' feel that have been designed to help simplify the game for viewers.
Sky Sports director of cricket Bryan Henderson, speaking to SVG Europe ahead of the tournament, explained the premise behind the tournament and what they are setting out to achieve.
"Cricket as a sport is doing really well and has had some incredible moments over the last few years, with both the England women's and men's World Cup wins and some amazing international and domestic cricket," he said.
"The issue though, concerns demographics. Cricket's audience on and off-screen is typically, quite middle-aged ABC1 men. And although they are an important segment, we need to engage new fans if we are going to grow and future-proof the sport. At the same time, society is evolving. People's lives are changing, people want shorter formats that are easier to understand and they want formats that are affordable to watch with the family.
"Cricket has recognised this and the issues that it has in its appeal and relevancy. And so The Hundred has essentially been born out of that and our commitment to it and to growing the game."
The upshot of this from a TV perspective will be a new way of broadcasting the sport, he added. "We are going to freshen things up and present things in a slightly different way"
Player avatars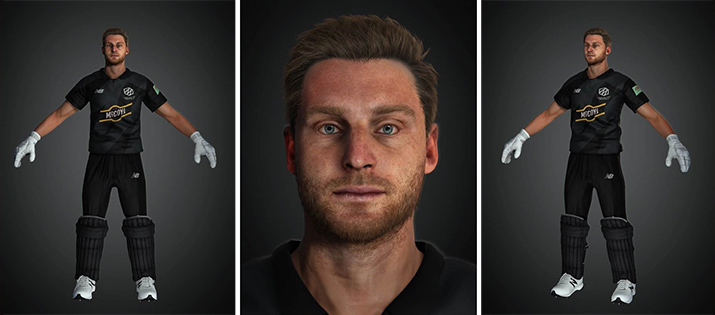 Created in conjunction with the ECB, the player avatars are part of the gamification of The Hundred, with Sky Sports on-screen talent and pundits due to present around them during pitch-side presentation elements within the coverage.
The avatars will help viewers to "get a little bit closer to the players", said Henderson, and make the graphics "more gamified and in tune with the target audience".
They were created using facial recognition and motion capture technology rather than the volumetric technique that Sky has used to great effect on its golf coverage with Sky Scope.
The decision to go with avatars rather than volumetric capture was purely practical, according to Sky Creative creative director of innovation Jason Landau, who was invited to talk to the ECB after it saw the impact of Sky Scope.
"What is right for one sport isn't necessarily right for another," he said. "With the cricket bowling [motion] it wasn't going to be feasible [to do volumetric]. At the same time, we'd been talking a lot about avatars. We'd seen how they were getting better in the overall look so we examined the pros and cons of doing a hyperreal avatar, and then capture the motion data. We thought it would be different but also engaging."
Using avatars rather than volumetric capture will also make it "easier to re-skin if someone changes hairstyle or bat sponsor", Henderson added. "Plus we can touch up hair, alter facial expressions and change things as we wish."
"We were always worried about the motion capture shoots, but once the players had seen what we were trying to achieve, they really bought into it"
The avatars themselves have been created using MetaStar, Dimension Studio's hyper-real avatar solution and the Augmented Reality experience created by Arcade (an immersive experience creative agency, using Unity).
Dimension Studio created the avatar faces using images from 19 stills cameras that captured a scan of each player's head. Those pictures were then animated, processed and stitched together before skin texture and detail was added.
Motion capture techniques were then used to generate the sporting action for each avatar body.
For this, Target 3D positioned 30 optical micro tracking cameras around each player. These triangulated the position of 50 optical markers that were placed on a bodysuit worn by the cricketers as they played different shots or went through their bowling action.
Motion capture gloves were also used to capture movement for bowling wrist and finger position, providing an extra level of detail.
The position of the markers was then used to calculate a skeleton that then drives the animation. The data capture session took place over three days at Twickenham Stadium.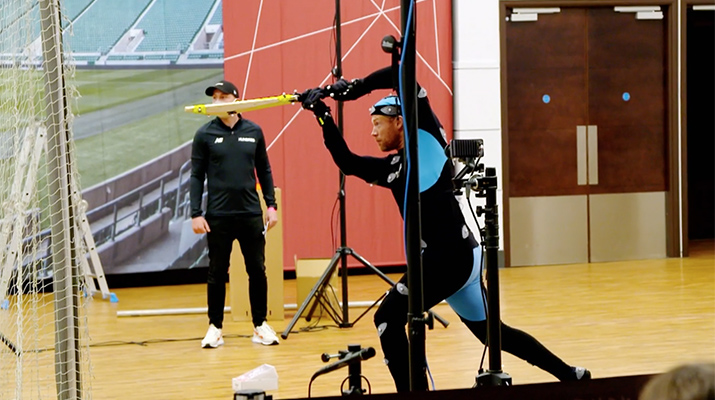 "We got a great response from the players," explained Landau. "A lot were pleased that we were pushing innovation. We were always worried about the motion capture shoots, but once the players had seen what we were trying to achieve, they really bought into it.
"We asked certain players to play certain shots as this will heavily build into the editorial that we will do. [Representatives] from the Sky Sports Cricket team [including producer Tom Crump and senior assistant producer James Wilson] were on hand to check the shots were right. But it came down to whether the players were happy. They got to provide input. They wanted it to be perfect. It was a lot of fun."
The result of the combined facial recognition and motion capture work is that each player has four 30-second avatar clips that Sky can augment into their output for expert analysis of shots and techniques either pitch-side or in the studio.
Acknowledging the complexity of presenting alongside a graphical element that can only be seen on a monitor, it is likely that the avatars will only be used for "heavily pre-produced and pre-planned" segments, said Henderson, who added that it is unlikely anything will be done with avatars "on the hoof".
In addition to the broadcast output, the avatars will also be used by the ECB on The Hundred-related social campaigns and on a smartphone app that makes use of AR to allow the user to have a cricketer avatar play a shot in their garden, or on their kitchen table, for example.
"It's been a challenge but when is innovation not a challenge?" said Landau. "We've gone into the unknown – we do believe it is a broadcast world first. We know that within Hollywood, people have been doing this before. But I am not sure they have done it at this level of detail with analysis for sports broadcast."
---
The Hundred: Creating the player avatars
---
New style broadcast graphics
While the player avatars will doubtless receive lots of attention, getting the newly designed and styled broadcast graphics correct took up greater time for Henderson and the Sky Sports team. And mainly because it's not just about aesthetics.
As the sport is aiming to attract a new audience, the on-screen data and information has to be both visually appealing for the target audience and simple enough to be inclusive without alienating those already passionate about the game.
"We've tested the on-screen graphics with a range of cricket fans," said Henderson. "It is really important that we get the balance right between educating newer fans and not annoying or upsetting [traditional cricket followers] or dumbing down. I can't tell you how many meetings we have had about it!
"The graphics took an eternity to create. There are something like 85 graphics we can call upon. It's been months and months of work."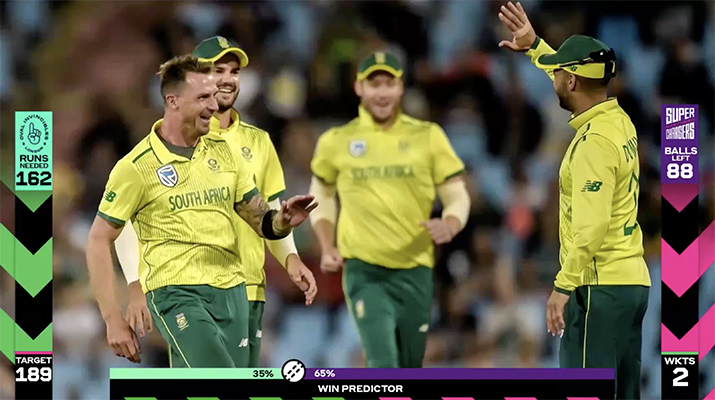 The ECB has created a completely new look and feel for The Hundred which is very bright and bold and this will be carried into Sky's on-screen graphics. From there, it was about what to show and where to show.
"From a TV producer's point of view, [this is a] great opportunity to deliver something new. Simplicity is at the heart of everything," he added.
The chosen screen layout is fairly similar to video games, with data going up and down on both sides (see above).
It allows the viewer to quickly see how many runs have been scored and how many balls have been bowled – those being the two main currencies of each game. And in the second innings, how many runs are needed off the number of deliveries left.
"That is the key information," said Henderson. "How many runs are needed off the number of balls left to bowl. In the second innings we will add the target score so that you're not automatically having to compute it in your mind. They're really just based on simplicity ultimately."
In addition, a Cricviz algorithm will appear on screen showing a 'win predictor' based on its Winviz data. Although this data is used in coverage of other formats of cricket, it will take more prominence on The Hundred and will help viewers to answer the age-old novice cricket spectator question of 'who is winning?', something that is very subjective and difficult to answer in a sport that ebbs and flows.
"The win predictor bar is not going to be there all the time," said Henderson. "We'll just animate it in, now and again, when relevant. What you will see, more of the time, is the more conventional bowling and batting statistics."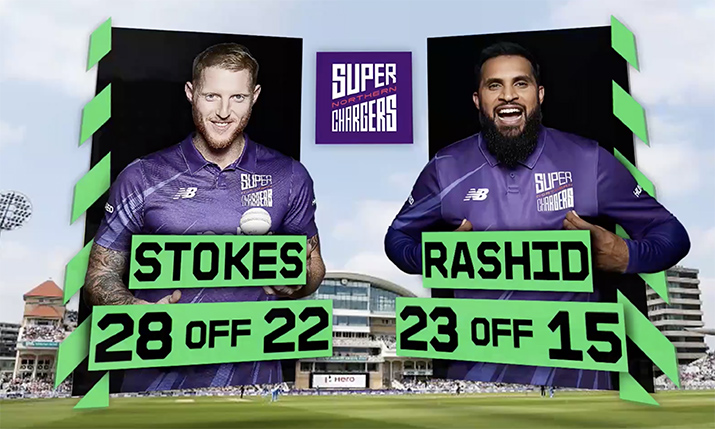 AR will also be used for some of the broadcast graphics – which in itself is not new – but Henderson is asking his team to place them at a different angle on the screen (pictured, above).
"A lot of the time, in other competitions, you shoot down from up high on our cameras. We're going to do it the other way and [shoot from below in order to] kind of superhero the players – which looks really nice."
Using the ECB's branding, Sky Creative designed the graphics, led by Chris Wilcock, creative director at Bigfoot Creative, who is a former design director for Sky Sports.
AE Live did the software writing and implementation and will generate the graphics remotely for Sky Sports' host broadcast as well as producing AR content at the venues.
The same set of real-time scoring data will be used to drive graphics around the LED perimeter of the grounds and the venue's main scoreboard. The data is being ingested, orchestrated and distributed from AE Live's new platform, Aether. Find out more about The Hundred graphics.
Remote, responsible and diverse
Coverage of The Hundred will be done remotely by Sky with pictures switched back in Osterley, where replays and graphics will also be added, from a dedicated cricket gallery. Presentation will be done on-site.
The on-screen talent will be diverse with at least 50% from a minority ethnic background on each game, and the output equally balanced from a gender perspective with equal coverage and promotion for both the men's and women's competitions. Gender-neutral language will also be used, so 'batters' instead of 'batsman', for example.
In addition, the production will be Albert certified, a mark of sustainability that indicates that the programme maker has taken steps to manage and reduce its environmental impact. A cricket and climate change documentary will air during the tournament and sustainability will be integrated into the editorial.
The reaction
Henderson acknowledges that The Hundred, which was first mooted in 2016, and agreed formally in 2017, hasn't been universally accepted by all traditional cricket followers, which made developing the TV coverage more complicated. But a four-week immersion course, called Sky Labs, in which the team took themselves off to a different part of Sky's campus in southwest London to develop the coverage concept, was invaluable.
The workshop included brainstorming, idea development and presentations and talks from various third parties, including representatives of social media platforms, former England cricketers, academics, sponsors and more.
"We're taking risks. The alternative is to play it safe and do nothing. It's not all going to work perfectly. We know that. But we're trying"
"Sky Labs was a game-changer," said Henderson. "When The Hundred was announced it didn't go down very well. But the ECB has recognised that if they don't do anything, the sport is potentially in trouble. This is really important for them. The four weeks, especially with the academics, gave us the confidence to go for it and take risks. They told us not to worry about the haters. That gave us confidence, instead of compromising.
"We're taking risks. The alternative is to play it safe and do nothing. It's not all going to work perfectly. We know that. But we're trying."
Sky Sports will show 68 games in The Hundred, 34 from the men's and 34 from the women's tournaments, with all the women's games and nine men's games being made available free-to-view on the Sky Sports Youtube channel.
There will also be coverage on the Sky Sports Main Event, Sky One and Sky Sports Mix channels.
The Hundred starts on Wednesday 21 July with the women's game between Oval Invisibles and Manchester Originals and continues until the finals on 21 August.