The long journey to live: How BT Sport scored a world-first with streaming Dolby Atmos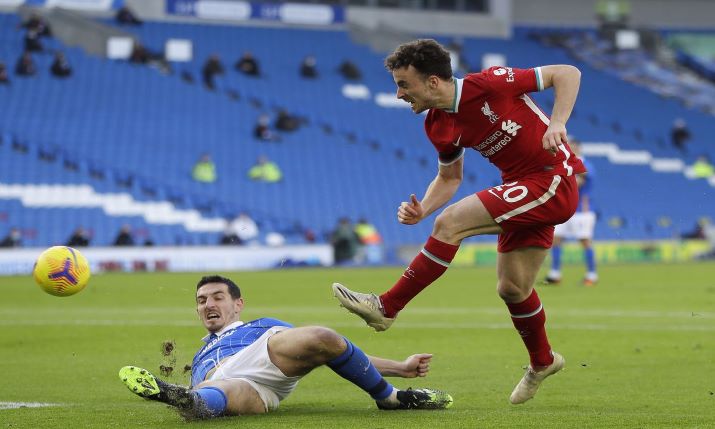 BT Sport took another big step towards offering its customers immersive fan experiences when it rolled out a live Dolby Atmos offering across both its mobile and big screen TV apps recently.
When Brighton took on Liverpool in the English Premier League, BT Sport Ultimate customers were able to access the immersive sound output using compatible platforms including iOS and Android mobile devices, Apple TV, Android TV, Amazon Fire TV, Samsung Smart TV and its own BT TV 4K box.
Just like being there
Available on BT Sport's linear output since early 2017, Dolby Atmos is a surround sound technology that can reproduce up to 128 simultaneous audio objects in a mix for rich, realistic sounds that, "move all around you in three-dimensional space".
In terms of delivery, height channels are added to allow the audio to come from overhead, as well as from around the listener via traditional surround channels. Dolby Atmos has also been available in the UK for some time on select premier Sky channels, including Sky Sports.
"However, the capability to stream [live] Dolby Atmos has eluded everybody," says Jamie Hindhaugh, chief operating officer at BT Sport. "And we finally managed to make that work."
"We've been working on it for two and a half years, working with Dolby in their labs," he adds. "It is genuinely a world-first; no one else has ever streamed Dolby Atmos in a live environment before.
"Your viewing experience is enhanced by 60% by sound," continues Hindhaugh. "When you look at Match Day Experience, which is 4K HDR via our big screen app, to really complement that with Dolby Atmos is a huge step forward.
"It makes a huge difference. If you listen to the Kop [Liverpool's stand] before a game, you've got the sound of that chanting coming into your house in 360 surround sound; it's just a phenomenal experience."
"There have been a lot of hurdles that we have had to jump through, but the good thing is now it's working"
Hindhaugh says the enhanced audio facility has been launched now mainly because BT Sport had worked out the way to be able to live stream Atmos and, "so we can get those workflows working", but he is looking forward to when fans will be allowed to return to stadiums after COVID restrictions lift.
"When fans are fully back into the stadium, to be able to really feel that closer engagement to those fans, I think is really exciting," he says. "I think it's what we should be doing as a broadcaster. For me it's not just giving a linear viewing experience but it's actually giving them an experience which is about feeling, and that's what Dolby Atmos does.
"At the moment, the focus is around our Premier League [offering]. Once we get into February with a new gallery infrastructure that we're building in Stratford, then we may be able to widen that up to other events as well."
Also key is the mobile factor, with Dolby Atmos now supported through BT Sport Ultimate iOS and Android apps via the phone speakers, or by using earbuds such as Apple's latest AirPods Pro.
"You can use virtuallyany headset in reality and get an enhanced experience, but some of these new headphones do make a difference," says Hindhaugh. "The whole point about this is that you will be able to watch our Premier League game on the go, in HD HDR with Dolby Atmos. So, you're not missing out just because you happen to be on a train or because you happen to be shopping."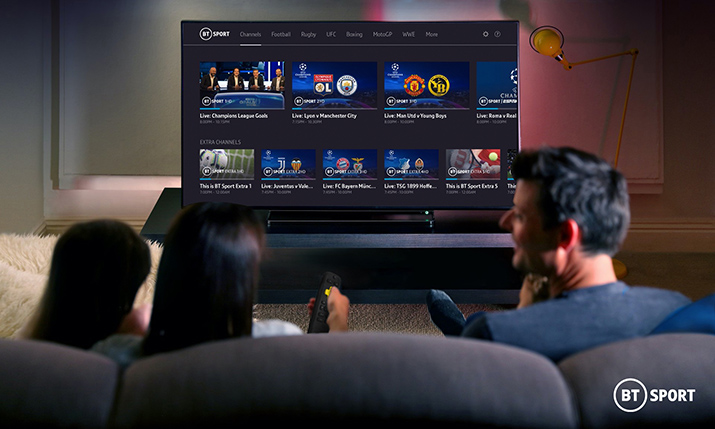 Extended ecosystem
With trials taking place for some time before its 2017 Atmos launch, BT Sport has long had a close relationship with Dolby. "You always want an enthusiastic first customer," says Javier Foncillas, VP of commercial partnerships for Europe at Dolby Laboratories. "We started with the English Premier League then we moved on to European Championships. We've had quite a run leading up to the latest launch with BT Sport Ultimate and we've jointly developed quite a lot of interesting things."
As part of that launch, BT Sport also announced it was adding Dolby Atmos support for Chromecast, Now TV and Roku devices.
"Our ecosystem has been growing," says Foncillas. "We started with Atmos for classic pay-TV broadcasting for premium TV through the set-top box and an AVR soundbar, then we moved into TVs, then mobile, when Samsung launched Atmos capability in most of its devices. When Apple made all its devices compatible with Atmos that was a big increase in the whole ecosystem, with the AirPods providing headphone rendering for Atmos."
Rather than just pure R&D, the relationship between Dolby and the pay-TV firm has been concerned with ways to deploy Atmos most effectively.
"New devices continuously come to market with Atmos capability," Foncillas says. "BT Sport needed to have a way to manage that. They can't have one workflow for each device, so together we're able to design a workflow that can take advantage of the new devices as they come to market."
But, as Hindhaugh says, the capability to livestream Dolby Atmos was always the elusive extra factor.
Explains Foncillas: "It was a big leap to go from a controlled [broadcast] environment to OTT. Streaming and OTT brings a whole bunch of new challenges that didn't necessarily require development, but you have to make sure you understand the capabilities of each device."
An added difficulty is that not all devices take the same stream. "Apple is very particular about their streams and how they want it managed, for example, and each smart TV has its own peculiarities," says Foncillas. "Just because the TV says it's Atmos-compatible, the apps on that TV might not be Atmos-compatible. So if you want to stream directly to the TV, you may need to redo your app in a slightly different way, you may need to be able to change some of the parameters of your stream. The streaming world has a lot of variety."
Of course, Dolby Atmos streaming has been available with video on demand for a while. "Netflix, Amazon, Disney, all the global VOD players are doing that. But if you if you notice, very few of them are live events, it's all post-produced content," says Foncillas. "The moment you go to a live event, in addition to the OTT [factors] you need to have a live encoder to live produce an Atmos file and get a stream out of it."
"We had some elements of the chain, like an AWS Elemental encoder that only recently enabled this kind of live stream, but they were 'in beta' and if you're going to go to this kind of scale, where you're going to be running it every weekend, you want to make sure it's all stable," he continues. "In addition, the moment you get to live sports, you have an additional challenge. You have advertising, which is in stereo."
Foncillas continues: "Can the encoder switch between these different sources? You can have the studio which is one source, you can have the advertising which is another source, and then you have a lot of feeds from the stadium which is yet another source. Is everything stable enough that you can switch between all these different feeds, without causing any problems? Luckily everybody got together with encoder manufacturers and now we actually have a great product that can do just that."
Sound on the move
As for mobile, a number of Samsung devices, as well as devices from Huawei, Oppo, OnePlus, Sony and others support Dolby Atmos.
"Some of these devices have been capable of receiving the BT signal for quite a while," reveals Foncillas. "There's been a lot of work going on in the background over many months, testing device by device until everything was in place."
Starting with iOS 13 and iPadOS 13, Dolby Atmos is supported on all recent Apple devices (2018 and later), but iOS 14 and the AirPods Pro with spatial audio are another step forward in rendering the immersive audio experiences
"[BT] has a very good partnership with Apple which also helped," observes Foncillas. "So it got to the point where we had enough alignment, and a significant number of mainstream devices, that it was just the right time to launch the offering. There was critical mass, so that when they made an announcement to the market there were enough consumers that could benefit from the offering."
Meanwhile, Hindhaugh notes: "For me, Dolby Atmos was always about giving people that stadium experience when they're on the go or when they're watching on other devices, other than [just] on BT TV. I always simplify things in that way, but as the technology teams say, 'It's a bit more complicated than that'. But they've done a fantastic job in partnership with Dolby."
Foncillas adds: "There have been a lot of hurdles that we have had to jump through, but the good thing is now it's working. If BT want to add more games, they know how to do it. Now it's time for them to enjoy it."
And it is not just BT Sports getting in on the Atmos game; Amazon Prime has also just begun streaming Premier League matches via Fire TV UHD devices and smart TVs.
"The work is done, so it's a matter of now people having to just upgrade their services so they can provide a similar level of service," says Foncillas. "Sky has an incredible Atmos offering and if they choose to bring it to OTT, I would say the field is ready for them. Not just football, but there is boxing and lots of other sports where the opportunity to expand is significant."
"I think the UK, because it has such a high penetration of Atmos playback devices, will probably be the place where a lot of these things are going to happen in the next few months," he concludes.