The Motorsport Show 2020: Back on track with F1, Nascar and MotoGP
Featuring F1, Nascar, MotoGP, Sky Sport and Ralf Schumacher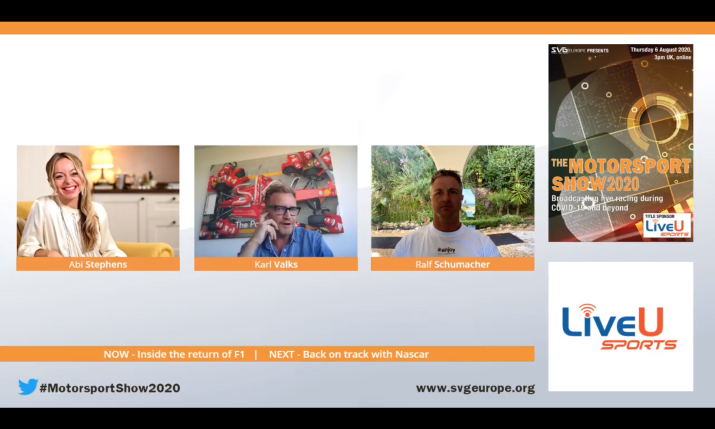 The Motorsport Show 2020 on Thursday 6 August showcased how some of the top names in this area have got their coverage back on track with live broadcasts of races and championships.
Returning to the paddock is not an easy task, however. The event, sponsored by LiveU, enabled SVG Europe to examine how motor racing is being brought back to TV screens following the coronavirus pandemic and how coverage might develop in the future.
Formula 1's Dean Locke, director of broadcast and media, discussed how this premier form of racing has returned to the track, how it will move forward over coming months, and what is needed to push that innovation ahead.
"Corona forced everybody to look at remote at large events. We've proved that we can do these shows at scale. And proved we can do it in multiple different ways."
Locke spoke in a live conversation with the presenter of the Motorsport Show, sports presenter Abi Stephens. On F1's remote production, he said: "We've made that jump and we're really happy with it. We'll add developments over coming seasons to push that out even further."
He also discussed F1's COVID procedures given that last weekend at the British Grand Prix, Sergio Perez tested positive, and how that was contained, as well as how the fans of this motorsport have been gripped and engaged by the racing action so far.
Locke was followed by Sky Sport's Karl Valks and former Formula 1 driver, Ralf Schumacher. Again speaking live with Stephens, Valks said: "Corona has a very big impact on all of our lives. From a broadcast point of view, the gallery…. the first thing is to make it safe for everyone. We bought a lot of people to their home offices very quickly."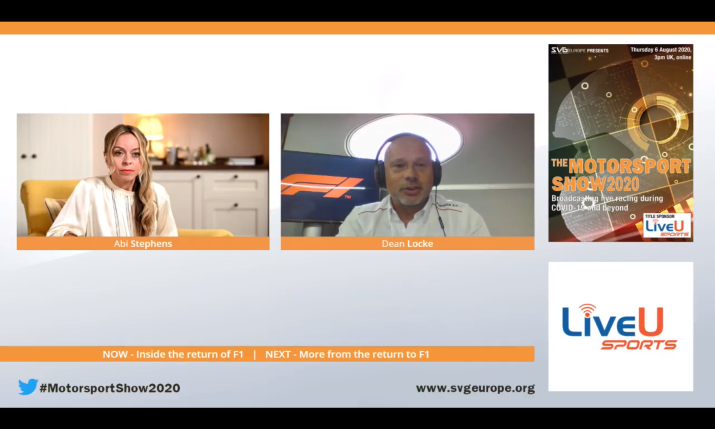 On the production of F1 Grand Prix now, Valks added: "At the moment we have just two people at the track and all the rest are [working on the F1 productions] remotely. But we use footage from Sky UK and Italy. If a pandemic is coming up, you have to [make sure] everyone's life is safe."
Meanwhile, Schumacher discussed what it is really like to live and work in an F1 bubble for Sky Deutschland, coining the term, "bubble life".
He said: "In a bubble, life is pretty normal. I started to work with Sky last year; with this new life, you can just go out with your mobile phone [at the track and film]. It's a challenge to get across to people where we are and what we're doing."
Nascar on proving remote works
Steve Stum, Nascar Production's vice president of operations and technical production, discussed how different US broadcasters have approached Nascar coverage, outlined the various remote production workflows being used and highlighted the impact of COVID-19, both positive and negative.
"I've never been more proud to work for Nascar," he said, in a one-to-one conversation with SVG editorial director Ken Kerschbaumer.
"We put a lot of thought and effort into how we keep people safe. [With remote production] we had to do it. We had to do something. We had to reduce the number of people on site. It forced everybody to look at remote at large events. To do that on your own takes a lot of planning and you have to have a good reason. COVID-19 was a good reason. We've proved that we can do these shows at scale. And proved we can do it in multiple different ways."
In what was a common theme during the event, Stum also made note of the use of data and statistics within motorsport coverage and how it can be used to aid storytelling.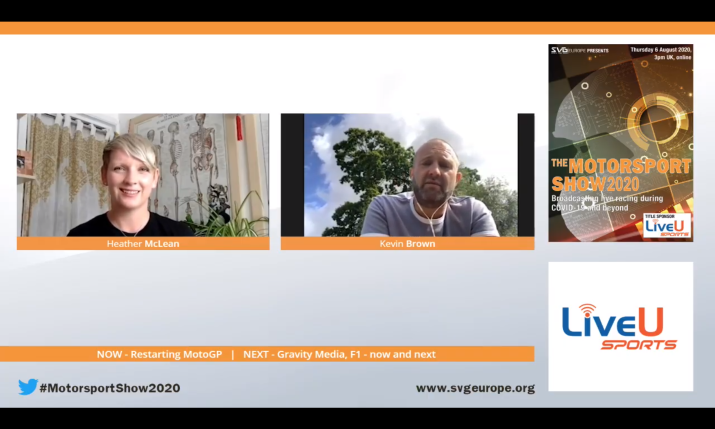 MotoGP and The Greatest Race
North 1's Kevin Brown, MotoGP series editor for BT Sport, explained how North 1 worked closely with BT Sport to, "explode the gallery" to get its lockdown concept programme, The Greatest Race, on TV screens within days of arriving at the idea.
When BT sport suggested the idea of decentralising the gallery so the broadcaster could still produce MotoGP programmes during the lockdown, Brown said he thought, "what have you got to lose? We didn't have any other ways of making programming, so we decided to go for it".
Speaking to SVG Europe editor, Heather McLean, Brown continued: "The usual TV gallery, which we weren't able to put together physically, we did remotely. We had people in various parts of the country; an EVS operator in West London, we had myself in Norfolk, we had our VT co-ord in Kent, we had graphics in Essex, we had our presenter Gavin in Yorkshire. We had all the elements in various parts of the country, all held together with some clever engineering and some broadband."
"Of course, COVID protocols are in place everywhere, but the safest place for everybody is still at home."
He added now that MotoGP is back on track, North 1 is focused on taking fans, "to the event" while protecting crew. It is working with a remote presentation hub at Triumph while using the same remote production as for The Greatest Race with home workers and restricted numbers of staff allowed into any studio space. "BT [Sport], from the outset [of the coronavirus pandemic], have always said that their number one priority is safety of all of the staff. Of course, COVID protocols are in place everywhere, but the safest place for everybody is still at home."
He concluded to say that this increase in the use of remote production will continue to happen going forward, "for sure".
Next up was Gravity Media's Ryan Campbell, talking all things motorsport, what it is like on location today, augmented reality possibilities, and name dropping Lewis Hamilton.
Stephens then rounded up and waved the chequered flag on the first SVG Europe Motorsport event.
SVG Europe's The Motorsport Show, sponsored by LiveU was streamed live on 6 August 2020.
---
Watch a re-run of The Motorsport Show 2020
---