The Motorsport Show 2021: F1 and MotoGP added to speaker programme for 24 June online event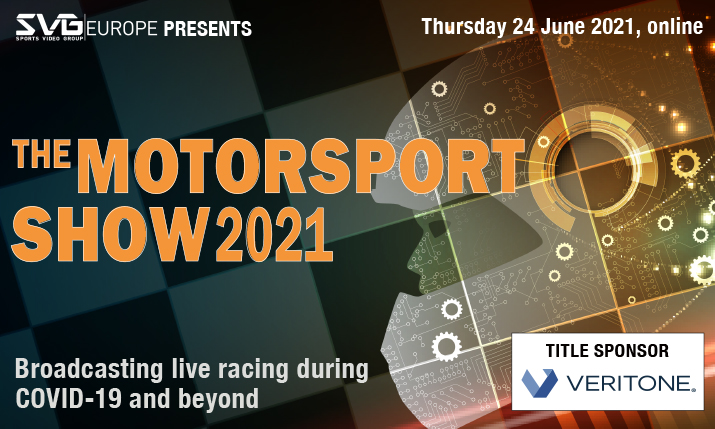 Production, editorial and technical innovation on F1 and MotoGP coverage will be discussed next week (Thursday, 24 June) when SVG Europe puts on The Motorsports Show 2021, sponsored by Veritone.
The online event will focus on best practice around the circuit and in the compound, highlighting how broadcasters and motorsports associations are changing their workflows, augmenting their output and upping their viewer engagement.
The latest speakers added to this packed agenda include Formula 1 Director of Broadcast and Media Dean Locke. Ahead of the Styrian Grand Prix 2021, he'll share the latest production and broadcasting innovations being used to produce coverage of, and programming around, one of the world's most popular sports.
Also new to the agenda is Kevin Brown, North One Series Editor. He will discuss how BT Sport's coverage of MotoGP is produced, the challenges faced and what is coming down the line for the premier class of motorcycle road racing events.
In addition, Sam Broadfoot, NEP, Technical Project Manager on Extreme E joins Ali Russell, Chief Marketing Officer, Extreme E; Lawrence Duffy, Managing Director, Aurora Media Worldwide; Mike Scott, Extreme E Series Producer, Aurora Media Worldwide; and David O'Carroll, Operations Director, Aurora Media Worldwide as they take attendees on a 'behind the scenes' look at the Senegal leg of the Extreme E series, including exclusive behind-the-camera footage from NEP's new London facility.
They join previously announced speakers Philip Rorke, Broadcast Executive Director, Television Production, Formula 1, Artie Kempner, Coordinating Director at Fox Sports and Xavier Gavory, Series Director, Pure ETCR.
The event, hosted by Abi Stephens, kicks off at 14:00 UK time.
To find out more and to register go to The Motorsports Show 2021.