The Road to Russia: How European broadcasters are preparing for the 2018 FIFA World Cup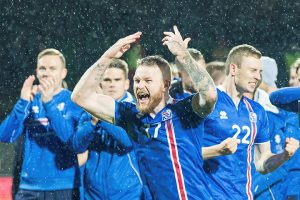 In addition to Russia, which qualified automatically as the host nation, a total of 13 places were available for European teams for the 2018 FIFA World Cup finals.
TV coverage by the rights holders in those 13 nations will vary significantly and SVG Europe talked to a number of broadcasters – both big and small – about how they plan to bring the football feast to their viewers.
Focus on France
BeIN Sports France will provide live broadcasts of all 64 games – including 36 games on an exclusive basis. In addition, a free-to-air channel will co-broadcast a mix of selected games from the finals in Russia.
According to Bruno Bensimon, beIN Sport France's production director, the broadcaster's main studios in Paris will be the hub of its World Cup operation.
"For premium coverage, on a daily basis, we will also have a rented studio in Paris that will allow us to welcome audiences for our programmes," he says.
In addition to the production team, the broadcaster will also have a team of journalists covering the tournament.
"We will have more than 20 journalists and analysts on site in Russia, with our commentators covering every game live," adds Florent Houzot, beIN Sports France head of news.
"For our magazines, we will have 10 reporters who will continuously follow the main nations, such as France, Brazil, Germany and Spain. They will broadcast live on-air from the base camps to deliver all the news. They will be, what we call, our "itinerant studios" in Russia, utilising seven SNG units."
For its coverage at the various venues, beIN Sports will also use unilateral cameras to supplement the Host Broadcaster output.
"We will use EVS systems for immediate editing and be able to provide our own clips for the production team", says Bensimon. "This will not replace or be compared to the Compilation Channel that is provided but it will help us to personalise our coverage."
"The biggest challenge is logistical as the country is so large, making travelling and equipment transportation difficult."
He reports that all post-production editing will be carried out in Paris in readiness for the daily shows.
"Although on-site coverage on match days will be done with EVS, all our SNG or ENG crews will be equipped with Avid editing suites."
While no remote coverage is anticipated for the matches, this could change if production plans are revised during the tournament. Having said that, the broadcaster's OB truck on site will be accessible remotely from the main gallery in Paris when it comes to producing specific shows, alongside pre-game, halftime and post-game reports.
As well being broadcast on its traditional channels, all 64 games will be accessible on the OTT platform beIN Sports Connect. "In addition, all World Cup news and the best images of the competition will also be accessible on our social networks and a dedicated website," adds Houzot.
Bensimon concludes: "The biggest challenge is logistical as the country is so large, making travelling and equipment transportation difficult. Thankfully we have within the group huge experience in managing such events, while the optimisation of engineering and resources offer us significant flexibility in any situations."
The Swiss solution
Although Switzerland had victories in its first nine qualifiers, the team still ended up in second place in the group on goal difference. The Swiss then beat Northern Ireland in the playoffs thanks to a controversial penalty decision. Coverage of the finals in Russia will be handled by SRG.
"We will have a crew of around 80 SRG staff to produce TV, radio and online content for all four of Switzerland's language regions – SRF, RTS, RSI and RTR," explains Nicole Jörger (pictured), head of delegation SRG FIFA World Cup 2018.
"We have opted not to have a presentation studio in Russia but will anchor all of our programmes from our facilities in Switzerland."
In line with other broadcasters, SRG will make use of the pool feed ISOs. "We will use our own EVS playbacks for highlights of Swiss games in our own OB trucks. Otherwise, we will work with the various feeds from the HBS provider and Compilation Channel. The feeds will be edited in our home studios using our Sony XPRI editing system."
During matches involving the Swiss team, five cameras will be used for presenting and interviews, plus one unilateral camera.
"The plan is for two cameras to be used in our SRF pitch view studio, with pitchside and flash positions for SRF, RTS and RSI utilising one camera per language region TV station," says Jörger. "The unilateral camera will be positioned on the central platform."
"We have opted not to have a presentation studio in Russia but will anchor all of our programmes from our facilities in Switzerland."
She continues, "All simultaneous games will be offered on the red button, while all matches will also be live streamed."
Jörger says that the greatest challenges to handling the coverage are In Russia will be the long distances and the language. "Both will be particularly challenging during the knockout stage due to the short-term planning."
Croatian coverage
Croatia booked a second successive appearance at the World Cup thanks to a 4-1 aggregate play-off victory over Greece. The national broadcaster, HRT, will be sending a crew of around 20 staff to Russia to provide comprehensive coverage for fans back home.
"We will have a studio based in the training camp of our national team," reveals Drago Ćosić (pictured), HRT's head of project. "In addition, we will be utilising the Host Broadcaster capacity at the stadiums. However, because of our size, we will not be complementing any of the Host Broadcaster coverage of the games themselves with our own cameras."
He goes on to say that like other rights holders, HRT will have access to the pool ISO feeds when it comes to compiling highlights and other packages.
"We will use the Vizrt Libero system for analysing and playback. Editing will be carried out on location using our Avid facilities."
Saša Dedić, a producer within HRT's International department, takes up the story. "We are considering some specific graphics innovations, but our plans are still being developed. We plan to broadcast a daily World Cup show from our studio in Zagreb. Alongside that, we will be streaming all the matches and press conferences of the national team on our OTT platforms."
The Swedish setup
Sweden made its first World Cup appearance in 1934, and since then has taken part in 10 further tournaments. In November 2017, the team qualified to play in Russia by eliminating Italy in a playoff.
Rights holder SVT will send a crew of around 14 to cover the matches in Russia.
"We will anchor all of our World Cup programmes from our studio facilities in Stockholm," reports Max Bursell, the broadcaster's head of projects.
"From there we will also be running our EVS playbacks which will be based on the various multi-feeds that are available to use. We take all signals from the stadium by fibre to the IBC, and then on our control room in Stockholm."
For games involving the Swedish team, SVT will have positions at the stadium for its own cameras – and the output will be produced remotely from Stockholm. "In addition, we will also be utilising ENG crews for news and background material," adds Bursell.
All matches broadcast by SVT will also be streamed on its web player SVT Play.
So, what does Bursell see as the greatest challenge on a project such as this? "Maximising the output from the multi-feed package and FIFA Max to ensure we give our viewers the very best coverage of these important games."
Iceland's ideas
In October 2017, Iceland qualified for its first-ever World Cup by defeating Kosovo 2-0 in Reykjavik. With a population of a little over 334,000 people, that win makes Iceland the smallest nation ever to qualify for the tournament.
"We are planning some very special innovations for our studio in Reykjavik – but we are keeping those details to ourselves at the moment," teases Hilmar Björnsson (pictured), head of sports at RUV, the Icelandic rights holder. "Our viewers will be pleasantly surprised."
Björnsson, himself a former player for the Icelandic team, goes on to say that the broadcaster will utilise the pool feed ISOs and the various other sources from HBS and the Compilation Channel. Editing will be carried out on location using an Avid system.
"The Icelandic fans are known for their enthusiasm – you just had to witness the celebrations when we qualified to appreciate that fact. And for those not able to make the journey to Russia, we will be using our unliteral cameras to bring the very best and most informative coverage."
That coverage will make use of the broadcaster's TVU and LiveU facilities. "We will follow both the team and the fans as the Iceland team progress through the competition," he says.
Alongside the television coverage, RUV will also be streaming the matches on the web and on mobiles.
"Of course, the biggest challenge for a broadcaster that is small in comparison to many others is the size of the operation and the distance from home – but we are confident all is going to work out really well for this tournament."
The 2018 FIFA World Cup in Russia starts on 14 June.
You might also be interested in: The Road to Russia: How UK broadcasters will share resources for World Cup 2018