Sky is not the limit: Sky UK's Inga Ruehl on managing mammoth production facilities
Sky is a pan-European machine, hungry for ever-more content. In the UK, Sky and Sky Sports have cutting-edge studios plus hundreds of staff, even more freelancers, and numerous OBs to organise to keep this content-producing monster sated.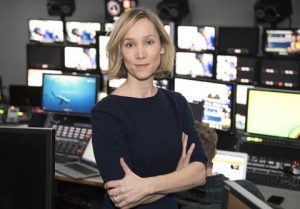 Head of Studios for Sky Production Services at Sky UK, Inga Ruehl, manages around 300 staff members and about 300 freelance staff on top of that at any one time. Having worked in the Sports Production and Facilities industry for over 15 years, she is a highly experienced production and broadcast executive with knowledge of all areas of production and content delivery, as well as having a wealth of knowledge in building and leading large production and operational departments.
Since January 2017 Ruehl has been responsible for all of Sky's studio facilities and crews. This includes 15 studio floors, 10 galleries, all the people who are delivering studio output for the Sky Sports channels as well as Sky's 24/7 News service – and many of Sky's entertainment formats and some external studio clients.
"I head up the studios for Sky's facilities and production services. Sports drives a lot of what we do; we supply and crew all their studio shows as well as quite a bit of their OB requirements. We also run the studio facilities for Sky Sports News and the Sky News channel which has a total of five studio spaces. On top of that, we do some entertainment work for our Sky channels and have some external clients utilising our facilities and crews. So although I work in facilities, we are really very closely linked to Sky Sports and everything they do," she comments.
"One challenge we always have here is training and recruitment," continues Ruehl. "We're so big and we use so many crews that we're always looking for people. However, especially with the BBC reducing a lot of its apprenticeship programmes, we are currently looking at making sure we have good entry-level programmes ourselves. We also always need to balance carefully between freelancers and staff. You have to make sure you have the right mixture of people suitable to your production requirements!"
Sky Production Services has also started working as a regular studio facilities provider for other companies producing content for channels other than Sky. Ruehl has been working with Sunset+Vine on Channel 5's 'Football League Tonight' programme for the last three years. She adds: "We have been looking at increasing our work with external clients as well as Sky itself, so we have been getting in some entertainment and news clients on top of sports productions like Channel 5's 'Football League Tonight'. We've got these beautiful studios, and we want to make sure we use them."
Maximum output, minimum hours
This impressive list of responsibilities is handled by Ruehl, even more impressively, in just four days a week thanks to Sky's forward-thinking attitude towards parents in the workplace. Ruehl is a mother of two young children and has made multi-tasking and being highly organised literally a way of life. Sky recognises talent and, says Ruehl, has a well-developed idea of how to support women within the business so they are not forced to decide between work and parenting, and are made to feel comfortable in their decisions to cut down on working hours in order to make family life work.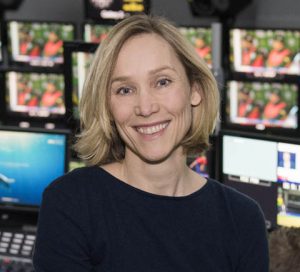 On Sky and its attitude towards women in the workplace, Ruehl has nothing but praise: "Sky really treats women well. As a women working at Sky, you feel really privileged. Sky is a beast from the outside; hard to get into. But once you're in, it's great. It obviously depends on your role and whether it is suitable for working flexibly, but the willingness to make it work is here."
Yet working with a young family can be challenging. As a result, at one point Ruehl considered giving up the day job. However, a conversation with her female mentor Vicky Sandry, who is General Counsel at Sky UK, changed that idea. Sandry runs the large Sky Legal Department and still manages to work part-time, as she reduced her hours in order to better balance her career with her family life. She advised Ruehl to consider doing the same in 2014.
Ruehl comments: "There was a time when I thought I'd just leave and concentrate on the kids for a while. But Vicky suggested I just ask if I can work less, for less money of course. And my boss, Director of Production Services Darren Long, agreed and helped me make it happen. So for the last three years, I have worked four days a week and I absolutely love it!" It is not always an easy choice, as, she says, "If you're in charge of a large operational area the buck stops with you, seven days a week," but it works. She adds: "If you're a working mum who doesn't work full time, you have to be good at prioritising and vigorous with your time-keeping. You also need a really good team which I am lucky to have. And it really helps when you're working somewhere where they support this approach."
More women at Sky Sports
Increasing its work to encourage women in broadcast, Sky has created a huge initiative named Women in Leadership. Over the past three years, this initiative has meant that everyone identified as a member has been given a mentor to proactively help the women they sponsor climb the Sky career ladder. Additionally, targets were set on the recruitment of women into senior roles to make sure more balance was achieved, says Ruehl.
Sky Sports, where Ruehl states traditionally there are fewer women working than in Sky's overall operations, also launched a Women in Sky Sports Initiative. "Sport is traditionally quite a male area, so Sky Sports felt they wanted to put more emphasis on getting women on board and supporting them."
She continues: "For me personally, I have never felt 'OMG, I'm all by myself in a man's world of sport!'" but that was because I was always on the facilities and production side, where I'm not encroaching on a man's world. The only issue I've ever witnessed for women in sports production is when they want to get into the editorial side. When you start to want to make decisions that affect editorial and therefore a traditionally male domain, that can be challenging."
From ESPN to Sky and onwards
Ruehl's background is primarily in production management in sports. She moved to London as sports production manager for ESPN Classic's studios. Staying at ESPN for a decade, Ruehl spent her last four years there as ESPN EMEA director of production services and operations. With a team of 40 staff, she led all elements of ESPN EMEA's operations, production services and technologies for its TV channels, which included a live UK channel, three live ESPN America channels and five ESPN Classic channels.
Although she describes her later time at ESPN as, "a really nice job," when ESPN lost its rights to the Premier League to BT Sport in 2013, she knew her days were numbered as ESPN was closing down most of its TV operations in Europe. However, as she was pregnant at the time, she says she felt that it would be difficult to get another job immediately, as not many employers would be keen to take on a person that was about to have a baby. Yet through her contacts in the industry, she heard about a job as account director for sports and news, Sky Production Services, at Sky UK, and was asked to apply.
She goes on: "I didn't want to apply for the Sky job as I was pregnant, but it looked really good and it isn't often that senior roles at Sky come up externally. I really didn't expect them to offer me the job because of my pregnancy, but they thought I was the best person for the job and offered it anyway! It was exhausting and I had a short maternity leave and luckily lots of help from my partner, so it was definitely tough but now I am really glad I did it."
Ruehl continues on the role and how it has evolved: "As an account director for sports and news, I think I was quite effective but it wasn't really for me in the long run as this was a strategic role, and I prefer being operational. I like to have responsibility for something, whereas this role was more about balancing everyone's requirements, getting sports and news to play nicely, as well as making sure they got what they needed from Production Services. I learnt a lot during that time and it was a great way to get to know Sky, which is massive. Now as Head of Studios I am back in an operational role, which I love.
"I ended up working in sports because I was always really into skiing, surfing and snowboarding, and somewhere along the line as you work your way up you suddenly find you're dealing with football and cricket instead! Overall I just really enjoy the immediacy and atmosphere you find within the sports production environment," she concludes.