Thought Leadership: Grass Valley on working smarter with remote production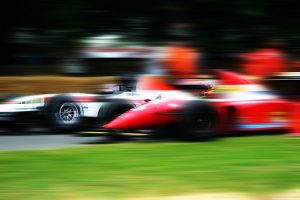 Consumers are more content hungry than ever before, demanding content anytime, anywhere on any screen, with stunning images, writes Larissa Goerner, director of advanced live solutions, Grass Valley.
Live sporting events, music festivals and concerts increasingly attract global audiences across all screens.
Today, broadcasters and production companies must simultaneously produce and deliver live coverage across a range of platforms and to multiple regions, as the 2018/19 soccer season illustrates; 600 million people across 200 countries, including around 40 million people in North America alone, watched English Premier League soccer games last year and these figures are only set to rise.
An IAB study shows that globally, more than two-thirds of all people have live-streamed video in the last year, with 47% of those having increased their consumption over the previous year [Live Video streaming 2018].
Working smarter
Tightening and static budgets mean covering more live events cost-effectively without compromising on the ability to deliver the captivating experiences consumers demand. This is a challenge that all content producers must address.
As broadcasters and production companies drive to create and deliver more content without adding resources, the need to work smarter with greater agility and flexibility is now front and centre, and the reality of at-home or remote production capabilities, in which only a small amount of equipment and staff is required to be on location, is gaining popularity at a stunning rate.
The obvious allure is the time and cost savings, not to mention the positive impact on the environment that comes from sending smaller crews, less equipment, and fewer (and lighter,) vehicles around the world. Sustainable production workflows are key to maximising resources and delivering high-end productions more cost-effectively.
Not only does working more sustainably offer an alternative to complex outside broadcast set ups and having large teams on site, it allows production teams to support more live events in a day, looping in the best operators and editors.
The industry's transition to open standards IP technology is accelerating the move to remote and at-home workflows and bringing the majority of the live sports and event production infrastructure and workflow back to the home studio.
Viable option
With a number of recent projects proving the viability of the at-home or remote production approach – the 2019 FIS Alpine World Ski Championships in Åre, Sweden produced by Swedish public broadcaster SVT among them – we can expect more live productions to adopt this model. In fact, this very model was also used by SVT at the Biathlon world cup in Östersund one week later with hugely reduced set up times.
IP-based infrastructures deliver the flexibility to meet a wide range of live productions formats of all sizes. Unlike SDI production environments, there is no long set up period required and access to signals and services are instant; the same system can be spun up or down and reconfigured quickly and easily. In many instances, only the on-site cameras and connectivity will need to move on to the next event location while the rest of the production workflow remains unchanged.
Managing latency
The biggest hurdle to widespread adoption of at-home models is the challenge of latency. Latency is typically introduced at the encoding or decoding stage or as a result of the contribution network; for example, satellite networks can see delays of up to ten seconds while latency from terrestrial networks is dependent on distance and performance.
It is not just the main feed impacted. Video return feeds, which provide everything from production monitoring, teleprompting and real-time confidence monitoring to bi-directional video for remote interviews, must also remain uninterrupted and subject to minimal latency so that productions can run smoothly.
The widespread availability of 100GbE IP network speeds is proving to be a game-changer. Now, the transport and switching of uncompressed 4K UHD content is completed with a predictable and manageable level of latency, ensuring high reliability and synchronisation of video and media feeds especially where fibre connectivity is available, such as in large venues and stadiums.
As we look to the future, though, broadcasters and production companies will continue to drive toward more captivating experiences that draw in viewers, using higher resolutions and more camera angles that will put greater stress on the network and available bandwidth. More efficient encoding solutions – JPEG2000, JPEG-XS and MPEG – offer an attractive alternative. These options deliver ultra-low delay, comparable to transporting the signal over fibre, and come at a significantly reduced cost while ensuring there is no difference in the viewers' experience.
Creating a new model
As we look to the future, this approach opens up the potential for truly distributed production. A collaborative workflow that allows production staff to work from any location, even if it's their home, is on the horizon. As smarter, more efficient workflows free staff to focus on higher-impact creative tasks, broadcasters and production companies can leverage the best talent, wherever they are in the world. Imagine being able to use on-screen talent for multiple games in a day, one after the other? We are only just scratching the surface of what is possible.
Today, 63% of companies use remote workers across all sectors [Upwork]. With consumers placing a high value on video quality and captivating viewing experiences, distributed workflows that enable the use of remote workers allow broadcasters and production companies to tap into the best creative talent.
Given that 98% of an employee's work-related carbon footprint is due to their daily commute according to Duppal, allowing production teams to work remotely has a positive impact on an organisation's sustainability.
Enabling employees to produce more than one live event per day is the type of sustainable workflow, making less of an impact on resource requirements and our environment, that the broadcast world can realistically look forward to.