Timeline TV launches virtual studio broadcast centre in Ealing
Timeline's new broadcast facility in Ealing has been hosting Channel 4 and Whisper's live coverage of the Paralympics, but the build is part of a wider expansion by the west London facility group.
Timeline already has five large galleries and small studios in Ealing for live sport but had been missing a sizeable studio. Planning for the Ealing Broadcast Centre (EBC) began last year and was kicked off in earnest last November.
After scouting for a location nearby, Timeline found a new build with a high ceiling and space for a lighting grid and green screen set plus edit suites. Building and integration commenced in April 2021 with the contract for the Paralympics accelerating time to completion.
"The Paralympics is a full remote operation where we bring all signals in," explains Daniel McDonnell, Timeline CEO. "We've outfitted a studio in Leeds [from where Paralympics Gold Rush is presented by Clare Balding] with eight cameras controlled from Ealing. On the ground in Tokyo we've a remote camera operation [with host Rosie Jones] plus six roving cameras plus a presenter for additional coverage."
Another remote controlled-from-UK camera is installed in the Team GB athlete's village.  The new studio in Ealing is used for guests in the London area and daily live show The Last Leg with Adam Hills, Alex Brooker and Josh Widdicombe. All feeds, plus 20 signals from OBS, are switched at the EBC gallery.
VR studio
The 900 square metre space is set over three floors, the centrepiece of which is a 185sqm virtual reality studio with a 4.5 metre high lighting grid, green cyc and a fully configured multi-camera VR system using Unreal Engine and Brainstorm InfinitySet delivered in partnership with Moov. A Mo-Sys StarTracker system enables full 3D VR tracking on all types of cameras for virtual studios.
"We wanted to kit out the studio for high-end virtual reality using Brainstorm processing and six cameras," says McDonnell. "In concert with Moov TV we will design some VR set building blocks so a production can come here and get a real headstart. Normally a VR design might take two months of development. We're also offering, with Moov, experienced creatives and technicians. The aim is to bring down the time and expense of working in a VR studio so productions can turn up and go the next day."
Physical sets are also an option via black cyc, but McConnell feels that virtual sets are a great way for productions to reduce their carbon footprint. There's no need to build sets using precious resource or transport it.
"The aim is to bring down the time and expense of working in a VR studio so productions can turn up and go the next day"
Also part of the EBC are dressing/make-up rooms, production offices, green rooms, full online edit suites and VO booths. There's a triple-row production control room and large VT replay room plus tier-three data centre. Connectivity to all major hubs includes BT Tower, NEP Connect and Tata. Satellite downlink capability is also available.
A large car park is equipped to be able to park an OB truck – which is what Timeline is currently doing for the Paralympics. Its UHD2 vehicle is connected to the facility "to give us an extra gallery to work on the programming", McDonnell says. "It's a useful feature, especially in London, and means we can upscale to provide more facilities if needed."
After the Paralympics there are more bookings though it's too soon to publicise these. "The proposition does seem to be taking off. We think there's a shortage of studios in the UK with good connectivity and live galleries that can do EVS, graphics and Piero and that this fills the vacancy."
Currently the facility is SDI-based, a decision McDonnell puts down to timing. "IP is in our long-term plan. We will have two more galleries open at the EBC by the end of this year and plan to expand to another two. At some point on that journey we will migrate to IP."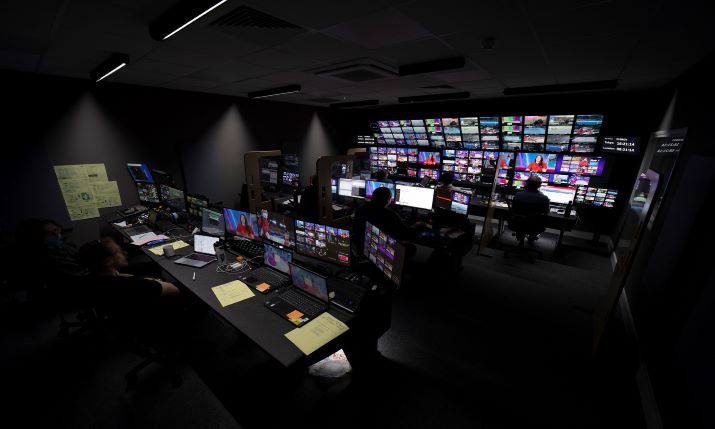 Cloud broadcast
Timeline has also implemented a large NDI network mainly for monitoring around the facility.
"It's an IP-based bridge between an IPTV system and broadcast monitoring for green rooms and voice over rooms. It enables us to have a very expandable monitoring system using IP. It also enables us to do software-based multiviewing and timecode inserts."
"We've experimented and dipped our toes in the NDI world and the latest version is a game changer"
Medialooks software convertors are used to ingest NDI and Sienna's broadcast toolkit is used to make multiviews and timecode inserts running on virtual machines.
"We've experimented and dipped our toes in the NDI world and the latest version is a game changer," McDonnell says.
The whole set up is also capable of hosting live broadcast workflows on-prem or in the cloud.
"We have a large data centre in our new facility. It's a key attribute. More and more clients are remotely producing programmes from their location using virtual machines and systems in our data centre. For me that counts as cloud broadcast."
Of course, the facility can also connect to third-party data centres depending on show and region to expand its scope globally.
"If you're doing a show in the Middle East and need a local hop to Amazon you can still bring the feeds back here. We have direct connection to Oracle Cloud [employed for its SailGP production]. One hundred percent it is the direction of travel for the industry to broadcast in the cloud whether that's remotely from their own broadcast centres or using public cloud or a mix of both."