To IP and beyond: Cloudbass outlines the vision behind its new OB9 truck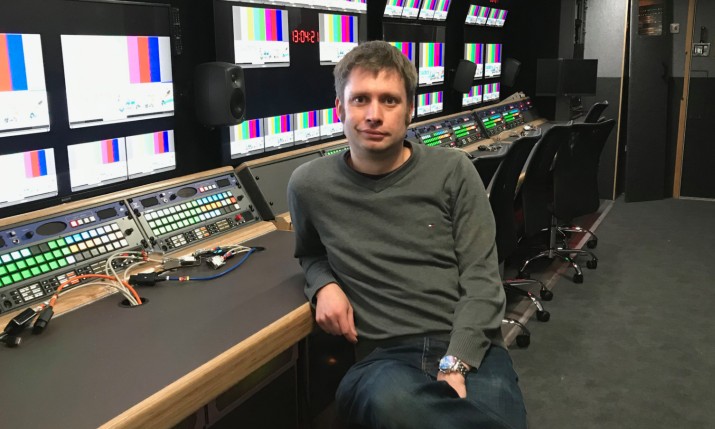 At the end of 2019, the UK-based OB firm Cloudbass launched OB9, its first new outside broadcast unit to be built on an IP core. To find out what they did and why they did it, SVG Europe went along to the company's HQ in the East Midlands to meet company directors Mike Beaumont (pictured, above) and James Wilson.
OB9 is an IP-based Ultra HD OB vehicle based on the SMPTE ST2110 standard. A 20-camera truck that was built from the ground up with help from systems integrator ES Broadcast, it brings together products from many different manufacturers including Arista, Evertz, Grass Valley, Ross, Calrec, Reidel and Sony. It uses Axon technology, including its Neuron product, to integrate these systems into a flexible workflow suited to live sports coverage which forms the bulk of Cloudbass' business.
SVG Europe: Why did you decide to go IP with OB9 and why was 2019 the right time do it?
Technical director Mike Beaumont (MB): "We'd been watching IP technology quite carefully but had strategically paused on new builds over the last three years. Realistically, if this industry technology change wasn't happening, we probably would have built another baseband truck two to three years ago. But at the time the question was: do we really want to build a massive baseband truck – or do we wait for this IP technology to work? For various reasons, we decided to hold on and keep the existing fleet going. It was the Axon Neuron product that made us realise that IP was ready and convinced us to make the jump
"We were shown Neuron about two years ago as a white paper. It wasn't a real product then. When we saw it, we suddenly thought 'that makes total sense'. All the other solutions that we had looked at didn't quite make sense totally; They were all really bitty or didn't quite work for OBs.
"We can't approach OB builds with the 'Field of Dreams' mentality of 'If you build it. They will come.' What we have done very carefully over the years is to build a diverse and flexible fleet with a price-conscious, but also future-proof, philosophy."
"We did the OB8 project a year ago. At that time, we had a sudden need to build a UHD truck. BT Sport came to us and said: 'you're currently doing speedway in HD. We really need to migrate delivery to UHD, is this possible in the timescale?" We had a three-month window for the transition, and with an already busy OB schedule with the strands truck, we realistically had a six-week window for the physical install.
"At that point, I'd already been investigating lots of different IP avenues and it just so happened that the Axon Neuron product was just about ready for when we needed it. When I say, 'just about', we had the first shipment! I started designing the truck on that principle."
SVG Europe: So, the OB8 project very much lay the groundwork for OB9?
MB: "We used OB8 as a proof-of-concept. In an ideal world, I would have liked to have spent six months lab testing.
"We learned an awful lot of lessons from the way that we did that project. As it was a retrofit, we only needed to add a small IP layer onto the top of it. We didn't have to redo sound or the majority of the truck monitoring. We could just do the little bits that we needed to do in order to do a proof-of-concept. Was that proof-of-concept smooth? It was a learning curve building it. Within four weeks, however, it pretty much worked."
SVG Europe: I understand that building OB9 coincided with the award of a Sky Boxing contract?
Commercial director James Wilson (JW): "We can't approach OB builds with the 'Field of Dreams' mentality of 'If you build it. They will come.' What we have done very carefully over the years is to build a diverse and flexible fleet with a price-conscious, but also future-proof, philosophy. At no stage have we wanted to go bleeding edge on the first generation of a technology.
"Within 18 months to two years, the pioneering and cutting-edge technology rushed into service for blue-ribbon platinum events becomes outdated more quickly than the second wave of hardware that follows. At that point, the customers that were the early adopters of the emergent tech want to migrate to the much better second-generation technology quite quickly.
"We saw that happen with the SD to HD migration especially with mixing, routing and  cameras, so we made a conscious decision between three and four years ago that we wouldn't join the immediate arms race and, instead, we would sacrifice some existing work that needed the migration, to take a step back, and wait for the technology to stabilise and mature."
"History has taught us all valuable lessons. With a third-generation HD truck with hybrid routers, you can do pretty much anything. You can turn a truck around from one job to another in a day, for example. We needed the topology of the UHD solutions to get to that point too, where the deployment of solutions had become more practical commercially."
SVG Europe: Was there a game-changing moment for you?
JW: "We felt that 2018 Q4 we had reached the tipping point where a more critical mass of traditional HD work was starting to move into UHD too. Once UHD was getting to tier 2 sporting contracts, we had to move."
"That ability to turnaround from one format to another quickly and seamlessly was super important to us. By upgrading to this level of technology now, at a point where levels of flexibility in IP UHD have pretty much caught up with HD-SDI, we can set a very good blueprint for the future."
SVG Europe: How important is the versatility of IP to the success of OB9?
JW: "By going IP, we're not investing in massive enterprise-level routers. We are embracing scenarios where the FPGA chipsets can be repurposed for other things such as encoding. As technology moves on and we will need less encapsulation into IP from things like CCUs, that same piece of hardware can be repurposed for something else or removed from the truck and put into a smaller truck. In terms of form factor, it gives us much more flexibility."
"If the big OB market contracts, and we think it will, we will need to be able to pair away certain bits of hardware and repurpose them so we can continue to pay them off. Flexibility is absolutely key to us."
SVG Europe: Tell us a bit more about the design considerations that went into OB9. What can customers expect?
JW: "The truck is based on an existing ASGB Chassis comprehensively stripped back to basics with new air-con and power. The form-factor of the chassis is great with the key premise of separating the equipment from the people. The Apparatus room contains the loud mainframes isolated in their own space from very spacious working environments. It's great for viewing but it also means you aren't sat next to loud equipment fans and the environment is quiet and serene.
"We have taken a different tack to many competitors by concentrating on a more reserved house style, with more soft surfaces and therefore a less reverberant sound; lighting is controlled, and glare minimised, which combines with the acoustics to propagate a really conducive and relaxing working environment.
"We have designed a multi-viewer control front-end running from a tablet end so the guarantee can work directly with production on monitor stack layouts. The comms system and ergonomics are always a very big deal in OBs. We have opted for the new Reidel 1200 Series Smartpanels, a big step up in functionality and form factor with great colour coding and traditional keys helping with the density of sources and destinations.
"The combination of all the ingredients are designed to foster and enhance direct and collaborative relationships across the OB team."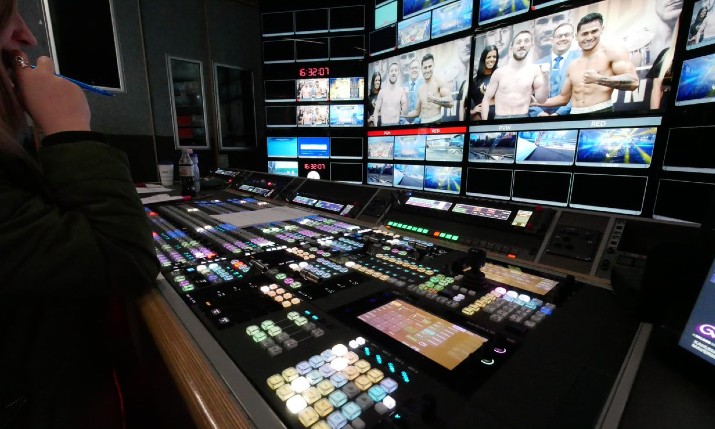 SVG Europe: As this is a full end to end, multi-vendor truck, how difficult was it to integration equipment from so many manufacturers?
MB: "The equipment supplied wasn't quite as 'plug and play' as suggested in various interoperability tests, but as we had made the decision to use 'best of breed' equipment from multiple manufacturers – just as we would if we were building a baseband truck – we somewhat expected this.
"There were a few initial interoperability challenges and the biggest stumbling block was different manufacturers using different block packing methods within the 2110-20 standard. There are two types of block packing – General Packing Mode (GPM) and Block Packing Mode (BPM). Some manufacturers equipment only transmits one type, while other manufacturers equipment can only receive the other.
"My advice to others embarking on this journey is to check your vendors' block packing methods and learn how to use Wireshark. That piece of software will become your new multi-meter or waveform monitor."
SVG Europe: What other issues, if any, did you have with incorporating ST2110?
MB: "In the past, audio was always the technologically simplest part of an outside broadcast truck and, as such, it often gets forgotten. But it is so important to get audio right. In OB9, we went for a fully 2110-30 audio design with AOIP units for the Calrec Integration and a new Riedel Artist 2110-30/31 comms system with IP panels, which all sit on the same media network as the video. This enables us to send streams from anywhere to anywhere, with the added advantage of simplifying the outboard rigging in the field and one core of fibre can connect Riedel comms panel, router panel and several 2110-20 video streams.
"Planning your audio streams is key. The industry is not used to designing trucks with audio streams of eight or more channels that you can't easily shuffle, so a lot of thought had to go into this to make it still feel familiar for the operator.
"To look after an IP truck requires a very different skill set. You can't just look at the end of the cable and see why something is not working. It's a whole new ball game of fault finding and skills that we need to develop."
"Previously we have taken it for granted that, if a signal is embedded it will pass through a system. But with ST2110 this is not the case unless the audio is correctly handled. We have chosen to keep some paths within the truck as ST2022-6 to allow embedded audio to stay with the video. For example, on the return TX monitor paths, but as Neuron can work in both ST2110-20 and ST2022-6 simultaneously it doesn't matter and will process it in exactly the same way without user intervention.
SVG Europe: While the technology offers flexibility and the truck's design ensures a great customer experience, will making the move to IP also help the company to grow, particularly when it comes to recruitment?
JW: "We already work with some extremely talented engineers but now we are having to grow our own. We work with the University of Derby and their high-level apprenticeship scheme. By making this step [into IP] and embracing the very latest technology we're looking for people to join the band because we're not stopping there."
MB: "To look after an IP truck requires a very different skill set to what you would need in order to look after a more traditional baseband one. So, we're having to retrain our engineers with fault-finding skills. You can't just look at the end of the cable and see why it's not working. It's a whole new ball game of fault finding and skills that we need to develop."
JW: "With IP, you've also got to invest in having people on site that you're not charging a client for. It's as simple as that. It is something that we've walked into with our eyes open. It is a great opportunity for promising talent to enter the industry at a point where traditional barriers are breaking down and we are all learning together.
"The glass ceilings of progression based upon seniority, years of service, and experience in traditional baseband formats are becoming weaker; we now enter an era where the engineering has become more of a collaborative structure with broadcast and IT hand in hand. There are a host of fantastic opportunities for keen minds from all technology sectors and experience levels to forge exciting, and diverse careers alongside the current generations of established craft guarantees.
"There is still very much a place for baseband in more compact or self-contained installations with links in IP between baseband islands, which is equally important to us offering a progression for training and also a commercial route for customers with more modest production plans who may need to evolve or scale up their coverage over time. The future looks bright, and we are embracing it."
OB9 has already been deployed on football, rugby and boxing coverage for major UK sports broadcasters.