Tour de France: Euro Media captures action with GV LDX cameras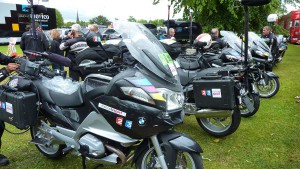 Euro Media Group – the firm responsible for the overall wireless coverage of the Tour de France – used five new LDX WorldCam cameras from Grass Valley to provide up-close footage from five motorcycles following the action throughout each stage of this year's epic race.
"Each year, the pressure to provide higher quality, 'heat-of-the-action' coverage increases," notes Bruno Gallais, Euro Media Group's international business development head for wireless production facilities. "The LDX Series cameras are very powerful, very high quality; we are very happy with their performance."
To optimise connectivity of the new cameras, Grass Valley also developed a custom-made adapter kit which enables Euro Media's RF affiliate, Livetools, to easily integrate its wireless transmitter solution for motorcycle use. Grass Valley developed the LDX RF docking interface and LDX adapter housing to allow RF vendors to integrate their own solutions.
Grass Valley's LDX WorldCam's core technology is based on the Grass Valley Xensium-FT CMOS imager, which enables the camera to deliver superb picture quality even in low-light conditions.
"This solution for Euro Media Group is ideal for covering such a high-profile event," says Marcel Koutstaal, vice-president and general manager of camera systems, Grass Valley. "We design our solutions to be scalable and adaptable, giving users the ability to integrate the technology in a way that best meets their needs. It's important for them to be able to leverage the latest technology in a competitive way."