Tour de France: Euromedia on the road for world's greatest bike race
Following Monday's rest day, the Tour de France heads into the mountains this week with Stage 10 to Le Grand-Bornand and Stage 12 up the monstrous Alpe d'Huez.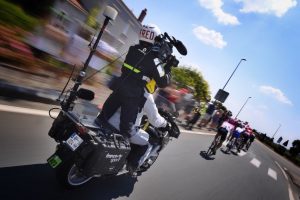 Euromedia is providing all long distance RF cameras and systems for A.S.O and France Télévisions for the world feed and unilaterals. The RF links have been internally developed by an EMG company, Livetools.
There are six customised motorcycles for RF cameras including this year a Superloupe DVS developed for the Tour, according to Euro Media Group Chief Executive Officer Francois-Charles Bideaux. There are also seven customised motorcycles for sound and commentators for France Télévisions, NBC, ARD/DK, RMC, VRT and NOS.
SMACS data and GPS sensors provide real time positioning for all competitors, with two relay pressurised airplanes, one relay helicopter and two Cineflex Aerial Film Division on dedicated helicopters.
Euromedia is providing four RF trucks for relays and coordination, two Superloupe DVS on the finish line and one RF on motorcycle 4.
Graphics and data are provided by TVDATA, an EMG company. Multi TV services are provided to A.S.O and unilateral services are provided to France Télévisions and Discovery Eurosport.
There is a Euromedia team of 80 people on the three-week Tour de France, including dedicated motocycle riders, pilots and camera operators.