Transforming workflows: Grass Valley on leading live sports into live end-to-end cloud production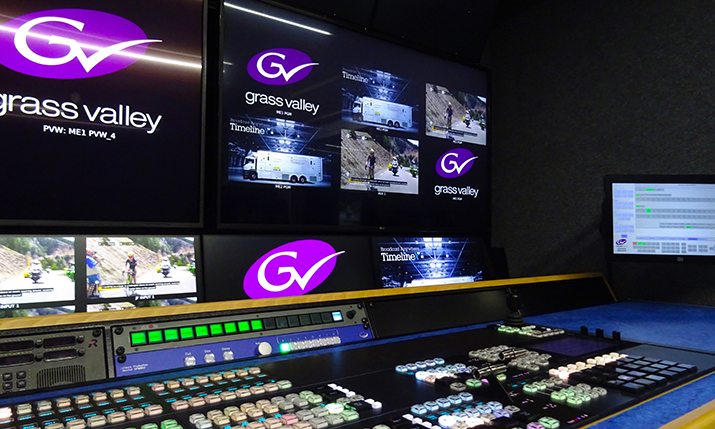 By Tim Banks, vice president sales, EMEA, Grass Valley
If the pandemic created a bottleneck in investment during the first half of 2020 as productions were put on hold, the market has been well and truly uncorked in the second half of 2021.
We're now seeing recovery across all regions and all sectors in the form of tenders released by public broadcasters in Southern Europe, tech refresh projects re-emerging in central Europe as well as the continued lead of UK and Northern European sports broadcasters.
Public broadcasters had the biggest reality check at the beginning of 2021 due to the vast uncertainty of new lockdowns, and commercial broadcasters – who were the first to have their services impacted – proved quickest to respond. The major private sports media companies across the continent have pivoted their operations towards new formats, launching new services and introducing new ways to operate, all of which is driving significant spend.
2021: The year of cloud acceptance
The technology trends are the same in 2021 as 2020 – just as they were in 2019 – but they have been jumped forward by COVID. The universal adoption of remote workflows was born out of necessity but has opened everyone's eyes to what is possible. IP infrastructure offers companies an operational flexibility that they now understand can futureproof their business. 2021 has also been a year of acceptance of cloud as an agent of business transformation.
Cloud enables organisations to spin up new services, shift limited budgets from capex to OPEX and streamline workflows. A common cloud-based platform rather than discrete functional blocks enables operational efficiencies to be achieved. We believe that 2022 will be the final stage of advocacy for cloud production with companies more willing to shout from the rooftops about what they've been able to achieve.
This is driving interest in AMPP (our Agile Media Processing Platform), with some of the biggest names in live sports currently running trial production POCs. This includes cloud-based production of major upcoming international sports events.
Solving live end-to-end cloud production
End-to-end live production from the cloud for Tier 2 and Tier 3 events is already here and we believe the remaining hurdles to full scale adoption at Tier 1 events are falling away. From the POCs we've been involved in it's clear that system architecture can play a decisive role in optimising performance and reducing latency. By adopting a common platform such as AMPP, media companies can eliminate many of the steps in processing different media formats that create latency.
Another hurdle to overcome is the operator's acceptance of moving to new virtualised technologies. With AMPP, the control surface that technical directors are used to when plugged into a dedicated mainframe in the neighbouring rack room is the same panel used to spin up additional services in the cloud. From an operator perspective, there is no relearning of an unfamiliar user interface.
Sustainability is another key consideration. Leading pan-Europe sports media giants are very vocal about doing all they can to demonstrate their carbon-reducing credentials. This includes the technology and operational capability of their managed service providers. An important part of our ongoing work is to identify and quantify the savings achieved by adopting cloud-enabled remote production.
The undoubted advantages of cloud-based production means that the methodology behind AMPP is a hugely positive paradigm shift for the media production industry. 2022 promises no let up with the Beijing Winter Olympics, the XXII Commonwealth Games and FIFA World Cup in Qatar only the tip of an extraordinary sporting schedule.