Turner Sports to produce Tiger v Phil PPV after landing distribution rights
WarnerMedia's Turner division has secured worldwide media-distribution rights to 'The Match' — a head-to-head, 18-hole duel between Tiger Woods and Phil Mickelson with $9 million on the line.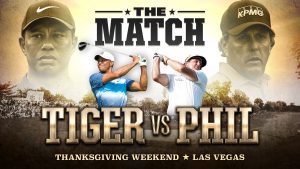 Turner Sports will produce all live coverage for the pay-per-view event, which will be distributed through Turner's new subscription OTT service B/R Live, AT&T's DirecTV, AT&T U-verse, and other on-demand platforms.
The showdown will be hosted by MGM Resorts International on Thanksgiving weekend at Shadow Creek in Las Vegas. Pay-per-view pricing for the live event will be announced at a later date.
"The iconic Tiger Woods and five-time Major Champion Phil Mickelson are generational talents who have transcended the game of golf, and their rivalry continues to be one of the most compelling in sports," Turner President David Levy said in the company's announcement.
"This one-of-a-kind, winner-take-all matchup provides a great opportunity to show fans the benefits of AT&T and WarnerMedia coming together. For the first time since AT&T's acquisition of Time Warner (now WarnerMedia), Turner, DirecTV, and HBO will present a multifaceted presentation of the live event and accompanying content across a vast array of platforms."
Turner's deal for the match was completed in partnership with CAA Sports, Excel Sports and Lagardere Sports.
AT&T flexes synergistic muscles for Tiger v Phil 
In addition to distribution of the live event PPV coverage on B/R Live, DirecTV, and AT&T U-verse, content leading up to and during the competition will be offered on Turner, WarnerMedia, and AT&T platforms.
HBO Sports and its 18-time Sports Emmy Award-winning 24/7 reality franchise will capture all the excitement leading up to the match.
Bleacher Report and its popular House of Highlights, which recently surpassed 10 million followers on Instagram, will offer comprehensive highlights and behind-the-scenes content.
Turner's TNT will also televise programming with selected content from the event in the weeks following the live competition.
Turner International will facilitate distribution of live PPV access outside the US.
In addition to producing all live event coverage, Turner Sports will also serve as exclusive sales and sponsorship partner. The company and its Turner Ignite Sports will work closely with marketing partners to develop experiential and creative marketing solutions.
The victor of the winner-take-all, 18-hole match will take home $9 million. In addition, Woods and Mickelson, who have won a combined 19 Majors, will selectively make side challenges against one another during the match. For instance, one of them could raise the stakes by challenging the other to a long-drive, closest-to-the-pin, or similar competition on a particular hole as they play their match, with money donated to the winning golfer's charity of choice.
The PPV event is almost unprecedented in the history of sports television, and, judging by the current banter between Woods and Mickelson on Twitter, the lead-up to Thanksgiving weekend will resemble a major boxing fight more than a round of golf. As for made-for-TV golf events, both Woods and Mickelson participated in several Monday Night Golf matches on ABC between 1999 and 2005. Woods later participated in the 'Duel at Lake Jinsha' against Rory McIlroy in 2012.