TVB Hong Kong takes Platinum IP3 route to studio and OB UHD production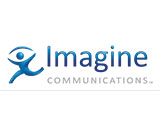 Imagine Communications has provided Television Broadcasts Limited (TVB), the largest broadcaster in Hong Kong and a leading Asian content producer, with the signal routing capabilities for both its mobile and studio-based live production operations. TVB has installed a Platinum IP3 router at the heart of two large production studios. A second Platinum IP3 28RU is providing signal management for TVB's latest Ultra HD-ready outside broadcast truck.
"Since the 1990s, we have been working with Imagine Communications to deploy solutions such as baseband routers, processing, playout servers and automation systems," said Andy Cheung, Chief Engineer, Engineering, TVB. "This time we chose Imagine Communications' Platinum IP3 router to fulfill our signal routing needs."  
Along with signal assignment, the Platinum IP3 router installed in the technical area that covers the live operations from TVB's main studios provides a broad range of integrated functionality, including frame synchronisation, multiviewers and audio multiplexing/de-multiplexing and shuffling. The Platinum-powered OB truck provided 4K/UHD coverage of the 2017 UCI Track Cycling World Championships in Hong Kong in April, and was used at other international events throughout the year.
"TVB is the biggest content producer in Hong Kong and a broadcast leader in Asia," said Andy Hui, Sales Director for China and North Asia at Imagine Communications. "Our Platinum IP3 is now the core router for both the technical control room of TVB's two largest live studios and its new UHD OB unit." 
The Platinum IP3 is a self-contained system that can store and instantly retrieve a variety of configurations, making it an optimal solution for mobile production teams that often need to quickly customise the OB unit to meet the requirements of each event, whether HD or UHD. The Platinum IP3 can also work in a hybrid SDI-IP environment, with seamless and synchronous switching between SDI and IP domains.