TVM OB10 hits the road in Ireland for GAA Gaelic Games Championships and European rugby coverage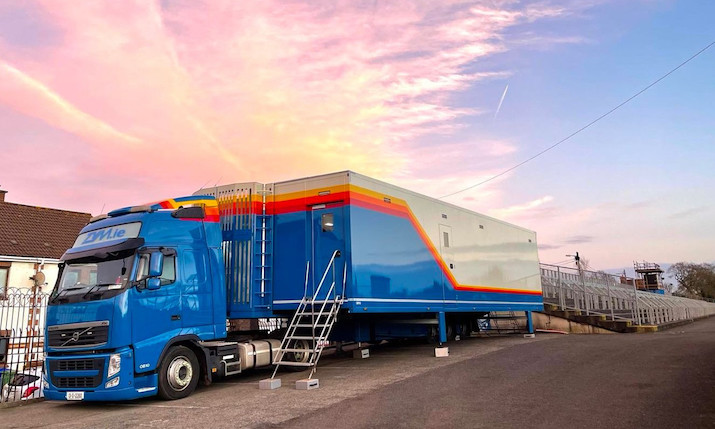 Irish OB provider TVM is on the road with its new single-expanding OB10 truck, covering the European Rugby Championship Cup for BT Sport and the GAA Gaelic Games Championships for RTÉ Sport. OB10 is TVM's first SMPTE 2110 IP-based truck and joins flagship triple-expanding OB8 as a UHD-capable production unit.
On OB10 the IP network is anchored by an Arista Ethernet switch. EVS Cerebrum is the enabler for multi-vendor device integration within the truck, controlling a Grass Valley K-Frame vision mixer, Calrec Artemis audio mixer, EVS Neuron IP processing, EVS XT-VIA servers and LSM-VIA replay controllers, XFile3 connected archive and transcoding, an XNet-VIA high speed network, Clear-Com Freespeak II Dect-based intercoms and Adam Audio loudspeakers.
TVM was established in 1986 in the small village of Bartlemy in County Cork by Bart and Helen Arnold and remains an independent family-run business. When the journey towards the realisation of OB10 commenced in pre-pandemic 2019, remote production was not really a consideration. And that situation has pertained for live outside broadcasts in Ireland: the country is simply too small to make the remote operation centre (ROC) concept feasible, with sports and events venues being easily accessible within a couple of hours drive.
Nor was UHD production headroom a major concern for the TVM team. "We don't do a lot of UHD here in Ireland: a little bit of sport and a little bit of music," says managing director Bart Arnold. "There is no real market for it in Ireland because no broadcaster has the capability to transmit progressive. So it's really our two main customers in England, and occasional music shows here produced in 4K progressive.
"The driver was that we were noticing a change in manufacturer support for traditional 12G infrastructure and we felt now was the time to make the move to IP," says Arnold. "And, to be fair, the Neuron concept was appealing in the flexibility and roadmap EVS were putting in front of us, not just from a vision point of view but from an audio point of view as well. That led us to believe that with their support we could go forward with an IP-based rather than traditional 3G-SDI or 12G-SDI approach."
"Another key driver for us was the fact that we can make decisions that other businesses can't make," adds TVM technical director Eoin Coakley. "Bart allows us to go into new technologies maybe when they don't 100% make sense at the time, but they're the right thing for us and that's where we go.
"We were first into HD here in Ireland, first into 3D, first into 4K, and now first into IP. As a technology business we want to be relevant and we want to be dipping our toes into technologies so we have real life experiences and learnings that give us a way forward if other opportunities come along that we can take advantage of – and we're not sitting here with a limited knowledge."
"We don't build trucks for contracts. If you're building a truck to do 100 days of football or whatever it is, you'll build it completely differently. Whereas we've built something that's as flexible and as future-proof as we can make it"
"If you make a business case for it, you don't go IP," adds Coakley. "It's still way more expensive than baseband. But one of the main reasons we went down the IP road wasn't necessarily because we had to, rather that we wanted to drive our technology and our knowledge so that we would be ready for something that we didn't know was coming. We wanted to be ahead of the curve. For instance, if remote production kicks off here in this country we have way more knowledge in the area than we had say a year ago."
"We don't build trucks for contracts," says Coakley. "If you're building a truck to do 100 days of football or whatever it is, you'll build it completely differently. Whereas we've built something that's as flexible and as future-proof as we can make it.
"Scalability was the big thing we looked for at the start. We put in a big switch that we don't need today, but we future-proofed ourselves. It took us a long time to decide on the switch: but now we can hang boxes off the switch reasonably quickly if we have the business case to do it."
Driving forward through lockdown
OB10 was built to replace an existing single-expander truck and TVM decided to stay with the same footprint, providing flexibility to park on the side of the road and around tighter venues where a triple-expander is too big to operate.
"We were a bit hesitant initially about the design of the truck because it's not the traditional expander," says Arnold. "You can't actually get into the truck or open a connection panel until you expand it. This makes it bigger and more spacious inside, but we were a little concerned that on some of the hillier locations we go to we couldn't get it level enough. But so far so good."
"Scalability was the big thing we looked for at the start. We put in a big switch that we don't need today, but we future-proofed ourselves"
The timeline for commissioning of the truck coincided with the Covid-19 pandemic and that created headaches and delays for the TVM team. "When we got delivery of kit we weren't able to fly people in for commissioning and training," says Arnold. "We couldn't bring anyone in because everyone was in lockdown.
"So it meant that all the people here had to learn a lot quicker, with help over the phone and Zoom and dialing in to get to grips with how to make the kit work. But we've got a broader base of knowledge now, and less fear about a scenario where something goes wrong and how to get around it."
"One of the other big differences is that we don't have the hire companies here in Ireland," adds Arnold. "We own 99% of the kit that we have, whereas in the UK it's quite common to do a long-term lease of a bunch of cameras or lenses. For us to do that and ship stuff in and out is just too expensive.
"So we have to purchase much more equipment than our counterparts in England would maybe own themselves. And, to a certain extent, that has brought efficiencies because we're not wasting money shipping stuff or fitting stuff and taking it back out again."
"Systems integration was a huge factor as well," he says. "We learn as we're building and, more importantly, we can economically make subtle changes to design as we're building, without having to stop, re-draw, re-evaluate, sign off again and now the wiring can continue again. We're able to evolve as we're going, and we've done that many times: half-way through a build we might change a piece of equipment or change our philosophy as to how we're doing things."
The move to IP-based production was a departure for TVM, and so was the decision to adopt EVS Cerebrum for device monitoring and control around the vision, audio and engineering areas of OB10. "Cerebrum was a completely new thing for us," says Coakley. "We were a [Lawo] VSM house and were familiar with those workflows. With Cerebrum we had to tear up that model, if you like, and go a different way.
"But our whole goal was always to make the operator experience, across all our trucks, as similar as possible. If you are sitting with an EVS controller and routing panel it works pretty much the same way as the truck you were in yesterday or will be tomorrow. Behind it we can have all kinds of equipment that's different, but this was important to us. And I think we have achieved that, to be fair."
Vision production is at the front of OB10, with the audio area in the middle and engineering/CCU at the back. "One thing we're pleased with is that the power consumption of the truck is not as high as we originally envisaged," says Arnold. "We were concerned that all these switches would be heat sources and power hungry. And while they are initially on power-up, once they have done their handshakes they go back.
"We also changed our air-conditioning system to a more traditional system. We've gone away from the water-based system that coachbuilder A Smith Great Bentley traditionally put into their trucks. We've gone for a more industrial – and easier to service – AC system that seems to be working quite well."
The Covid-19 pandemic through 2020 and 2021 significantly delayed commissioning, fit-out and de-bugging for TVM's OB10. Then, just as the new truck went out on the road earlier this year, another Covid surge swept through the team and freelance operators, piling further pressure on everyone involved with the familiarisation process on the truck while fulfilling a packed schedule of OB projects. The TVM team is now looking forward to a full and busy Covid-free summer out on the roads of Ireland with OB10.
"I think the principles of the truck are right," says Coakley. "We're very comfortable with the decisions we've made. Now that we've deployed the truck and done jobs we're very happy with what we have achieved. We feel we have gone the right way, and we would probably go this way again."