TVN Live to produce five European football finals in May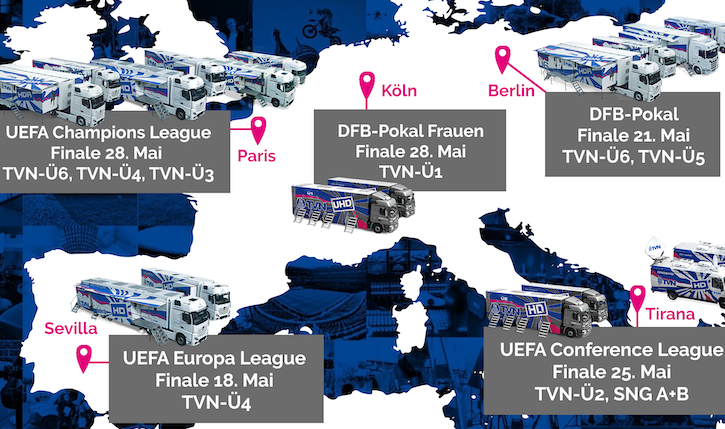 TVN Live Production is set to realise the broadcast of five major European football tournaments this month, including the UEFA Europa League final, DFB-Pokal final and UEFA Champions League final, from venues in Spain, France, Albania and Germany.
Following the completion of the Bundesliga season, the broadcast crews of TVN Live Production, including six OB vans and several SNG units, will travel to Seville, Paris, Tirana, Berlin and Cologne, where the finals will take place.
"At the UEFA Champions League final in Paris, we will even be present with three OB vans to realise the interviews and studio broadcasts for three rights holders from the German-speaking region in parallel," explained TVN head of sales Bastian Berlin. "In addition, we are creating several feeds with virtual advertising for rights holders in Asia and America in UHD-HDR at the Stade de France."
"This is a really great workload that we can handle due to our increased technical and personnel capabilities," commented TVN Live Production managing director Markus Osthaus. "When the level of performance is as ambitious as in European football, our high production standards are of particular benefit to us."
TVN Live Production will be in action in Seville on 18 May for the 2022 UEFA Europa League final (TVN-Ü4); on 21 May in Berlin for the 2022 DFB-Pokal final (TVN-Ü6 & TVN-Ü5); the 25 May in Tirana for the 2022 UEFA Conference League final (TVN-Ü2 & TVN-SNG A+B); and in Paris for the 2022 UEFA Champions League final (TVN-Ü3 & TVN-Ü4 & TVN-Ü6) and Cologne for the 2022 Women's DFB-Pokal final (TVN-Ü1), both on 28 May.