TVN upgrades OB fleet with EVS XT-VIA UHD-4K multi-channel servers
TVN Mobile Production, part of Germany's TVN Group, is upgrading its XT3 live production server fleet to EVS' XT-VIA servers. The Hannover-based mobile television services specialist is installing multi-channel servers in its TVN-Ü3, TVN-Ü4, TVN-Ü5 and in its all new TVN-Ü6.
The new servers will be used for its premium live productions of Bundesliga and Bundesliga 2 football games for DFL host broadcaster Sportcast, as well as the UEFA competitions Champions League, Europa League and European Qualifiers.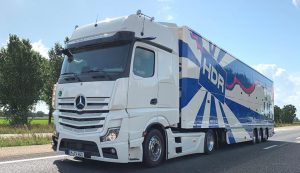 EVS' XT-VIA servers will provide more capacity and greater flexibility to produce content in multiple formats including Full HD 1080p, UHD-4K and HDR, as well as offering the latest generation of IP connectivity, enhanced channel density and media sharing network capacity.
Primarily used to replay, edit and produce all content going into TVN's OB vehicles, the future-proofed deployment means that productions can transition to IP at a later date. The VIA-based solutions from EVS already benefit from enhanced live IP support of industry tech stack standards such as ST2110 and NMOS, which means added system flexibility.
Additionally, TVN Mobile Production has invested in the new XNet-VIA Live IP network that expands the capabilities of the XT-VIA servers by creating a faster sharing environment. This will be deployed along with multiple XHub-VIA switches that secure and connect the XT-VIA servers over 10 Gigabit Ethernet, and three XFile3 systems that are used for all file flow requirements.