Twitter releases video-clipping tool LiveCut: What does it mean for sports video professionals?
The social media platform will also be shutting down SnappyTV at the end of the year
Twitter grabbed the attention of many in the content creation game last week with the announcement of a new live video editing and distribution tool, LiveCut. The cloud-based web application allows quick editing and sharing of video highlights of a live stream occurring from one's own Twitter account.
It's a move that the social media giant has been chatting about since acquiring a similar technology in SnappyTV back in 2014. It was in 2017, however, that Twitter actively spoke about shutting down Snappy and introducing its own replacement.
Now that time has come. So, what does the move mean for sports-video content creators?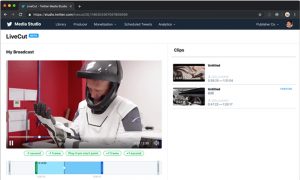 At first glance, users will find a video clipper very similar to that of SnappyTV but one baked into a more comprehensive video ecosystem offered by Twitter, known as Media Studio. For that reason, Twitter product manager Kevin Cohen, who is overseeing LiveCut, recommends it not be considered simply a like-for-like replacement of SnappyTV.
"I think LiveCut brings a lot more to the table in comparison to SnappyTV," he said. "All of your broadcasts [in Media Studio] are going to be available to be clipped in LiveCut, which is very different from SnappyTV, where you needed to send a stream to Twitter and another stream to SnappyTV in order to clip from it.
"That was too much of a burden, especially for groups like [sports teams], who in their postgame press conferences needed to do two streams at once. We're bringing that functionality, and I think that's going to be really beneficial for partners."
The usability of LiveCut sticks to the roots of what made SnappyTV popular with digital and social-video content distributors: its no-frills UX was easy to learn (or teach), and it's free. Those factors became very obvious to the design team as they worked through user research with partners who were heavy users of SnappyTV. Sure, Twitter could have loaded LiveCut up with a world of new features, but much of the user feedback received indicated that clients wanted them to keep it simple.
Using LiveCut, as with SnappyTV, is fairly straightforward. You can set an in and an out on your live timeline, add in some metadata (such as a title and short description), compose your tweet, and quickly publish a video to your account.
"We wanted to honour some of those design principles such that there was some familiarity with clipping in this new product," said Cohen.
It's the integration within Twitter's Media Studio where content distributors will find some new value to play around with. With LiveCut, users can live-clip any piece of video content that either is currently live or has been either posted to one's Twitter account or captured using a Twitter-based means, like Twitter's new camera or Periscope. LiveCut will also house all consumption metrics, like video views, time spent watching, completion rate for videos on an account.
"The integration of the whole thing, I think, is the game-changer," said Cohen. "Media Studio really becomes that one-stop shop for all of your publishing needs across Twitter. Media Studio for a long time has been a great source for managing all of your content across Twitter for monetizing it and analysing it.
"Over the last year or so and now with the introduction of LiveCut, we have really bolstered the efficacy of our live product within Media Studio, and we've started to feel the impact of that not just from sports partners but also those on the advertiser side who are becoming more and more content creators in and of themselves."
Twitter also found it very important to release the product over the summer, most notably to allow its many US collegiate sports partners to get their hands on it prior to the start of the new athletics season in August. Also, although SnappyTV will be shutting down, it won't go dark until the end of the calendar year.
"We wanted to ensure that our partners had a really long lead time in getting familiar with LiveCut and slowly transitioning over to using LiveCut from SnappyTV," said Cohen. "I felt it was really important that we offer our partners around six months or so to have that opportunity to transition."