UCI Mountain Bike World Championships 2017 delivered with support from Gearhouse Broadcast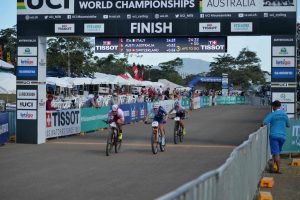 The 2017 UCI Mountain Bike World Championships was the 28th edition in the series and as in 2016, the championships' various disciplines were held at separate locations. The world championships for cross-country and downhill were recently held in Cairns, Queensland and Gearhouse Broadcast provided and managed the full broadcast, event communications and post production solution.
Gearhouse Broadcast OB Supervisor Marcus Doherty explained, "We covered the event in 2016 and identified areas then where we could improve for the 2017 world championships. These consisted, primarily, of integrating the HyperActive Broadcast post production and Gearhouse Broadcast Event Comms sides of our business into the overall OB and production."
In total, for the 2017 event, Gearhouse Broadcast provided 45 camera positions, a full event comms solution across the entire event and HyperActive Broadcast edit facilities.
Doherty continued, "One of the real wow factors with this event was the integration of broadcast and event comms at the Emergency Control Centre (ECC) where our event comms team provided a network of communication panels and UHF radio channels to service the entire event. This included Queensland Police and Ambulance services, downhill and cross-country marshalls, security, transport and athlete services.
"Our broadcast team also installed a routable monitoring system in the ECC that allowed these groups to monitor broadcast cameras on the track in the event of emergency, of which there were several including one that was critical, without interruption to the broadcast."
For the post production part of the event, television services company Editrix was commissioned to produce daily highlights packages for UCI and HyperActive Broadcast were in turn engaged to provide the edit facilities which consisted of two Adobe CS6 edit suites with EVS IPLink integration to nearline storage within the overall Gearhouse outside broadcast.
HyperActive Broadcast MD Andy Liell added, "IPLink provided seamless integration for editors to easily search for content on the EVS nearline servers and nearline and it also provided fast turnaround and simple push back of packages for replay from the EVS. I'm glad to say from the client's point of view everything went really well. The integration with the EVS was excellent and UCI were extremely happy with the quality of the programme produced. The real value-add we brought was the fact that we were able to deploy the latest, integrated Adobe and EVS tools to improve the workflow and speed up transfer times, improving overall turnaround for the client and the event."