UEFA and partners prepare for Liverpool v Real Madrid Champions League Final in Kiev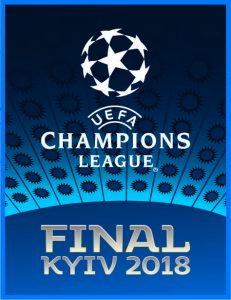 This Saturday UEFA will deliver the host broadcast operations on behalf of Media Group Ukraine (MGU) for the Men's Champions League Final at the NSC Olimpiyskiy Stadium in Kiev.
The Final will see an HD and UHD/4K production with 40 cameras, utilising a single dual format OB truck. There will be 71 broadcasters onsite, 19 with unilateral facilities, 17 unilateral live cameras for match coverage and 56 ENG crews on the ground. (UEFA does not plan to offer HDR at the 2018 Final, but says it will incorporate HDR into future events, with testing to occur over the next cycle).
At the stadium there will be 19 pitch presentation positions, 14 flash positions, eight temporary pitchview studios, five temporary tribune presentation platforms and three indoor studios. There are 126 commentary positions at the stadium, including 16 commentary in-vision positions.
The Champions League Final is well known as a UEFA TV and Digital showcase, and in the showroom this year will be new cycle services for broadcast partners, based around the new UEFA Hive programme; venue-produced content, including dedicated 180° and 360° cameras; centralised production workflows; and a new content distribution platform.
The virtual reality production in Kiev has a total of 12 cameras, providing clips and streams to broadcast partners: seven live 360° cameras; two live 360° cameras as part of the Enhanced Digital Services; one live 180° camera as part of Enhanced Digital Services; and two ENG cameras picking up key activities, including MD-1 events, team arrivals, dressing rooms, and opening ceremony. There will be a showcase of the 360° and 180° production as part of the new cycle enhanced digital services for 2018-21
UEFA Senior Broadcast Engineering Manager André Nel said, "UEFA strives to provide a consistent product across a whole Champions League season, as well as from season to season. In line with this philosophy, the camera plan for the 2018 UCL Final is relatively consistent with that of Cardiff last year, providing an elite extensive coverage of play.
"This year we are using Sony HDC-4300 cameras and Sony MVS-8000X series vision mixers. The camera plan calls for a total of 40 cameras to be deployed – including crane cameras, aerial camera system, in-goal cameras, rail cameras & a helicopter camera.
"UEFA will look to build off the extremely successful 2017 final in Cardiff as well as building momentum ahead of EURO 2020. This means taking the opportunity of the worldwide event that is a UCL Final to test new things such as new production workflows and ideas. In Kiev, this will mean the introduction of a separate clips channel, special cameras, and more additional footage produced on matchday as opposed to Cardiff," said Nel.
"The production standard for the 2018 UCL Final is UHD/4K – Quad – 3G – SDI SDR Rec709. In principle there will be no up-conversion, with the exception of certain special camera inputs, such as the in-goal mini-cameras, which will be up-converted from 1080p50. There will not be any IP, nor a remote production at the 2018 UEFA Champions League Final.
"Regarding audio, UEFA will utilise a standard surround sound audio plan, with the addition of special microphones to create the Dolby immersive experience. The Dolby immersive streams will be available embedded as part of the multilateral world feed. The aim is to provide all fans with an immersive experience reminiscent of being in the stadium for such an event."
On the particular challenges of this particular CL Final Nel said, "Kiev has provided a wonderful home for the UEFA Champions League Final. Bringing a UCL Final to Ukraine is an opportunity UEFA has been looking forward to, but it does come with certain logistical challenges merely due to the geographical distance between the Olimpiyskiy Stadium and UEFA HQ in Nyon.
"The logistics of organising a Final across this distance are challenging as far as the organisation of all staff and resources on-site. This proved to be a challenge worth overcoming as the venue is set to provide a beautiful Final, and it additionally provided testing of procedures ahead of producing EURO 2020 all across the European continent," he said.
UEFA is also largely retaining the approach to VR production adopted at last year's Final. "We will be utilising two different workflows for VR 360 at the UCL Final. The first workflow replicates the successful model from Cardiff, using a Nokia OZO camera to provide a 360° view inside the venue. This will include clips and streamed content, much like the experience provided in 2017. Simultaneously, UEFA will be testing the VR 360 production to be deployed in the 2018-19 season for VR 360, which will use 2 InstaPro 360° cameras behind the goals in conjunction with a 180° fixed camera.
"UEFA will replicate the successful distribution to online sites, social media live and VOD clips from the 2017 Final in Cardiff. Clips are made available through the UEFA content distribution platform, while UEFA will make the streams available for broadcast partners via a separate video origin," said Nel.
UEFA's broadcast suppliers for the 2018 UCLF:
+ TVN Germany – HB Technical team
+ Sunset & Vine – HB Production Team
+ Gearhouse Broadcast – Technical Operations Centre, feed distribution, FANTV and commentary
+ Deltatre – Gfx and VR
+ Incast – Commentary and Media monitors
+ Mahlzeit – Cabling
+ Heusser TV – FANTV Production
+ Hawk-Eye – Goal Line Technology
+ EBU – Transmission and Archive
+ PERI – Scaffold and cable ways
+ Transcolor – Lighting
+ Michaelis – TV Facilities
+ TV Skyline – Commentary and special cameras